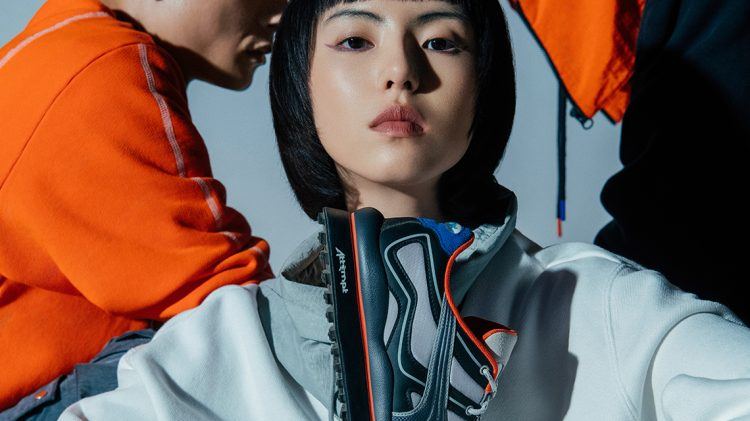 Get the Look
Get the Look:
PUMA x ATTÈMPT
A Streetstyle Hack
October 19, 2020
A Streetstyle Hack
October 19, 2020
This time PUMA joins forces with the
Chinese streetwear mastermind Attèmpt

to deliver some inspiring and edgy new items. Themed 'hacking the archive' this collaboration marries a vigorous

minimalist aesthetic to the athletic heritage

that we know and love. Debuting fresh footwear, apparel, and accessories, we went with a street ready ensemble that deconstructs (and then reconstructs)

fall and winter fashion trends while paying homage to some hacker fashion classics.
The Shoes
The collection offers a unique mix up of some PUMA silhouettes done anew. For this look we gravitated towards the crisp Style Riders featuring a progressive new design with natural materials and technical detailing. A mixture of nylon and varied textures of suede with a comfortable rubber midsole, the sneakers exhibit multiple shades of grey contrasted by a sharp black, with a cheeky pop of orange peeking through the lining.
The whole Look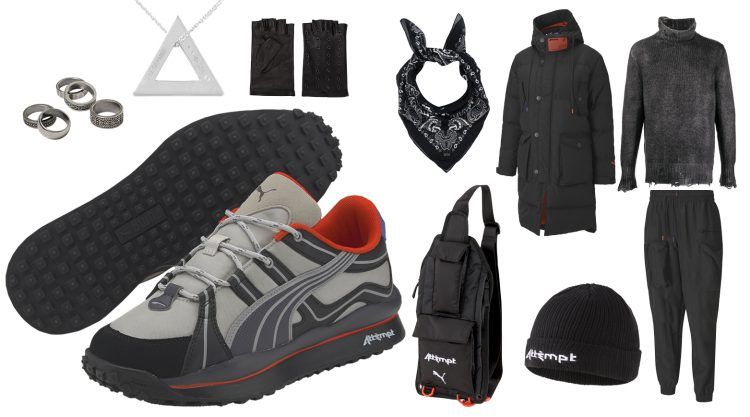 The Outfit
It is futile to resist the fact that we are now moving into the colder months. Luckily this collab has got us covered—literally. This oversized puffer jacket from the collection is large, in charge, and very much on trend. The length is going to elongate your shape, while the water repellent fabric is going to protect you from all weather conditions. Functional and fashionable, two of our favourite 'F' words. Plus, the ever-so-edgy black once again features a bold pop of orange in the lining to switch things up.
Below this, a distressed knit jumper is the perfect item to complement the overall raw and deconstructed style that we have going on. Subtle faded grey matches to the shading of the sneakers, and the chunky texture is going to keep you stylish and warm.
Finish off with a pair of these black track pants taken from the collection as well—the streetstyle essential you don't want to skip. Technical materials and functional fits are big for men in Winter 2020, and with inside-out fabric detailing and flatlock stitching, we thought these ones were a cut above the rest.
The Accessories
We had a lot of fun hunting down accessories for this look. Up top was an easy pick: going for both fashion and warmth the PUMA x ATTÈMPT Beanie is a no-brainer. Double layer knit with a fold up brim and embroidered logos—cool and warm at the same time. Same thing goes for this crossbody bag. Adjustable, with multiple zip-opened compartments and a nice hook-and-looping closure feature, you can store everything you need in one place. Practical and polished, this style of bag has been runway approved. Repeatedly.
Next, flex your attention to detail with some subtle shine. This geometric pendant is simple and effective, especially when paired with a smattering of matching silver rings. Then go for an unexpected pair of fingerless gloves to allow the bling of the rings to shine through and give a nod to the hacker fashion theme we have running throughout. Finally, wrap up and stay safe with this edgy black bandana neck scarf.
Hack your streetstyle with the new PUMA x ATTÈMPT collab. Digging into the archives and emerging with a progressive and raw new feel, we are loving this collection and its minimalistic and functional designs.