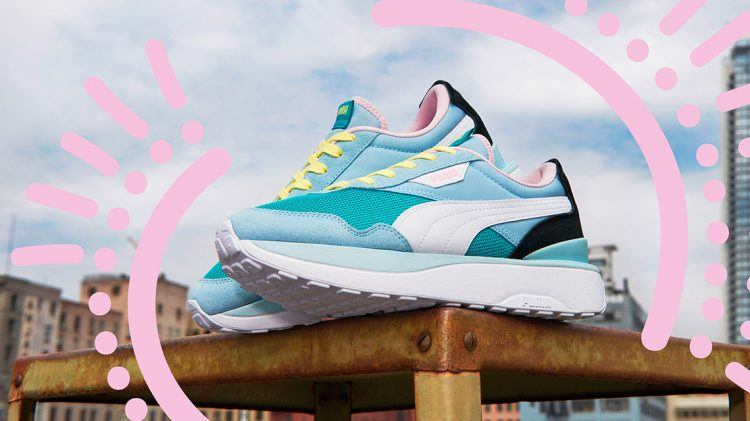 Get the Look
Get the Look:
PUMA Cruise Rider
Rise Up
November 18, 2020
Rise Up
November 18, 2020
A warm welcome to the newest member of the Rider family: the Cruise Rider by PUMA.
These elevated beauties are all about rising up and having fun showing off our unique style to the rest of the world.

Inspired by this, we put together an outfit that highlights your individual creativity while embracing the powerful and multifaceted female of today.
The Shoe
For the streetwear enthusiast, or really anyone for that matter, these are an excellent pair of kicks. With their slightly elevated midsole and stacked outsole, the Cruise Riders are a modern-day saving grace for lovers of high heels. Great for those who are seeking that feeling of power that comes from a little boost, but also prioritize comfort.
With refined sculpting details, classic Rider foam technology and a TPU piece in the back, they're the full package. Energetic light blue colouring set against pink accents and lively bright yellow laces gives you a beautiful colour palette to style with.
The whole Outfit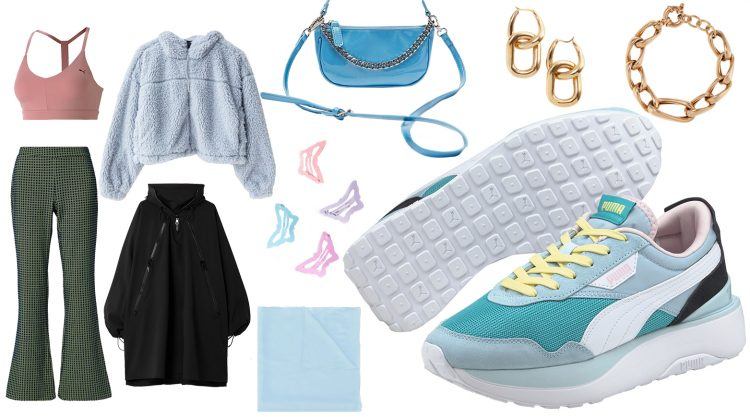 The Outfit
So, style we did. This time the outfit inspo is "comfort meets innovation" with a healthy sprinkle of quirky fun. First up: meet your new winter cocoon. You should never underestimate the power of a simple black coat, and this oversized cape jacket is no exception. A silhouette dominating Fall '20 runways, we love the practicality of the cape and were utterly struck by some of its unusual features (zippers everywhere).
Tucked beneath the cloak, colourful layers begin to emerge. This baby blue cropped teddy jacket is the perfect piece for the colder months. The material is super soft and super fun, and the light blue shade pops against the black, while matching the tones in the sneakers. Underneath the jacket we went back to basics with a classic sportstyle item— this elegant and effortless blushing pink sports bra. Ultimate comfort and cute enough to be shown off.
Finishing up, we thought these funky flared pants were simply irresistible. With a slimmer fit they bring balance to the other bulkier pieces, while their fashionable high-rise cut and clever woven pattern of green and gold makes them a one-of-a-kind addition to any ensemble, leaving you feeling somehow vintage yet super fresh.
The Accessories
Nostalgic jewellery is having a moment and we don't want it to end. From chokers to bright beads and stackable pieces, it seems that we are playfully hopping in the footsteps of previous decades. One of the biggest trends in celeb jewellery at the moment is chunky gold everything. We couldn't resist these cool chain earrings and matching bracelet that scream 'let your sparkle shine ladies'!
One of the more prominent colours of the season is blue, so we enjoyed adding hints of it throughout this look. Tie things up with this flattering lightweight scarf, which you can play around with as a trendy hair wrap or bandana. Matched to this we have an adorable baby blue baguette bag (say that 10 times fast). Small bags are back, along with other 90's fashion icons. Finally, the pièce de résistance—these tiny little butterfly clips bring it all home, matching style aesthetics and gracing the look with a dainty flair.
Sometimes the colder seasons make us want to cocoon ourselves and hide away from the rest of the world. But all things that cocoon inevitably make use of this time to transform and shift into something new, something stronger than before.
Take your style cues from the new Cruise Riders and rise up higher to become bigger and better.