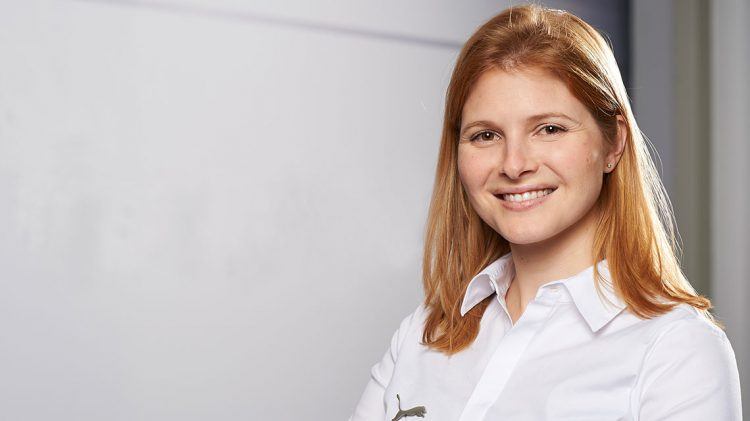 CATch up Meet up
Get to know ...
Nina Graf-Vlachy
CATch up gets you to know your colleagues
September 4, 2017
CATch up gets you to know your colleagues
September 4, 2017
Did you know that the head of
PUMA's Strategy department

used to wear a white lab coat?

Nina Graf-Vlachy, a former business consultant, has been leading PUMA's global strategy department since 2015. Under her direction, the strategy for our Women's business, one of the key growth drivers at the moment, has been developed.

Nina is originally from Sloveniaand holds a PhD in Physical Chemistry. In her free time she loves going to the gym, baking and kite surfing.

Find out in our "CATch up Meet up" interview what she likes and what she can do without.
You are on your own in a city you do not know. How do you spend your evening?
Running shoes on my feet, headphones in my ears, map in hand, and off we go.
What or who do you find embarrassing?
People that are trying too hard. Oh, and me bowling.
What does success mean for you?
Setting a goal, creating a plan and reaching the finish line. The plan doesn't need to be perfect, but the job needs to get done. Preferably Fast.
What do you appreciate most about yourself?
I believe everything becomes interesting once you begin to look closely at it, so I am always curious to learn new things.
Your favourite pastime?
Taking long walks while listening to my favorite podcasts. If you need a recommendation check out This American Life, Revisionist History, and The Daily.
Which character from literature can you identify with most?
Alice from Carroll's Alice in Wonderland. Chasing after the white rabbit has taken me down many unexpected rabbit holes, and I have been lucky to meet, work, and drink tea with an array of colorful characters.
What was your biggest achievement?
Not sure. But I am lucky enough to have a loving husband, wonderful family, amazing friends, and great coworkers and teammates, so I guess I must have done something right.
What was the first PUMA product you have been wearing and when?
Pink Speed Cats. I must have been around ten….
Which book is currently on your bedside table?
The Tipping Point by Malcolm Gladwell. But to be honest, I've been working on it for a while, as I much more prefer to listen to podcasts before going to sleep.
What do you appreciate most about other people?
The ability to appreciate differences in opinions. I like having an open, honest, sometimes even heated discussion, knowing that this doesn't impact the personal relationship, but that the honesty rather makes it stronger.
When can you laugh about yourself?
When I speak before I think. So, regularly.
What is it that you do NOT want to know at all?
What the future holds. I'm quite enjoying the ride.
When was the last time you did something totally untypical for you?
I didn't freak out when a couple of weeks ago, my Air France flight had a two-hour delay and I nearly missed the connection. Just kidding. Of course, I did.
What are your principles?
Stay curious, learn from people around you, admit your mistakes, and don't take yourself too seriously.
Which mistakes can you forgive?
All, if I believe they were genuine mistakes and the person is truly sorry.