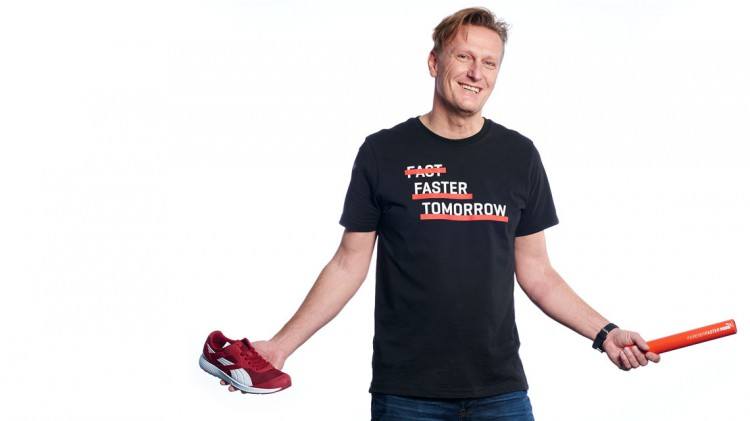 CATch up Meet up
Get to know...
Reinhard S. Dischner
CATch Up gets you to know your colleagues
November 9, 2015
CATch Up gets you to know your colleagues
November 9, 2015
In September, we merged the Business Units "Fundamentals" and "Sportstyle" under the single leadership of Reinhard Dischner.
One of the reasons behind this decision was to reduce overlaps in the product offering. Before, Reinhard had been successfully leading "Fundamentals" since its establishment in 2012. With his Business Unit, he managed to surpass the one billion Euro mark in sales.
We were wondering what makes him tick and asked him some questions.
Reinhard, you are on your own in a city you do not know. How do you spend your evening?
Normally, I visit the touristy sights first, no matter what time of day it is. And I have for sure the most typical dish, no matter what it is. You have to do these things. At least once.
What or who do you find embarrassing?
The combination of stupid and opinionated, which makes it difficult to work with someone.
What does success mean for you?
Be true to yourself, even if the going gets tough.
What do you appreciate most about yourself?
Still commuting to Herzo or the airport every day back and forth, for over 14 years. How could I possibly do that? Let me do the math: 14 years times 250km/ day times 260 days/year makes up … Do I really appreciate that? Probably you'd call it endurance or dedication. If I really want something, I can be stubborn. Well, at least I show up every day …
Your favourite pastime?
Spending time with my loved ones.
Which character from literature can you identify with most?
I loooove Shakespeare, but the characters are all a bunch of crazies….
What was your biggest achievement?
Being a father of two boys, and while they are growing up very quickly, I'm still close to them – not only on social media, but in real life.
What was the first PUMA product you wore and when?
The PUMA Match ages ago.
Which book is currently on your bedside table?
The Bible.
What do you appreciate most about other people?
Being honest and humble.
When can you laugh about yourself?
The question should be the other way round: when can you NOT laugh about yourself. I don't take myself too seriously, otherwise I could not do what I'm doing.
What is it that you do NOT want to know at all?
I really don't want to know who is doing SMUs RIGHT NOW without telling anyone.
When was the last time you did something totally untypical for you?
Um …passing a car driving at 90km/h on the right hand side on the autobahn? Is that what you mean?
What are your principles?
You would find them in my bedside literature.
Which mistakes can you forgive?
All. The big ones only once though.
Someone has played a trick on you. How do you take revenge?
I'm not into these kind of games, sorry.