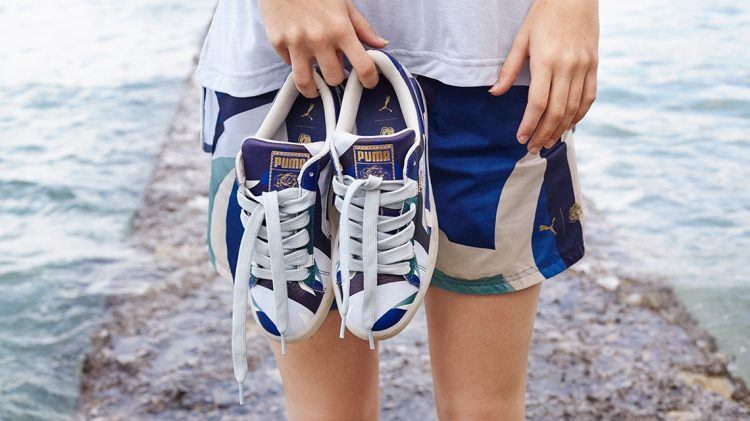 "I didn't expect
this success at all"
After the instant success of her first PUMA collaboration, CAREAUX returns with a Japan-inspired collection
May 23, 2017
After the instant success of her first PUMA collaboration, CAREAUX returns with a Japan-inspired collection
May 23, 2017
Who would have thought a capsule collection that would be one of the biggest successes amongst our special collaborations came from a designer that knows how to illustrate, but had never designed sneakers before? Least of all Caroll Lynn, a.k.a.
CAREAUX

, whose illustrations now grace not only one, but two collections with PUMA.

Originally from the Netherlands, 27-year-old Caroll Lynn is primarily an illustrator, but above all she is a sneakerhead. Combining her two passions, she started illustrating sneakers, which she publishes on her blog and Instagram, becoming known for her graphics in the sneaker community.

That's when Yassine Saidi, PUMA's Senior Head of SELECT, became aware of her and approached her with the idea to collaborate on designs for PUMA.

"I was at Sneakerness in Paris when Yassine came to talk to me and asked me: 'What would you think of launching your own shoes with PUMA'?" Caroll Lynn, who started blogging her designs under the name CAREAUX in 2015, tells us. "At first I didn't take it so seriously."

Yet she said "Yes, that would be nice!", not expecting much to come of it. However, a couple of months later, she found herself on a plane to PUMA's Headquarters in Germany to create her first ever collection.

"It was quite funny, because I didn't prepare myself for it at all," the illustrator remembers. "I met the whole design team. I was choosing the designs, the colourways… It was a completely new experience for me."

While she frequently made up sneaker illustrations and shared these online, she had never created an actual pair of shoes, which – according to her – is "totally different from being an illustrator."

Until recently, sneakers were clearly "a man's world," Caroll Lynn explains. Rihanna with her collaboration with PUMA "opened a lot of doors", encouraging many young women to add sneakers to their daily outfit.

For her PUMA X CAREAUX line, Caroll fuses an optimistic spirit with an artful graphic approach. As her first creations were mostly pink with a lot a floral prints, she was surprised that her designs also appealed another type of consumer: "My collection was mostly designed for women, even though some men liked it as well… Even though the sneakers were pink, guys went crazy about it."
PUMA X CAREAUX
Bomber Jacket
Autumn-Winter '16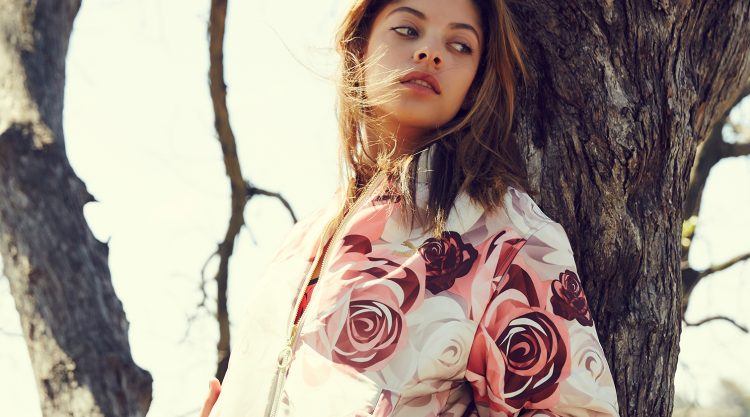 Launched last autumn, the collection did incredibly well in stores and on social media: "The PUMA x CAREAUX Bomber became a number one best-seller for womenswear at Footlocker in the US. That's never happened before," says Yassine Saidi, who is always looking for new design talents for special collaborations.
Thanks to his job looking after PUMA's special SELECT collaborations, he has a good feel for finding influencers from the art and sneaker worlds. Yet, he didn't really expect the collection with CAREAUX to be such a success. "At the beginning, I saw it more as a small project," Yassine explains, "but her creations were so strong, that we decided to do an entire collection."
This in turn led to a second collection for Spring-Summer '17.
"I wanted the second collection to be very different," Caroll claims. A lot of her inspiration came from Tokyo, where she travelled to for the first time, looking for ideas. She started off with a kimono kind of design. "But it was hard to transpose it to sneakers. Yassine advised me to find a print, which can be used on every piece of the collection and stays in the same vibe." That's how she got the idea of surreal clouds, the kind that you often see in Animé movies. As a result, the second PUMA x CAREAUX collection renders the classic Japanese cloud in her signature romantic triangular style in different shades of blue.
PUMA X CAREAUX
Backpack
Spring-Summer '17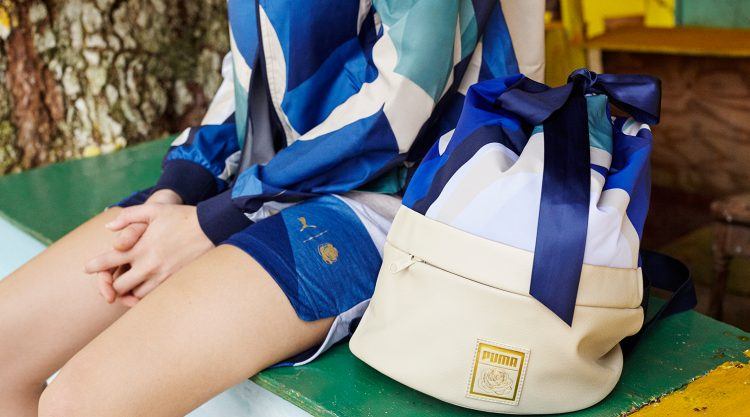 Her favourite piece from her collections with PUMA? The backpack, "with all the different colours and materials."
The collaboration has made her proud and has led to more recognition in social media for her brand, CAREAUX. "I'm really lucky," she says. "I'm not really big, but still I had the chance to start this thing. It did help me a lot to discover what I really wanted to do, designing sneakers. It was a really good start for me."
Not only a good start, but also an instant success – we are definitely looking forward to seeing where the journey is heading for this inspirational and fresh collaboration.