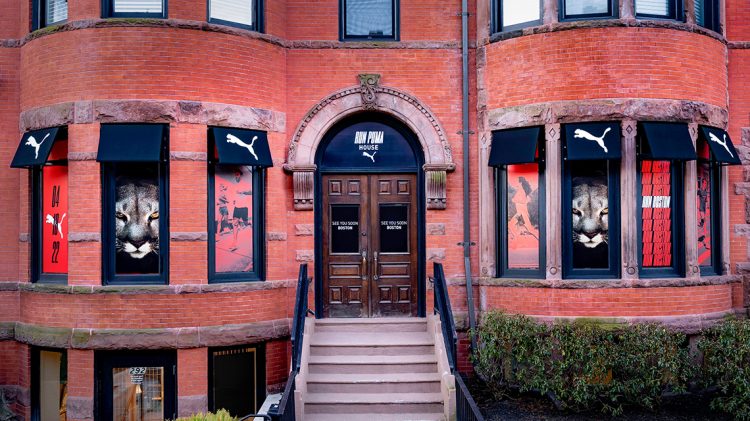 ENTER THE
RUN PUMA
HOUSE!
The Run PUMA House in Boston, Massachusetts opens its doors
April 11, 2022
The Run PUMA House in Boston, Massachusetts opens its doors
April 11, 2022
Yes, it´s that time again!
Marathon season

is coming! And we are talking about one big marathon in particular. The one in

Boston

! For this major occasion, our

RUN PUMA team has planned numerous activations & experiences to create an authentic connection with the running community

. For example, we just opened our

RUN PUMA House

, a pop-up space that has many surprises in store. CATch Up interviewed

Allison Giorgio (Vice President, Marketing, PUMA North America)

to learn all about the plans. Dive in!
Allison, what is the RUN PUMA House and where is it located?

Allison: A key component of our local running marketing strategy is to connect authentically with the running community through Run PUMA experiences and activations at key marathons and races throughout the year. The RUN PUMA House is a nearly three week long pop-up activation space located at 292 Newbury St. in Boston, timed to be open during the historic Boston Marathon race weeks.
Run PUMA House sounds big! What can consumers do in the space?
Allison: The RUN PUMA House is bringing Big Cat energy to Boston's iconic Newbury Street located in the heart of where the Boston Marathon finishes. From April 7th – 24th, consumers can shop the latest performance running collections including limited edition Boston apparel, partake in shakeout runs, meet our elite athletes, partake in fitness and wellness events, relax and recharge in our NITRO lounge, create cheer signs for race day, participate in our "Miles for Change" activation and more.
What is the "Miles for Change" activation?
Allison: Committed to sparking change and moving the sport forward through our ongoing commitment to women, we are working with organizations to establish greater gender equity in the sport of running. In partnership with Molly Seidel, PUMA will be encouraging the public to participate in our "Miles for Change" activation on-site at the RUN PUMA House. The community can log miles on the PUMA treadmill located in the RUN PUMA House from April 7th- 24th and for each mile run, PUMA will donate $150 to Girls Gotta Run, an organization that invests in girls who use running and education to empower themselves and their communities in Ethiopia (up to $25,000). We also have a day in the North America headquarters where PUMA employees can also take part by logging miles on our office based treadmills.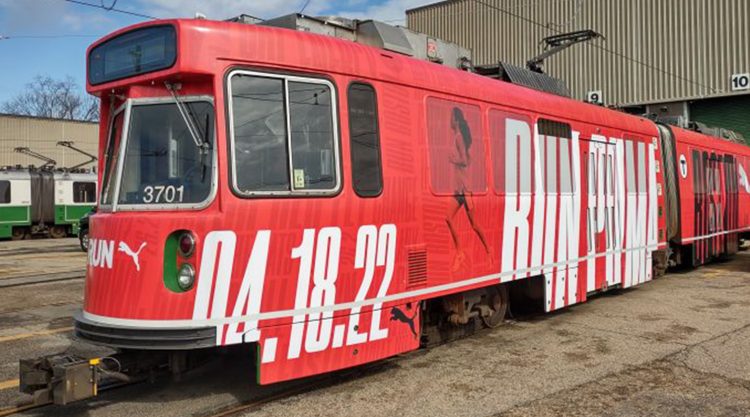 Who worked on the project and how did the idea come about? 
Allison: The RUN PUMA House is one component of the overall PNA Marketing Boston Marathon activation plan which has been a true team effort to create. Our local PNA marketing team has lead the effort in close collaboration with the Run/Train Business Unit and Central Marketing Team.  We wanted to be unique and disruptive with our approach given that PUMA isn't the main sponsor of the Boston Marathon and we thought what better way to capture attention than to create an ownable space where consumers can come and interact with all facets of RUN PUMA and then tell their friends.  
What's the mission of the house? 
Allison: A year after relaunching the PUMA running business, we are excited to support the running community in the hometown of our North American headquarters with the RUN PUMA House in Boston. It's our mission to connect with the local community in a meaningful way, support our athletes who will be participating in the race and continue to push the sport forward in North America. If you're from Boston, you know what a big deal the Boston Marathon is and the equity we will build with this community by being an active participant in the race culture those weeks is BIG.  
We saw you are doing promotion activities, like a branded tram. What else is planned?
Allison: We planned a full PUMA takeover in the city of Boston for the Marathon. We have wrapped public transportation trains, buses and other high traffic areas around the city with the RUN PUMA campaign. We're running local radio ads that feature audio by Molly Seidel. The @pumarunning handle will feature multiple days of content capturing our athletes and activations on the ground. We have local run clubs and organizations joining in the promotion of the house and we also have a full calendar of events for consumers to participate in a variety of activations. 
On April 16, we will be hosting a special PUMA Fam Shakeout run. This 2-mile Shakeout run will be led by PUMA's elite runners Molly Seidel, Sara Vaughn and Dakotah Lindwurm and will be open to PUMA employees, friends, family and the public.
What is the NU Running Club? 
Allison: The NU Running Club is a local running club for Northeastern University students. We teamed up with local run clubs in the Boston area for numerous shakeout runs leading up to the marathon.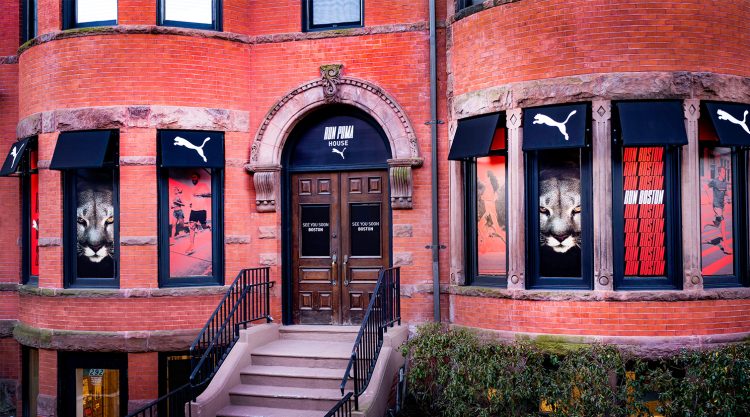 Can you explain the feeling, when a big project like that comes to life and you can see it finished? 
Allison: Our team believes wholeheartedly in the concept of the #PUMAFam, so when we finish something like this, we usually thank everyone and celebrate as a team because we know that to bring something this substantial to life takes a lot of collaboration. And, the leaders of the program usually take some much deserved time off. The fun part of marketing is being able to SEE first-hand consumer responses to the efforts we deploy in the market. We can't wait to see how people respond to RUN PUMA at the Boston Marathon.
We can't wait either! Thank you so much, Allison!