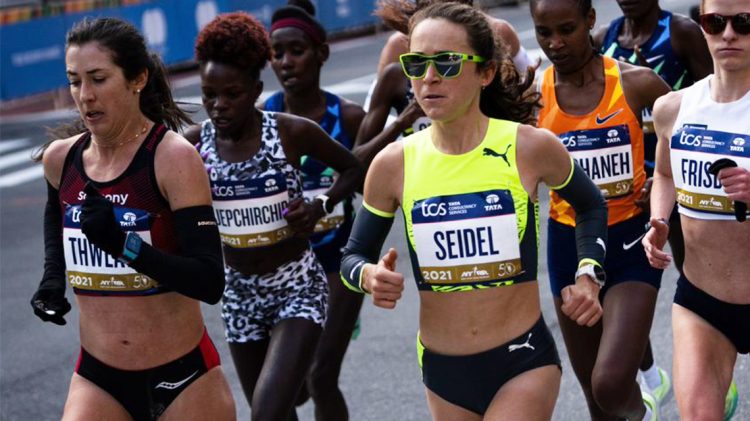 New personal best
for Molly!
PUMA Athlete Molly Seidel sets new personal best at the NYC Marathon
November 8, 2021
PUMA Athlete Molly Seidel sets new personal best at the NYC Marathon
November 8, 2021
The
New York City Marathon

is for sure one of the

most difficult courses

of the Major Marathons. With deceptively hilly bridges and a tough finish through Central Park, the course can bring even the most elite runners to their knees. So, how can you handle such a course with

two broken ribs

? PUMA Running Athlete & Olympic Bronze Medalist

Molly Seidel

showed the world at yesterday´s race. She ran the

fastest time ever by an American woman (2:24:42) in New York City race

 and finished

4th

. What a year it has been for Molly Seidel!

Congratulations from the PUMA Family

for another amazing achievement!
I ALWAYS HAVE DREAMED OF DOING THIS RACE.
View this post on Instagram
Molly lined up in her bright yellow PUMA kit and the PUMA Deviate Nitro Elite Spectra, the same shoe she wore at the Olympics, and raced aggressively. She maintained her position in the lead pack for much of the race, crossing the 30K mark in 1:42:44 with a 5:31/mile pace. 
"It was hard coming off the Olympics and hard mentally getting back into that build. I've invested too much in this, I really want to do it. It means a lot to me to do it, regardless of what it turns out to be.", Molly said before the marathon.

She raced as hard as she could and gave her physical therapist credit after the race "Keeping my mental state in the place where I was, even though I was hurting, I was able to go out and make those moves. You gotta go see what you can do, kind of have that attitude of, if you don't try, you'll never know." She revealed after the race that she broke two ribs about a month ago and said that she was grateful that she sustained the injury so far in advance from the race.
What an athlete and role model! Molly, we are so proud of you!
Big Cat Energy
The PUMA Family supported Molly at the race track.
View this post on Instagram