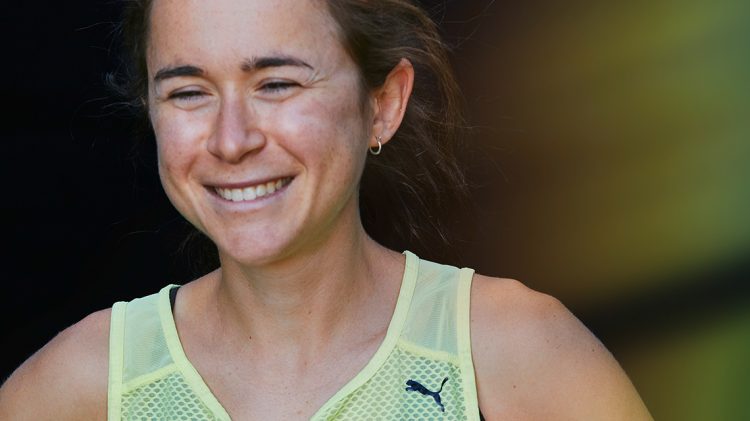 HOLY
MOL(L)Y
First Olympic medal for PUMA's Deviate Nitro Elite High-Performance Running Shoes
August 19, 2021
First Olympic medal for PUMA's Deviate Nitro Elite High-Performance Running Shoes
August 19, 2021
We are still amazed! PUMA athlete

Molly Seidel

ran a stunning race in the women's marathon at the Olympics GamesTMto secure the bronze medal in her third-ever marathon with a time of 2:27:46. Molly ran a strong race from the start with her

Deviate Nitro Elite Spectra

. It is the first Olympic medal for Molly and the first one for our

Deviate Nitro Elite High-Performance Running Shoes

. We asked

Erin Longin

(Global Director, Run/Train),

Romain Girard

(Senior Head of Innovation) &

Fabio Silva

(Director Branch Operation Footwear) about the personal relationship with Molly, the feeling of seeing her outstanding performance and the share that the Nitro product range has in the success.
Did you watch the Olympic marathon live or how did you find out about her amazing bronze medal achievement?
Erin: Yeah! It was the evening here in Boston and the entire team watched it. We were all texting and sending screenshots. It was very exciting and special to witness.  We are extremely proud of her accomplishment and it was amazing to see her wearing our product to cross that finish line.
Romain: The race took place in the middle of the night Central European Time, so I only found out in the morning. Such amazing news when you wake up!
Fabio: Being based in Asia, we were privileged to be in a similar time zone with Japan, allowing us to watch the race live on TV. Our team in Asia watched it and cheered for her. Everyone was super excited with her race and extremely happy with her bronze medal.
Molly ran the Olympic Marathon with our PUMA Deviate Nitro Elite Spectra. Did her shoes differ from the ones you can buy in store? Did they have any special features?
Erin: Yes, she wore the exact same product that is available online. And that's, I think, what is so exciting. It wasn't a customized shoe. It wasn't anything enhanced for her. It was the shoe that we're proud of, that we have in our main line, that we sell to our everyday running consumers. The Deviate Nitro Elite is one of two Deviate models. The Elite version is engineered for elite athletes for raceday and available to all runners.
Fabio: The entire shoe has been optimized to reduce weight, to support a stable stride, and to propel the athlete forward. It has a premium foam and a specific carbon plate. The shoe is made with the best materials available to the industry now and the great thing about it is that every one of our customers can buy the exact same shoe Molly wore in her stunning race!
Molly was the very first Elite runner to test and feedback on the Deviate Nitro Elite and her feedback was incorporated directly into the shoe engineering. We have a lot more in the pipeline and we are very excited for her to try and provide us with feedback so we can continue to take our products to the next level.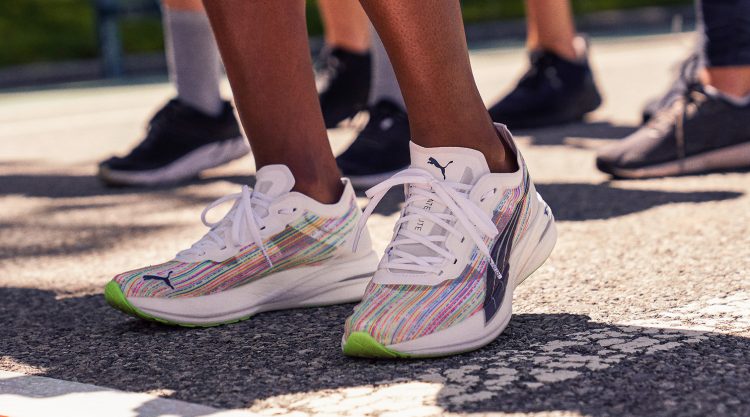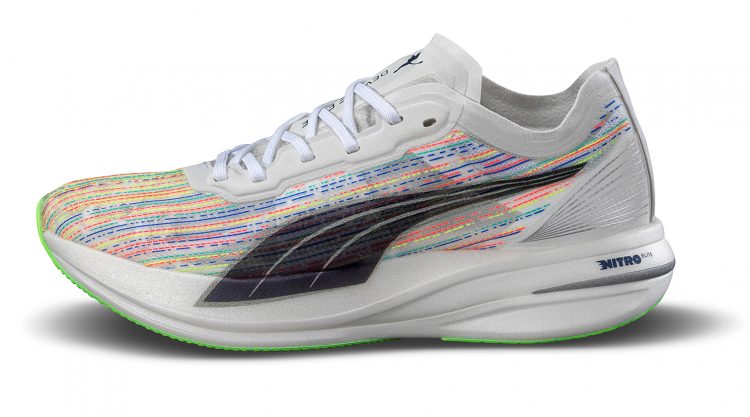 How satisfying is it for you to see how well the Nitro High-Performance Running Shoes work in big races and how competitive they are?
Erin: It's extremely exciting to see our product perform well in competitions and to help our athletes achieve amazing results.  Molly is the first female athlete at PUMA to medal in the Olympic marathon. It's a major milestone for Molly, our Running team and the PUMA brand. It also helps to establish credibility and show the world that Puma makes highly competitive performance road running shoes. First we must thank Molly for that, but also thank our amazing team of product managers, designers, developers and sourcing partners that helped to engineer such a competitive product.
Fabio: It feels great! Based on all the lab and athlete testing data we were certain that our NITRO product range was competitive and seeing it perform well in races is really satisfying and exciting. The athletes put an immense amount of work on their training and overall lifestyle to achieve such results and that is what motivates us to consider every little bit that goes into our Nitro shoes, one of the aspects we looked at in this model was the overall weight, every gram the athletes have less on their feet helps them with their running economy and achieving better results. I think the entire team did a really good job with the entire Nitro line of shoes.
Romain: It is very satisfying to see these results and we are looking at topping this in the near future.
Will the PUMA high performance shoes become even lighter?
Romain: Lightweight isn't the only focus. We spend a lot of time with our athletes to understand the different trigger points of running faster, studying them and discussing in depth about their needs. Out of this, we realized that lightweight is an important parameter, but so is the geometry of the shoe, the combination of materials… What we can say is, yes, there will be lighter products moving forward and also products with another type of positive benefit.
We work very closely with our PUMA athletes. How does the partnership with Molly look like?
Erin: We are so thrilled to continue to work with Molly. She has fun with what she does, even though it's very serious and hard. Most people could not do what she's able to do. She has this very joyful approach that's a perfect connection to the PUMA brand. She's visiting our new Boston HQ soon so we can celebrate with her. Molly also loves to review footwear prototypes – she's a total shoe nerd. She can present our product technologies as well as any of us and we value her input. I think we are working with our athletes now more closely than ever, including Molly. We're going to be moving toward the World Championships. They are coming up next year in Eugene, Oregon.

Fabio: She has been very involved in testing and providing feedback on the entire Nitro running product line. She knows each shoe by its name and knows exactly what each shoe was engineered for and how they work for her in the different running training sessions as well as in competition. Molly was the very first Elite runner to test and feedback on the Deviate Nitro Elite and her feedback was incorporated directly into the shoe engineering. We have a lot more in the pipeline and we are very excited for her to try and provide us with feedback so we can continue to take our products to the next level.
How surprised were you by Molly´s amazing performance?
Erin: We've always been impressed by Molly and what she's able to do at these races. Many of our team members personally know her from run clubs and races in Boston. She's had a very impressive professional career in Track, Cross-country and now marathons. You would never know that was only her 3rd career marathon in Tokyo.  In her first marathon in 2020 (the US Olympic Trials) she came in 2nd and qualified for the Olympics. Her second marathon was London 2020 where she finished sixth place with her PB time of 2:25:13. And that brings us to Tokyo and her stunning performance and bronze medal win. I can't wait to see what she will do next.