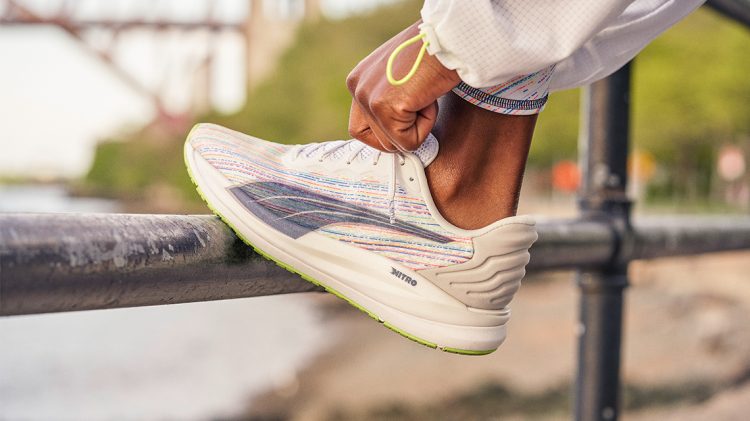 AWARDED!
PUMA´s Magnify Nitro wins Runlovers Award
November 19, 2021
PUMA´s Magnify Nitro wins Runlovers Award
November 19, 2021
These PUMA shoes are made for running … and that´s just what they do. ??‍♂️??‍♀️
How good they are shows a recent review by Italian magazine

RUNLOVERS

. Our PUMA
Magnify Nitro

won the Runlovers Award in the category

"Best cushioned running shoe in 2021"

. The review highlights PUMA's advanced

NITRO FOAM

technology providing superior responsiveness and cushioning in a lightweight package. It is no wonder, because these kicks give you more of "the good stuff". They boast the thickest piece of NITRO FOAM in the entire line. This shoe is made for all lengths of run. Whether you're out for a quick morning run or really racking up the miles.

Learn more about the review!
THE REVIEW
While you're running, you are likely to place pressure about twice your body weight on your legs. To reduce this stress, a good cushioned pair of kicks can help. The Magnify Nitro is the perfect running shoe for dedicated runners looking for maximum comfort. According to the Italian magazine "the PUMA Magnify Nitro won for many reasons". The main one is certainly the NITRO FOAM we launched this year. "It makes the shoe light, comfortable and responsive. It helps you to use less energy and to run comfortably so you can reach your goals. The MAGNIFY NITRO is light, comfortable and offers a good dose of reactivity. Shoes like this make you want to run more and more because they do not tire the run and are very comfortable. This is why they are ideal for long runs.", it says in the review by RUNLOVERS.
The Magnify Nitro is a great choice for people who consider running their go-to sport. With the most NITRO FOAM cushioning in any PUMA shoe. The NITRO FOAM is incorporated into the ProFoam midsole so the shoes can provide even more rebound. The CoolAdapt cooling technology helps keep you cool on your run.
View this post on Instagram
RUN PUMA
PUMA's running history is packed with nearly 75 years of world records, firsts, and onlys from Abebe Bikila to Bill Rodgers to Sabrina Mockenhaupt to Usain Bolt to Molly Seidel. In industry years, this makes us faster since forever. This spring was very exciting as PUMA brought running back in a very big way, with new technology to change the game for everyone from elite professionals to beginners. The new range everyone is talking about is called NITRO. Infusing the foam with nitrogen makes it possible to combine three key benefits to the runner – responsiveness, cushioning and lightness. This can improve the efficiency of your running. It's extremely exciting to see our Nitro product range perform well in competitions and to help our athletes achieve amazing results. And, we have a lot more in the pipeline! 🙂