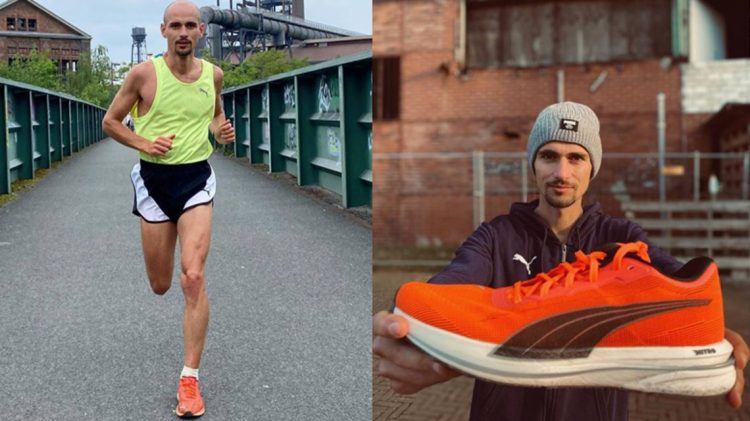 Running & Training
He made it!
Interview with Marathon Runner Hendrik Pfeiffer
June 23, 2021
Interview with Marathon Runner Hendrik Pfeiffer
June 23, 2021
PUMA athlete and German marathon runner Hendrik Pfeiffer went from low to high in just a year. After his COVID-19 infection he now got nominated for this summer´s major international sports event for the first time. We had a chat with the 28 year-old about this milestone in his life.
Hendrik, congratulations! What a roller-coaster the last months must have been for you. After your COVID infection recovery you now secured your ticket for this summer´s major competition. How does that make you feel?
Hendrik: It is a great relief and I am so proud of finally reaching my biggest lifetime goal especially as I got injured before Rio 2016 just a few weeks before the Olympic race. It probably was the toughest moment of my whole career and I motivated myself during the last couple of years with the deep desire to make the German Olympic team in Tokyo once again to finally make my dream of competing at the Olympics come true. When I qualified for Tokyo 2020 last year at the Seville Marathon right before the pandemic hit Europe, I would have never expected how much trouble was ahead of me. To see how the Olympic Games were postponed, to learn that my starting place, which I thought was safe, was open again and that there was even the threat of a complete cancellation of the Olympic Games, felt indeed like an emotional roller-coaster. The fact that it then also turned into a physical roller coaster, as I fell ill with Corona and my eagerly awaited start was threatened yet again, made the official selection a very special moment for me.
We understand that this is a huge milestone for you. How can PUMA help you by achieving your next goal?
Hendrik: Reaching the Olympics was one of my main goals. But for me, it feels like my career is just getting going. I definitely want to break the special mark of 2:10 hours in the marathon in the near future and continue to approach the German record, which is 2:07 hours. Particularly in the marathon, it is enormously important to have the right material on your feet, because even small weaknesses are magnified over this very long distance. It's all about the athlete and the material becoming one unit and harmonizing with each other. That's why I'm very meticulous, especially when it comes to choosing shoes, and I really appreciate the fact that PUMA closely involves athletes in product development and takes our feedback into account.
Since the NITRO line at the latest, it has become clear that this process is bearing fruit and that PUMA shoes are among the best on the market. Just as I am constantly optimizing my training and competition design, I am counting on PUMA to continue on its successful path in product development.
What are your goals for this year?
Hendrik: Since I can realize my childhood dream with the participation at the Olympics, I will run completely without any pressure – a real luxury. Due to the very sharp qualifying standard, the best-attended race of my life certainly awaits me there and I will fight for every place with all my might. I am convinced that with a smart race design and the right preparation for the expected warm temperatures I can beat many athletes with faster personal bests. Already in March – before I got sick with Corona – I was in superb shape that pointed to a time well under 2:10 hours and I am confident to be in a comparable form again in August. If I can manage to reproduce it on race day, I will be able to hold my own in the competition field.
What is your favourite running shoe out of the NITRO line?
Hendrik: The range of the NITRO line is really impressive and provides me with the right shoe for every training focus. For me, three models are indispensable: the Velocity Nitro, Deviate Nitro and Deviate Nitro Elite. I definitely log the most training miles with the Velocity Nitro. For me, it's the perfect all-rounder that I use primarily for easy and moderate workouts. As soon as it gets faster – for example, during tempo runs and marathon-specific long runs – I don't want to miss the Deviate Nitro. When it gets serious in competition, I know that I have just the right mix of lightness and propulsion on my foot with the Deviate Nitro Elite. It's particularly important to me that this competition shoe – unlike many models from other manufacturers – is still very stable and doesn't tilt.
View this post on Instagram
Finally, can you give our PUMAs a few training tips? For example, on how to stay injury-free.
Hendrik: Very important: Approach every challenge calmly and don't go from zero to 100 at once. Especially in a marathon, success doesn't come overnight, but is a process of years of work. It's worth taking small steps – whether you're a beginner or a professional – to prevent overloading. I don't start training with 200 kilometers per week, but rather increase gradually over many weeks and focus on smaller intermediate goals. By the way, this strategy also works very well in competitions: In a marathon or half marathon, I never think about the entire distance, but divide the course into smaller sections of maybe five kilometers. I have also had very good experiences with logging my training. It can be incredibly motivating to see how you're progressing in your training, and it's also a great way to keep track and control your training.
Thank you very much, Hendrik!