PUMA Archive
Back on track
Archive Stories: PUMA's long history in running
March 5, 2021
Archive Stories: PUMA's long history in running
March 5, 2021
We are
back in the running game

! Find out more about PUMAs

rich history in running shoe development

. Our running

heritage reaches back 75 years

and includes many world records and firsts,

from Abebe Bikila to Sabrina Mockenhaupt.
PUMA has always placed its focus on the latest techniques and styles to make runners perform in best-in-class running shoes. World records have been set in PUMA shoes and several mid and long distance PUMA running athletes went for gold.
Here is a selection:
For the first time in the history of the Olympic games, a marathon runner took the gold twice. Abebe Bikila won the Tokyo Olympic Marathon in 1964 with PUMA Osaka shoes.
1960
Abebe Bikila
The Fast Rider was one of the first stylish and practical pair of PUMA trainers with a specially designed sole that cushions and has good grip due to its unique design. In the '80s it disrupted the norm with its unprecedented, superlight upper, and aggressive, shock-absorbing Federbein outsole. The Olympian and former record holder Bill Rodgers performed his best times while wearing these game changing running shoes.
1980
Bill Rodgers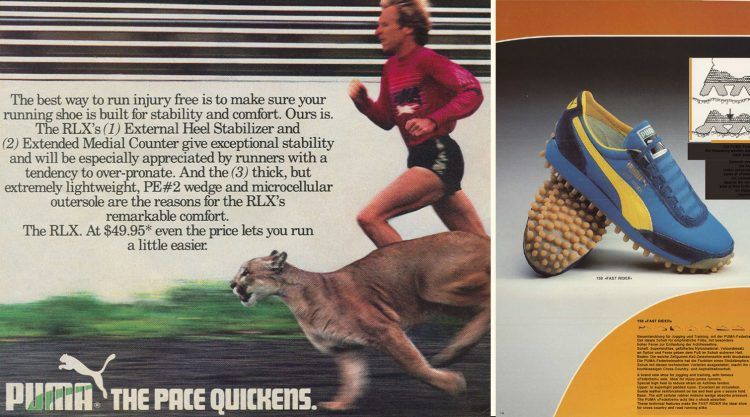 At the Olympics in Barcelona in 1992, Dieter Baumann went for gold in the 5,000 meter event with PUMA Long Distance 100. With bi-density Duplex EVA midsole in rearfoot and a running halfsole with 9 spikes, the Long Distance 100 is perfectly made for mid to long distance runners like Dieter Baumann.
1990
Dieter Baumann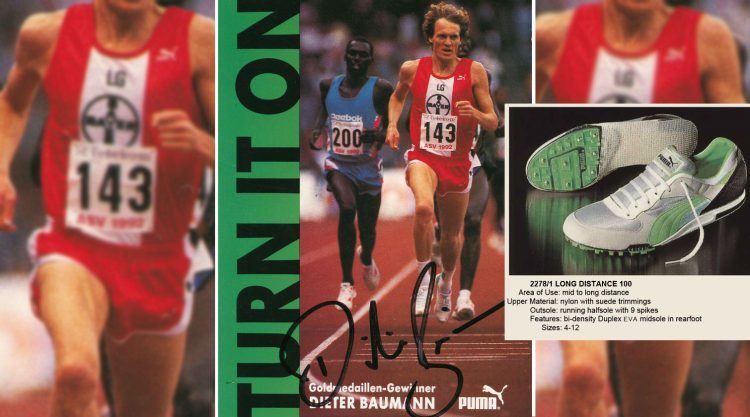 Sabrina Mockenhaupt set a 'PUMA best' half marathon in Berlin 2009 wearing PUMA Complete shoes. A shoe with maximum stability, designed and developed for the moderate to severe overponator.
2000
Sabrina
Mockenhaupt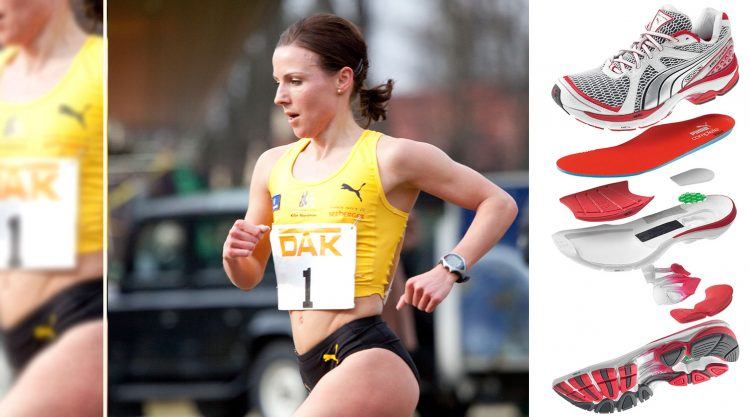 Now we pick up speed again and spark change from the most sought-after marathon finish lines to local running communities.
We overhauled our products and developed new technologies to create an effortless run. The new PUMA Running range includes specially engineered designs for female runners including a brand-new women's last developed for the female foot in all four styles. Our new women's running shoes are made to fit the profile of the female foot so she can run in comfort and reach her goals. We've also signed some of the top distance athletes in the sport—Molly Seidel, Gesa Krause, Aisha Praught-Leer, Fiona O'Keefe, and Taylor Werner.
2021