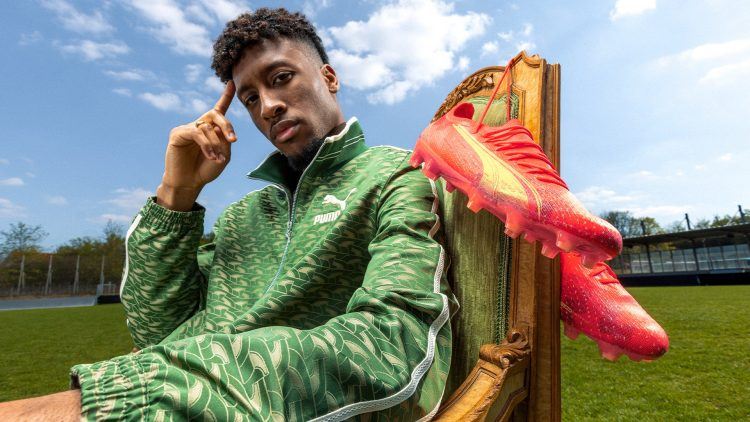 2022 FIFA World
Cup Finals
The Final 2022 World Cup Matches Highlight French Skill and Moroccan Talent
December 19, 2022
The Final 2022 World Cup Matches Highlight French Skill and Moroccan Talent
December 19, 2022
What a World Cup final round of matches!
PUMA team Morocco

took on Croatia for third place, while France and Argentina went head to head for gold.

French PUMA athletes

gave their all in a nail-biting and close loss to Argentina and the Moroccan team kept their heads high as they made history with their fourth place standing. Our

PUMA ULTRA boots

continued to shine on the pitch in vibrant colours as the World Cup drew to an end. Read below to find out more about the matches! 🏆
Semi-Finals: France vs. Morocco 🇫🇷 🇲🇦
A PUMA team and PUMA athletes competed for their place in the FIFA 2022 World Cup final. France achieved a 2-0 win over PUMA team Morocco, advancing them to the final and leaving Morocco to fight for third place. PUMA athlete Antoine Griezmann was named man of the match for helping the French team reach their second World Cup final in a row.
Despite Morocco then losing 2-1 to Croatia and therefore achieving fourth place in the World Cup, the PUMA team made their country and those around the world proud with their accomplishments and place in history. As the first African to reach this far in the tournament, Morocco have become a team to watch out for. PUMA top talent Bilal El Khannouss made a promising international debut for Morocco in the match against Croatia, and we look forward to what he achieves next.
View this post on Instagram
The Final: France vs. Argentina 🇫🇷 🇦🇷
The final match of the 2022 World Cup showed immense skill and passion for the game. In a close 3-3 draw, Argentina ran away with victory after winning the penalty shootout. Our PUMA players Sergio Agüero, retired but close friend of Messi, and also Nico Gonzalez, unfortunately injured, were in the stadium to celebrate with the team.
Man of the Match Across the Tournament
Our French PUMA athletes had an incredible tournament and should be proud of their achievements. Overall, eight PUMA players were awarded man of the match during the competition. Two of those were French: Antoine Griezmann and Olivier Giroud. Other winners were Neymar Jr. (Brazil), Christian Pulisic (USA), Granit Xhaka (Switzerland), Kalidou Koulibaly (Senegal) and Mohammed Kudus (Ghana).
PUMA ULTRA: Vibrant and Visible 💥
Our PUMA ULTRA football boots shone bright red and unmissable on the pitch. PUMA had great visibility in the final two World Cup matches with ULTRA represented by Moroccan and French players. There were three Moroccan players wearing PUMA boots in the third place match: Jawad El Yamiq, Bilal  El Kannous and Anass Zaroury. There were four players wearing ULTRA boots in the final on the French team: Antoine Griezmann, Olivier Giroud, Raphaël Varane and Kingsley Coman.
View this post on Instagram
That rounds up the 2022 FIFA World Cup! Our PUMA teams and athletes fought from beginning to end and showed talent, passion and pride.

Congratulations to all of those who competed.

🏆