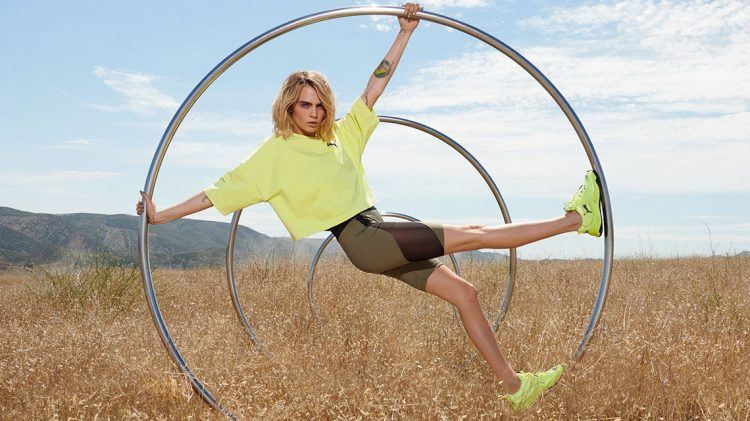 PUMA's picks
for spring footwear
Refresh your sneaker collection for spring with PUMA
May 12, 2020
Refresh your sneaker collection for spring with PUMA
May 12, 2020
This spring it's all about

neon and pastel-colors and classic white

essentials. We collected our favorite PUMA picks, which will help you to prepare you for the upcoming season. These key pieces will put a

spring spark

into your step, both outside and at home. 
POPS OF COLOR: The Rise Neon
The neon fashion trend is here to stay – this year it's all about the bright green and yellowish tone. Why don't you check out PUMA's latest update to the Rise, a true power shoe? These shoes are made for those of you who are bright, bold and forward-thinking. This version of the Rise features a fully neon mesh upper and tooling, a semi-translucent upper cage, RS technology, and a very comfortable construction. Put those sneakers on and you'll never be overlooked again.
CLASSIC WHITES: Deva
White shoes are never just trendy, they are timeless. PUMA's Deva white combines the chunky sneakers trend with a stacked all-white silhouette: An elevated sports-fashion profile that has a definite rebellious punk attitude plus they're those kind of chunky, oversized streetwear shoes you might find on the streets of Tokyo. Paired with a bright dress or colorful handbag, these shoes will give your outfit more of a pop.
PASTELS: RS-X Puzzle
One of the biggest fashion trends of this year are pastel colors. Their sweet looking, but ladylike hues, can be matched with almost any other color. PUMA's RS-X Puzzle is inspired by puzzles, with layers of colors and textures in muted pastel tones. This shoe takes the RS design to an extra, thrice-exaggerated form by stripping the silhouette down to the basics, then building it up with stronger material mixes.
POPS OF COLOR: Style Rider Play On
Besides white and pastel, vivid colors will bring life to your spring wardrobe. Try the Style Rider Play On, which carries a bit of flash, featuring a nylon upper and suede overlays in bright colors. The shoe boasts a striking midsole in vibrant purple, plus new shock-absorbing RIDERFOAM for high rebound. This is all topped off with a retro-inspired corrugated outsole and the hot pink Formstrip – perfect for Rider Sundays.