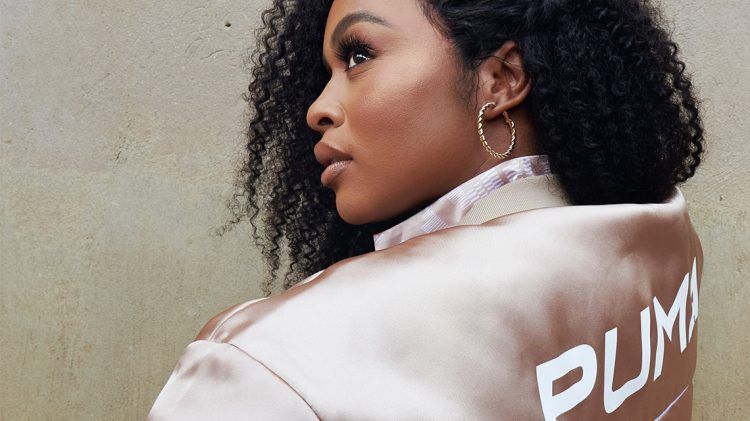 SHE MOVES US
"Dream bigger
than your
surroundings"
She Moves Us - NOMZAMO MBATHA LAUNCHES FIRST COLLECTION WITH PUMA
March 12, 2021
She Moves Us - NOMZAMO MBATHA LAUNCHES FIRST COLLECTION WITH PUMA
March 12, 2021
We would like to introduce you to South African born actress and human rights activist,
Nomzamo Mbatha

. Nomzamo is part of our SHE MOVES US campaign. Now she launches her debut PUMA collection in the African market: Shandu, an ode to the tribe into which she was born in KwaMashu and her grandmother Mildred. The collection of footwear, apparel and accessories for women was

designed around Nomzamo's lifestyle of intense travel, activism and the African summer

.

"Like me, this collection is African through and through," says Nomzamo. "It is an ode to the very family and clan that I come from. My grandmother has always pushed me to open my eyes to the world and known that each of my dreams is attainable. She taught me how to stay humble but sassy, and how to love and accept myself, how to remain true to who I am, and most importantly: where I come from. That's exactly why this collection couldn't have been called anything other than Shandu. It is a tribute to my family and clan, and a thank you to them for helping me break barriers."
Women have always been the backbone of society and we are now standing together. Seeing others do this through She Moves Us makes me excited to do the same and that's why representation is so important. You cannot be what you cannot see and for as long as we can see it, we too can be it. Dream bigger than your surroundings and know that your current circumstances don't have to be your final destination.
The collection launches today in the African market and features soft, sorbet colourways that are sure to make a strong statement. A digital African-inspired print is incorporated throughout with easy to throw on items like a Bomber Jacket and Jumpsuit, Nomzamo's favourite two pieces, as well as the Starlet Sandal, First Flip, Top, Cropped Tees, Shorts and Headband.
"I want women to feel empowered and sexy. This collection is a defining moment of my career. When you put these pieces on, wear them with pride because for the first time PUMA, as a global sports brand, has collaborated with a young black woman from Africa to create a collection. When you touch the garment and read the tag – my name is there. To have dreamed of so many things and now see them be realised is a combination of hard work, determination, resilience, a little luck and a lot of preparation.", says Nomzamo.