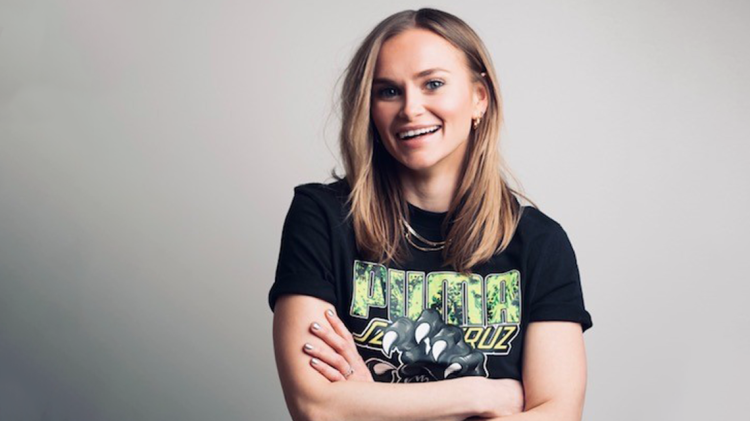 SHE MOVES US
Don't limit your challenges,
challenge your limits
She Moves Us Interview with Sara Karlstedt, Key Account Manager at PUMA
March 29, 2022
She Moves Us Interview with Sara Karlstedt, Key Account Manager at PUMA
March 29, 2022
As part of our 
'She Moves Us'

 interview series, we talked with

Sara Karlstedt

. She is

Key Account Manager at PUMA and former training ambassador.

Learn about her career path and how women inspired her from an early stage on.

It has almost been three years since Sara started working at PUMA. She has now achieved a Key Account Manager position. "I'm part of the sales team but I collaborate as well with marketing which I enjoy a lot".

"I'm a sport fanatic". Sports has always been a huge part of Sara's life. It has affected her life in many ways like who she looked up to growing up.

"I believe everything happens for a reason", says Sara. "I became a PUMA training ambassador before really becoming part of the company. I was also helping in marketing activities such as special events. After a few years, I actually wanted to fully become part of the company". Sara was hoping to be able to mix her passion for sports and fashion. One day, she received a call from PUMA saying there was an opening for a position as substitute for a parental leave. "I was offered the position but knowing it wasn't a long term contract was a bit scary because I had to leave my current and fixed job for it. Nevertheless, I didn't think it over very long and jumped at the opportunity because it was what I really wanted. I did my utter best to try to be an added value to the team during my contract. The fix term contract was for a year and a half, afterwards I eventually ended up with a permanent contract making me think my efforts paid off. It felt great to be where I felt I belonged".
Sporty start in life
Sara didn't plan on working for PUMA or in a sportswear company but slowly it made perfect sense for her to be here, she explains. "I grew up in a very sporty environment. My two older brothers were playing ice hockey and I started rhythmic gymnastics when I was five years old. I did that for about twelve years. My parents did a lot of sports too. My dad was competing in the world championship in orienteering, a Nordic sport where you run through a forest in search for flags". Sara has seen from close up what it is to do sports at a professional level. Her dream was to become a professional athlete when she was younger. "That was the atmosphere that I knew best. Even my friends were telling us that we were such a sports family because on our holidays we would go hiking or do some outdoors activities".
A woman with a dream is like fire!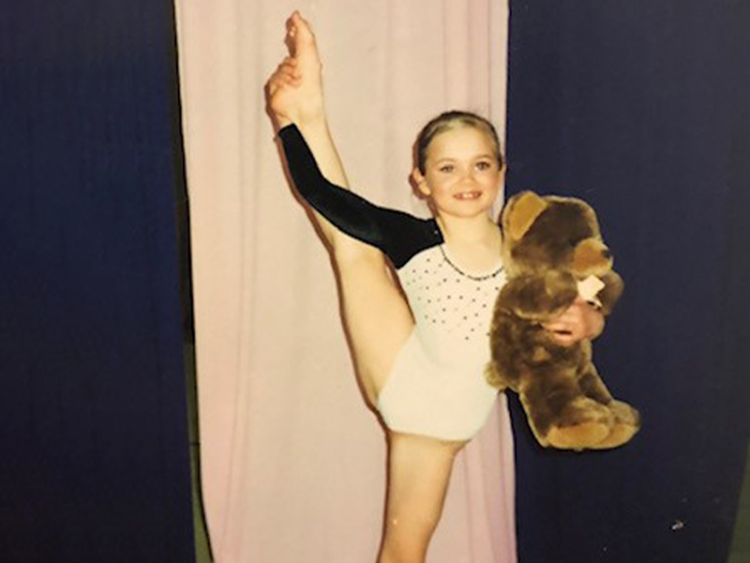 First steps with fitness and PUMA
Gymnastics is a very hard sport. Sara got a back injury when she was 16 years old and needed to quit. "After that, I realized I was too old to become a professional athlete in an order sports area".
When she was 23, Sara decided to compete in a fitness model competition. "I came in third and that's when I had my first interaction with PUMA. I was on the page of a magazine and doing other fitness model jobs as well as having more and more exposure on social media and that's where they had spotted me in the first place. It was not my actual job but it was a nice activity related to sports and I enjoyed doing it".
At that time, Rihanna was the face of PUMA and Sara was a huge fan of hers so she started talking with the brand before becoming an ambassador for the company. "I didn't have a proper idea about my career path after it had become clear that I wouldn't be able to become an athlete because of my back injury".
Sara decided to study fashion marketing. "I hoped at that moment that I would find a profession which suited me by studying the field I enjoyed most. My goal was to make a passion from my career. I wanted to live by the quote: 'Love what you do, do what you love'".
When she had to stop gymnastics and understood she would not be able to reach her dream of becoming an athlete, it was very difficult for her. Nevertheless, it didn't put her down at any point. "It was the thing I did but it wasn't defining me. When my back was better, I started dancing a lot instead. I took lyrical dance classes, jazz, street-dance, hip-hop… I even started to compete in that field. I changed the type of sports I was doing but I continued to compete because that's also one of my character trades. I love a good competition. The struggle in the end wasn't that big". The only painful moment, was when she had to tell her team she couldn't continue with them anymore. It hit her hard because all her friends were part of the gymnastic club. "I did get over it quite fast though, in my opinion. Also, not long after I resigned from the team, other members started having different types of injuries and eventually our team completely dissolved. Back injuries in gymnastics are much more common then we'd think. The movements you need to be able to accomplish can be very demanding".
Inspired by women
As Sara lived in a sporty environment, her role models were mostly professional athletes. There were three strong women in particular who had a big impact on her when she was younger. "I looked up to them. One was an orienteering world champion, Reeta-Maria Kolkkala. I felt a strong connection to her also because she is Finnish and my dad was good friends with her. There was also a Swedish athlete in track and field called Carolina Klüft. The third women was Irina Tchachina who's Russian and did rhythmic gymnastics like me".
To Sara, these three women were amazing because they were competing at a world level and they were one of the finalists in their respective fields. "I compared them super-women who could do whatever they wanted and succeed. They had a determined attitude and mindset which I find inspiring. They were women who believed in themselves. They dreamed big and achieved their set goals". They gave Sara another perspective on how to look at things. "I don't see things as difficult, I see them as a challenge. I want to achieve and overcome those new challenges coming my way. I feel you should not: 'Limit your challenges but challenge your limits'".
To Sara, the most important thing is to pursue your dreams. "A woman with a dream is like fire! We will go for it and be determined. We are not afraid of failure because failure is part of success. To me women who believe in themselves also work hard and achieve their goals".
Support and challenges needed
Sara always got support for what she was doing. "I wouldn't have been able to do gymnastics without my parents. They were always there when I had a competition to cheer me up".
Career wise, Sara didn't have a strong idea of what she wanted to do. "I just hadn't settle for a proper career path straight away because I wasn't sure what I wanted to do. I knew though that once I would have chosen what to do, I would get the needed support".
Prior to her work at Puma, she was the manager of a clothing store. "That job didn't challenge me enough; I knew it wasn't something I would do on the long run. Nevertheless, I wanted to continue to combine both sports and fashion which are my passions. So I thought it was a good time to start also looking for a new workplace or even study something to add to the knowledge I had from the industry". That's when Sara got a call from PUMA to work with them. "It was such a perfect and incredible timing. It was exactly what I was hoping for".
"My type of personality requires a stimulating job in order to not get bored. When I feel stressed out about work or other things, I would do sports in my free time to give myself a break and clear my head for a little bit". Sports is almost like a meditation for Sara. At the moment, she does mainly cross-fit. "It's a sport which has a high and intensive training. For me, the harder the work out is, the better. Then, I can be sure I only focus on that while doing it. It is the perfect way for me to empty my mind".
Sara feels she has a good balance between her work and her private life. "I don't struggle to combine the two until now".
Sara doesn't think women plan their career differently than men. In her opinion, it differs from one person to another and not because of your gender. "I feel women are now finally becoming equals to their men counterparts in the workplace in Nordic countries. Women are more outspoken and they feel the right to have the same privileges. Of course, there is always more work that can be done. When I think about my life and what I've been confronted to, I've been very lucky. The environment my close ones and me have been brought up into was very good and we never really encountered gender inequality. I hope women can believe that nothing and no one can limit them. We women can accomplish anything we want if we put our mind to it. We should push each other to dream big and pursue those dreams".
When Sara started her job at PUMA, she had just turned 27. She felt very stressed because it was a fix term contract. "I had an almost 10-year gap to my other co-workers. As a young woman, I felt the pressure that I had to work harder than others to prove myself. I felt it was the only way to get the respect and credibility I wanted. Nobody had told me I wasn't capable of doing my job though. It was purely pressure I put on myself". Sara wanted to do well and stay within the company. Little by little, she trusted herself more and the pressure disappeared.
Sara said she gave the best she could because she wanted to stay in the company so much. "When I see the new collections every time it makes me super exited. It reminds me how much I love my job as well as all the different parts of the brand. Every season I think: 'This is going to be the best season ever!'. 6 months later, I'm blown away again by what we created. To be honest my job doesn't usually feel like work".
What's next?
Sara's goal for this year, is to do more self-reflection. "I want to focus on my inner strength and how to handle different types of situations. I guess I'd like to better myself at communicating. When something happens, I'm very reactive but I also want to learn to be able to first have a good look at things and then only decide how to pursue things. I want to continue to develop those skills on a professional level. It's important for me to always try to be the best version of myself".
In Sara's opinion, it's good to sometimes stop and ask yourself if you are happy with the way things are in your life. If not, then you can always find ways to make adjustments, she says.
"When I see where I was 10 years ago and where I'm right now, I'm very proud of myself. That's also something I find essential, it is to give yourself some credit for the things you do. It's important to be proud of yourself. I always have new goals but I also pause sometimes to have a look at everything I already achieved and to give myself a pat on the back. I tell myself: 'Hey thumbs up, you've done great so far'. Embrace your imperfections and continue to believe in yourself. It is also ok to realize if something you thought you liked isn't for you in the end. It already takes a lot of courage to take the decision to change. It is ok to change your mind and it is ok to not have a clear vision of what you want from the future".
What Sara would like to share to others who want to have the same type of career as she has today, is to sometimes stop for a moment and figure out what your strengths are. "Try to find what you enjoy doing, what you might be passionate about. That helped me to know where to start. Then things became even clearer with time. The important thing is to trust yourself and always try to develop your skills, to better yourself. That will be your super power!".