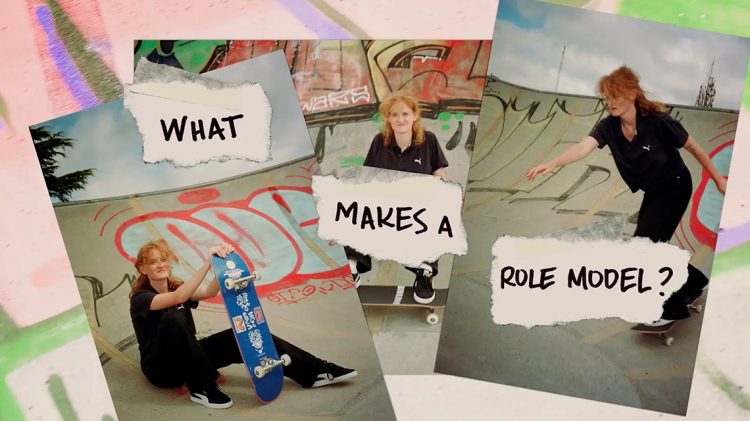 SHE MOVES US
WOMEN
SKATE
THE WORLD
SHE MOVES US: Interview with Nanja van Rijsse, who inspires girls to skate through project supported by Women Win
October 26, 2021
SHE MOVES US: Interview with Nanja van Rijsse, who inspires girls to skate through project supported by Women Win
October 26, 2021
We want to

empower more girls and queer youth through sport! In cooperation with

Women Win

we're supporting every girls' right to play. Did you know? At age 14, girls start dropping out of sports at 1.5x the rate that boys do. By age 17, more than half of girls quit sports altogether. That's why we believe in the importance of role models like Nanja van Rijsse. A girl needs to look up and see other girls, young women and queer youth break stereotypes, promote leadership, confidence, and teamwork to develop a stronger belief in themselves. We had a chat with Nanja, Co-Founder & Director at "

Women Skate the World

". Read the inspiring interview below!
I want to make sure that young girls have the tools, motivation and inspiration to stay healthy and empowered, to set up their own programs and follow their dreams so that in 10 years they will be the ones who can become role models in their own community.
View this post on Instagram
Nanja, you are one of the founders of the organization "Women Skate the World"? How did that come about?
Nanja: Three years ago, we founded "Women skate the World". Back then we started it to bring more girls into skateboarding. By now it has grown to becoma a professional charity. There is a long story behind it. Right before I founded the organization, I did some volunteer work in Palestine for a skateboarding NGO. There I met the other co-founder of "Women skate the World", Amber. In Palestine we realized, we can make a big difference as role models to all the girls in the village where we taught skateboarding. That is when we came up with the idea of creating a global platform to reach more women and girls in skateboarding.
For people who don't know, what is "Women Skate the World"?
Nanja: We do different projects for girls, women, and queer people, to bring them to skateboarding and to build a community that is safe and diverse within skateboarding. We work to inspire, educate, and engage people with skateboarding as a tool. The program was first launched in Athens in cooperation with a skateboarding program that works in the refugee community. A year later, I started it in the Netherlands. Since then, it has been growing quite big, with different partners and different programs.
We realized that to attract more women we need to create lesson content that people find interesting. We also wanted to make it a bit more empowering, so we came up with a combination of skateboarding, education, and creativity in a lesson program. If you have a climate change lesson for example, you will start with a demonstration of recycled or upcycled skateboards and then you would make your own design.
What makes a good role model in your opinion? 
Nanja: I think anyone can be a role model. I guess I am a role model to certain people in our programs. There are people who see me as an example, which is weird to say about yourself. I think it is about finding your own path in life and I'm happy to do something that I like every day.
You inspire, empower and engage people through skateboarding. What is the ideal outcome you want to see through your programs?
Nanja: The ultimate goal are two things: 1) that everyone feels welcome, accepted and safe. 2) And on the other hand, also in society, I want people to have their own community, their own safe place. Both points strengthen each other, so we can raise a next generation of girls and queer youth that feel confident, strong, and empowered, for the world to become better and fairer.
Are there any more initiatives planned with Women Win & PUMA in the near future?
Nanja: PUMA supports Women Win and Women Win collaborates with a program called Skateistan. Together they have founded the "roll model program". In the first year "Women skate the World" has been involved as a participant. So, we have received support by developing our program and got leadership workshops. Now in the second year, I have been a coach to participants. So, I helped others to set up programs and with the organization of workshops. We've been able to welcome more than 150 people in the Women Skate the World programs, through this program in two years.
Thank you very much for the interview, Nanja!