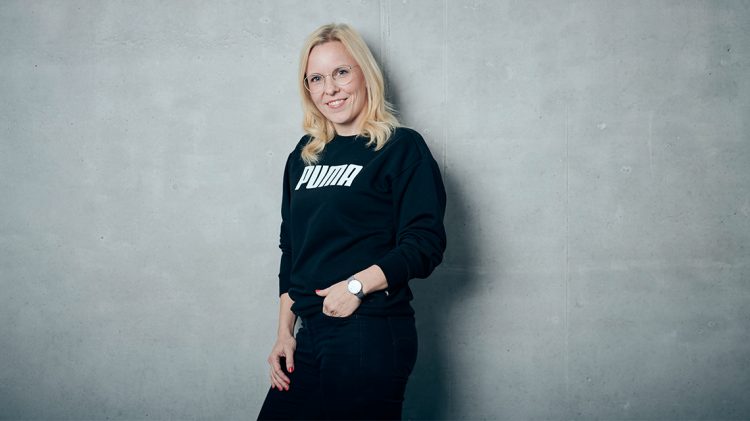 SHE MOVES US
"In life,
we have to adapt,
to change"
She Moves Us Interview with Anja Heinbach, Head Of Product Line Management Accessories
October 7, 2021
She Moves Us Interview with Anja Heinbach, Head Of Product Line Management Accessories
October 7, 2021
As part of our

She Moves Us

series, we interviewed PUMA's Head of Product Line Management, Anja Heinbach. Find out why practicing yoga helped her in her career and learn more about coaching programs and the high importance of being good to ourselves.

After a couple of years in a senior position, Anja didn't expect to become head of the team. "I thought that I wouldn't be able to move forward in the team due to the small size of our Business unit. I wanted to stay in Accessories but I'm always eager to learn". She asked herself, what she could do to acquire new skills and do something else. That's when Anja decided to become a Yoga teacher. She left for a month to Bali in 2015 and trained as an instructor there. "When I came back from Bali I wasn't sure what to do with this new knowledge. I started giving some classes to some people from my team and friends but not officially. Then the owner of the studio I always go to asked me to help out. Nowadays I have my two fixed yoga classes at that studio".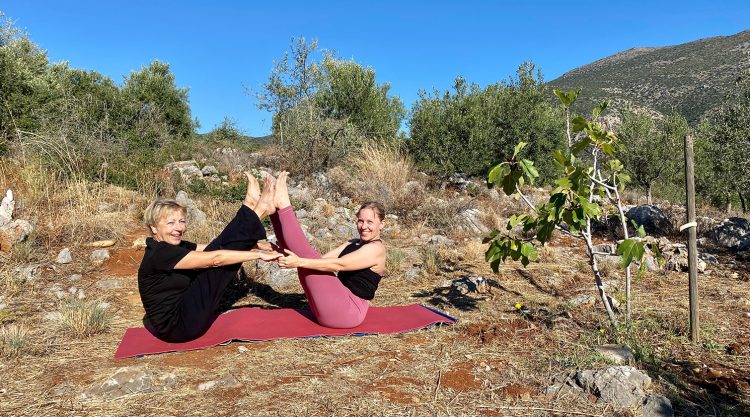 THE LOVE FOR YOGA
Yoga came into Anja's life when she saw her mum doing it at home. "I was never really good at any sports. I did horseback riding, playing badminton… it was all ok but I was average and didn't enjoy it that much. When my mum was in her late 50s, she decided to become a yoga teacher and it changed her, not only physically but also mentally. That's when I thought 'Maybe I should give it a try'". Anja started her first Yoga class about one year after she joined PUMA. She enjoyed it from day one.
She decided to do a completely different type of yoga than her mum. "I admired what she was doing, however with yoga I decided to do my own thing". What is nice is that now, in Covid times, she can give hybrid lessons. "I have people dialing in and also people in the room. My mum lives more than 500 km from where I teach and joins online every time I give a class. She is my student and I really like it". Anja says her mum is one of her biggest fans when it comes to yoga teaching.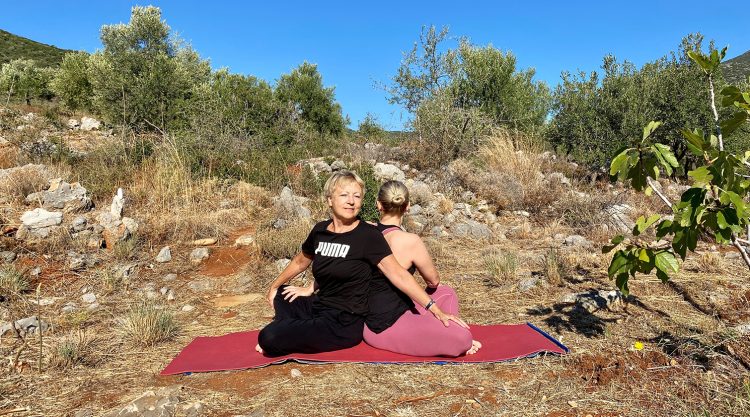 CALM THROUGH THE STORM
Anja has always been curious about things related to wellbeing. "I was already curious about things like that years ago. My mum was probably the starting point of me being interested in all of this. I think it's also a bit of a mind shift in society. Sometimes people feel like everything is perfect on the outside but inside something is missing". She started to read a lot and to listen to a lot of different podcasts on the matter as well as seeing the positive effect of yoga on her mum.
Later on, Anja started meditating, now it is part of her daily routine. She explains how important this is to her, especially in these stressful times—she wants to be able to remain calm, balanced and focused. "It is feedback that I always get from people around me that one of my strengths is that I can stay calm; even if there is a storm around me, I can stay focused. I can also guide people through the storm if needed". She discovered her strong-mindedness in recent years.
DO NOT JUDGE A BOOK BY ITS COVER

Something Anja finds important is to keep on learning and developing herself. In her yoga classes, she needs to adapt a lot to the different students who come to her classes. "In life, we have to adapt, to change". Therefore, next to her job and being a yoga teacher and managing her team, she did a couple of trainings at PUMA. "One day, I went to the human resources to ask them if there was something that PUMA could support me with to continue to grow. They offered me several options and one was to become a coach. It was an intense training that took more than a year". She decided to sign up for the program just before the corona virus hit. "For me it arrived right on time and I really enjoyed the coaching program. I learned a lot about myself and of course how to deal with people. It showed me how different we all are. It definitely reminded me to not judge a book by its cover because there can be so much more that is maybe not straight away visible in someone". Anja is now an internal coach and is waiting for people to reach out to get coached. She would love to help and lift up some people at PUMA. "I am curious to see where the journey takes me this time".
When Anja looks back, she would not have expected that she would have the job and expertise that she has today. "At some point I stopped overthinking it and I started to do it. Then things started to change. I was shy and didn't want to speak in front of many people and now I speak in front of groups, I teach and I love it. I used to not like traveling, I wanted to stay at home and now when there is no corona I have to travel the world and it is fun. I can adjust to new situations very quickly. Sometimes, the things that are challenging us can get interesting and positive. They can even make us stronger". In her opinion, having had to get out of her comfort zone and taking on challenges made her grow.
INTERNATIONAL BUSINESS
When Anja started international business at university, she enrolled without being certain of what she wanted to do after high school. "I had a lot of ideas but I did not have a clear career plan from day one". Somehow, she knew that she would make her way up as managing had been something she always enjoyed doing. She decided on international business because with that you can go in all kinds of different industries."I hated it when I started it. The first semester, I was so close to quitting. I did not like the subjects that we were taught, I wasn't sure about the city I was living in… Then I said to myself 'I will give it one more semester, if it's still not for me after that then I'll drop it'. Somehow it took the pressure off me and changed my perspective towards my studies". Things started to be ok for Anja. She met nice people and even though some of the classes were still not her cup of tea others became interesting. "I went on and I finished my University program with a quite very good grade. Following that I started a first job in the fashion industry, which was something I didn't plan but it turned out to be just the right thing for me. Now I want to stay in that field".
Growing up to become the talented woman she is today, Anja feels both of her parents were role models for her. "I grew up in an environment where men and women were treated equally. At home there were no clear roles", she says. "It is something I'm very thankful of because I grew up not feeling a difference between me and men, without feeling that there is a role I needed to fulfill. I grew up being taught that what's important is the person and not the gender".
Today with her husband, a musician, there are also no clear roles in their relationship. "We always share our tasks. I can see that I adapted some of the patterns my parents used to have; we are treating each other absolutely equally".
TAKE GOOD CARE OF YOURSELF
If anyone would have to follow into Anja's footsteps and things would become tough she would like for that person to not put themselves under too much pressure. "Things that might not always be a hundred percent related to your job might bring you to a much better place than you would have expected". Anja is a beautiful example of that. "Life is not going in a straight line, you might encounter many interesting turns. Hopefully you'll be able to look back and see what those turns were good for. Personally it helped to get me where I am now. Sometimes when things seem to take a longer way, you might end up in a much better place than you would have thought".
It is also important for Anja, she explains, to remind herself and others to "take good care of yourself because nobody else is going to do that to the level you are able to. Especially in these stressful times, you need to be kind to yourself and take the time that you need. People are getting burnout and I think this will increase over the next few years, so it's important to find a proper life balance. You have to trust yourself, you can do more than you think. You can overcome the difficulties you're faced with. The relationship you have with yourself is the most important. Sometimes we tend to forget to be good to ourselves". Anja makes sure even though she is taking care of a whole team that she takes time for a personal check now and then.