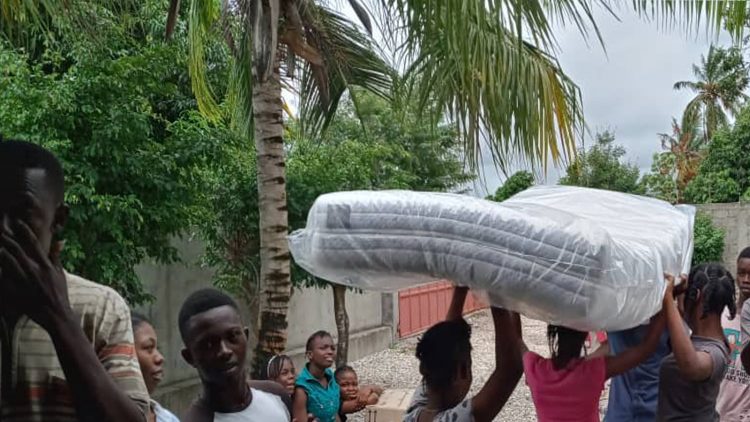 Alone we can do so little,
together we can
do so much
PUMA's Charity Cat and Danish company Maersk collaborate to help out Haiti's population
December 13, 2022
PUMA's Charity Cat and Danish company Maersk collaborate to help out Haiti's population
December 13, 2022
In tough times like these, it takes a lot of solidarity and cooperation to help people all over the world. Of course, PUMA doesn't just want to be a spectator in the stands, but actively be involved in the game.
Good that we have
Charity Cat

, a association of PUMA employees who are committed to various aid programs on a voluntary basis in their free time. They run fantastic projects like this year's

aid container for the orphanage

in Les Canes, Haiti.

Curious? Let's dive into the topic!
What happened in Haiti?
On August 8,2021 Haiti  faced a 7.2-magnitude-earthquake that had a devastating effect on the island. It changed and disrupted daily life and left locals traumatized. Emergency services were overwhelmed, causing daily supplies to be no longer available.
What is happening in Haiti right now? 
According to Jean-Martin Bauer, the United Nations World Food Programme representative in Haiti, Haiti is in a severe food crisis, which means that half of the population is affected by a food emergency and 19,000 people face a food disaster. This is the worst scenario ever in Haiti/Las Americas.
For an overview of the challenges Haiti has faced over the last 10 years, see the chart on the right!
Charity Cat's engagement in Haiti 
Charity Cat has been supporting the Fonmeh Orphanage in Haiti for over 10 years. As the earthquake mainly hit the area where the orphanage is located, they teamed up with the Danish company Maersk to help the people who were most affected.
The project
A container with essential supplies such as cement, sewing machines and bicycles was organised to repair basic damage and bring great joy to the children. It was packed in March and arrived in Port-au-Prince, the capital of Haiti, at the end of April 2022. A major challenge during the project was the customs regulations and obtaining all the necessary documents, as well as the high level of corruption and the insecure infrastructure in the country. Against all odds, the container finally reached the orphanage in Les Cayes on 2 July 2022.
Maersk has offered their support with no hesistation. Without them, the project owuld not have been possible to implement.