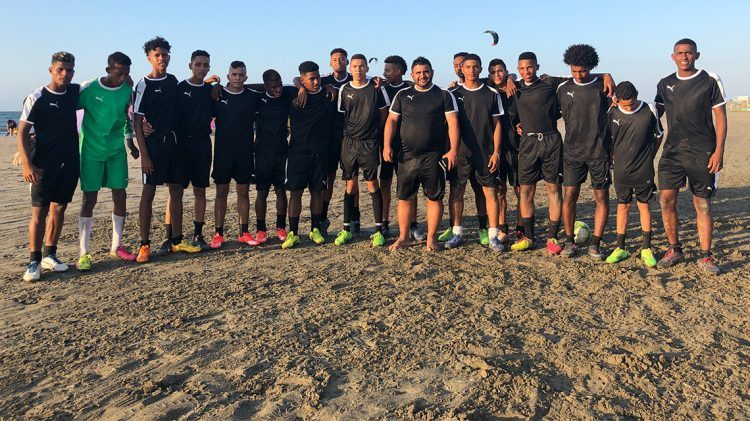 Joy to
the world
Charity Christmas event makes kids in Colombia happy
December 21, 2018
Charity Christmas event makes kids in Colombia happy
December 21, 2018
There is a saying that"Christmas is about giving from the heart, more than giving from the store." At a recent
Charity Event at PUMA's headquarters,

 however, you could actually do both!
Every year, Charity Cat, a non-profit organization founded and operated by PUMA employees, sets up a giant sample give-away right before Christmas, and encourages PUMA employees at the Headquarters in Herzogenaurach to in return donate an appropriate amount of money for a good cause.
It's a win-win situation: samples, which are no longer of use are given a "second life" under the Christmas tree, while the donations fully benefit hand-picked charitable projects.
This year, donations reached a new record with over 18,000 euros collected.
Real de Indias – Education through football
Wonderful news for the partnered non-governmental organization (NGO) Fundaciòn Real de Indias from Cartagena, Colombia, which is one of the main recipients of this Christmas appeal. The organization gives teenagers, mostly from low income families, the chance to join a football team, instead of spending their spare time on the streets of a neighborhood with a very high crime rate.
Playing football, they are taught valuable skills such as discipline, team play and perseverance. Having the beach as a playground, the kids can share their dreams, their hopes and their passion for football.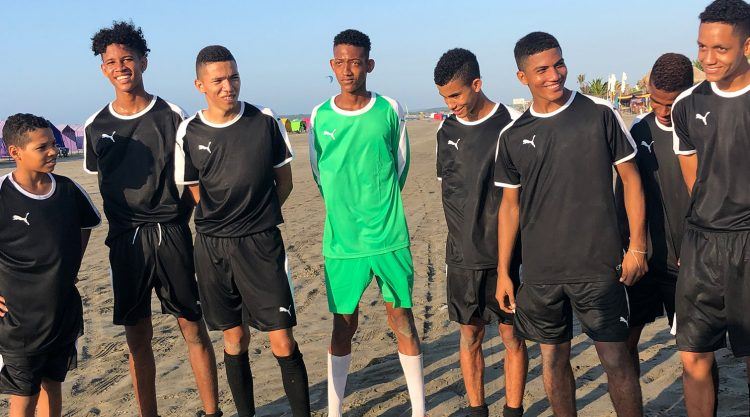 The partnership with Fundaciòn Real de Indias was initiated two years ago, when Andres Felipe Castro – an intern at that time, now Junior Manager Sales at PUMA – asked if some unsold samples could be sent to his former football team in his homeland Colombia – Real de Indias.
He was part of the team when he was a kid and knows how committed coach Abel Gonzalez is to use the passion for football to help underprivileged kids to get on the right path.
What struck me when I was a kid on the team was how everyone got along, regardless of their origin or social background. Everyone was joyful and we all spoke the same language - that's the magic of football.
The cooperation started with product donations. such as football boots or jerseys, and was strengthened by financial support to cover the team's expenses for renting a pitch or participating in tournaments.
For 2019, Fundaciòn Real de Indias set itself ambitious goals: offering training to younger children aged 10 to 12 and increasing the overall capacity to 100 kids. To achieve this goal, the organization hopes to sign a lease for a terrain to operate their own football pitch.
Thanks to Charity Cat and PUMA we keep working and educating more than future great football players – we are raising great human beings!
Besides the many smiling faces of the kids at Real de Indias, the project also made a small Christmas miracle happen: Wileider Gonzalez Avila, who joined the team two years ago, just signed a professional youth contract with local club Millonarios.
We hope that many wonderful stories will follow!
Picture credit: Soad Marun / Carolina Cerro for Charity Cat