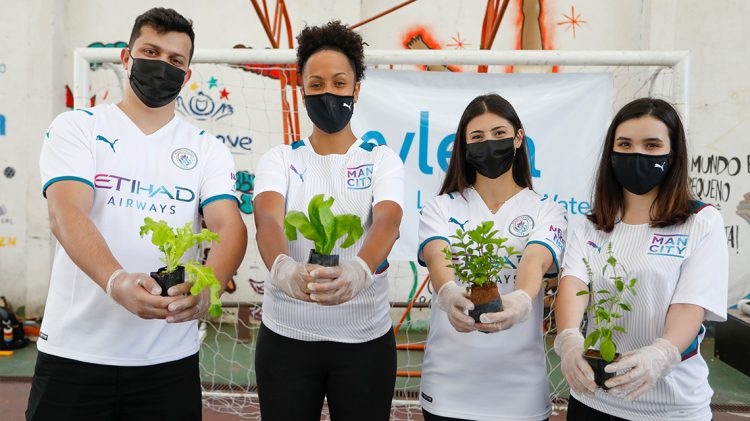 Drip kit -
saving water
How PUMA, Man City's global charity initiative, Cityzens Giving and Xylem Inc. are helping to educate about water challenges in São Paulo
December 7, 2021
How PUMA, Man City's global charity initiative, Cityzens Giving and Xylem Inc. are helping to educate about water challenges in São Paulo
December 7, 2021
Its one of the most appreciated kits of the 2021-22 season. But not only that!
Man City's water-inspired PUMA Away Kit

celebrates football as a force for good. Working in the

Vila Albertina neighborhood of São Paulo

, Young Leaders from the 

G

ol de Letra Foundation

are

using football to educate young people on water use

, water scarcity and WASH. The project aims to make local city kids aware of the importance of water and its conscious consumption. Find out more on how PUMA,

Man City's global charity initiative

,

Cityzens Giving

and

Xylem Inc

. are helping to educate about water in São Paulo through the power of football.
THE STORY BEHIND MAN CITY´S WATER-INSPIRED AWAY KIT
The kit has been produced with a special Dope Dye manufacturing process to reduce water consumption. 1 in 3 people globally do not have access to clean drinking water. Without reliable access to safe water, it is difficult for communities to thrive. The global programme between PUMA, Cityzens Giving & Xylem Inc. seeks to address these challenges in unique ways, combining football-based education on water, sanitation and hygiene, with Xylem water technology to provide clean water access for communities in need.
The programme kicked off in July 2021 with the creation of a clean water tower in Mumbai, producing a safe and long-term supply of fresh drinking water for 1,800 people per day.
The Dope Dye manufacturing process drastically reduced the amount of water and dye used during the production of this kit, when compared to traditional ways of dying materials. We wanted to go beyond kit design, beyond technology, to have real impact on people's lives. We're very proud of this unique collaboration with Cityzens Giving and Xylem, and the positive impact we've been able to make together in São Paulo to help solve water challenges in the local community.
TAKE A LOOK WHAT HAS BEEN HAPPENING IN SÃO PAULO
PUMA JOINS FORCES TO HELP SOLVE WATER IN SÃO PAULO
Working in the Vila Albertina community of São Paulo, young leaders from Gol de Letra Foundation are using football to educate on water use, water scarcity and WASH. The project aims to make local city kids aware of the importance of water and its conscious consumption.
Vila Albertina is dealing with rising issues of water scarcity. A lack of reliable access to safe water at the project's main centre causes some football activities to be interrupted or cancelled.
In November, a group of volunteers (incl. local City fans, PUMA employees and Xylem employees) joined forces with Fundación Avina to take the first steps in installing a rainwater capture and re-use system at the centre. This system will provide the centre with an alternative source of water, allowing more consistent access to clean water year-round.
Additionally, the volunteers created a sustainable garden which will be fed by rain-water, and a water-reuse system, thereby reducing water waste and growing healthy, natural food for young people and the community.
Stay tuned for more news from the projects.