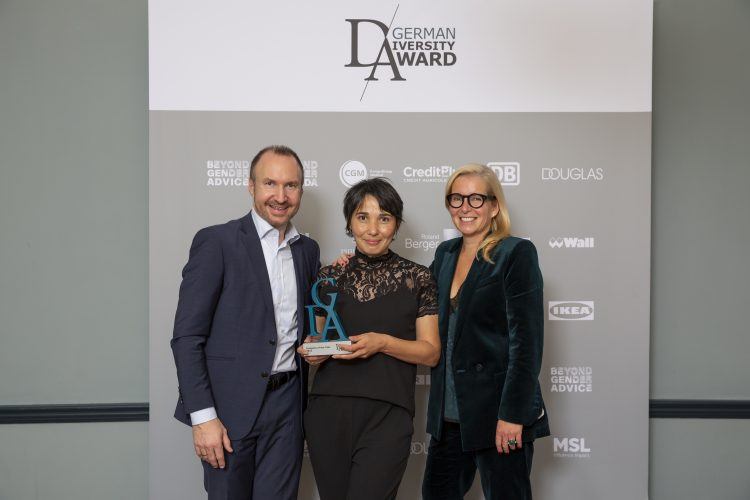 A beautiful
win
PUMA wins German Diversity Award 2022 for Company of the Year
October 14, 2022
PUMA wins German Diversity Award 2022 for Company of the Year
October 14, 2022
Diversity is a key component of our working culture and expressed in our employer value
Be You

. It is not just a phrase – it's about creating a place where every employee can be who they are. We are very pleased that this has been recognized by BeyondGenderAgenda. This week, PUMA was awarded the

German Diversity Award

as

Company of the Year

. The 13 winners are companies and individuals who are committed to at least one of the following BeyondGenderAgenda dimensions: Disability, Ethnicity, Gender, Generation, LGBTQ+ and Social Mobility. Our Regional Director People & Organization EMEA,

Gulchekhra Bakeberg

, attended the ceremony in Berlin to accept the award on behalf of PUMA.

According to BeyondGenderAgenda, Germany ranks in the bottom three in international studies on Diversity, Equity and Inclusion and we are proud of PUMA's commitment to change! The German Diversity Award is a great platform to give diversity a stage.
"It was an honor to accept the award for PUMA. There were many inspirational and amazing people there, it makes you believe the work we do makes a difference."
DIVERSITY, EQUITY AND INCLUSION @ PUMA
You can read all about our commitment to diversity and inclusivity here! At the core of our family value sits diversity – a key component in establishing a respectful and supportive workplace where every employee can be their true selves. By listening to our family, we aim to break down systemic barriers and identify areas of improvement by fostering a culture that encourages collaboration and fairness.
"Diversity drives performance. In order to display economic potential, there needs to be an inclusive work environment."
View this post on Instagram