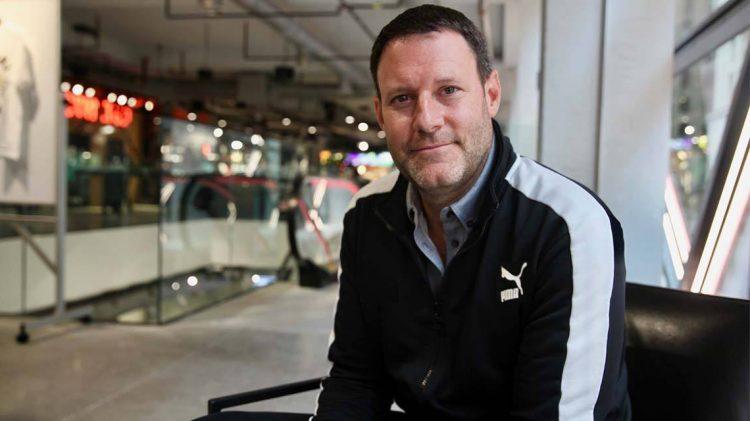 We have to
go beyond diversity
and be inclusive
Interview with General Manager for PUMA North America, Bob Philion
September 16, 2020
Interview with General Manager for PUMA North America, Bob Philion
September 16, 2020
This year is exceptional in many ways: We're facing a global pandemic, which hit the world and the United States of America hard. Aside from
health risks

, there is also an

economic impact

. CATch up spoke to the President of 

PUMA North America

 Bob Philion about the COVID pandemic as well as diversity & inclusion at PUMA.
The COVID 19 crisis has eased off a bit. Does this make you less concerned?
Bob: Absolutely not. Even over the recent Labor Day weekend there was lots of nervousness and precautions being taken to avoid a further spread of the virus. People have seen the cases in the USA spike and we still have a lot of concern about controlling the virust. Schools are the big topic right now and unfortunately many are still having to choose remote learning for their children. Also, many fall sports like American football at many high schools and universities have been cancelled/delayed so those are examples of the apprehension that exists. It's important that we remain very diligent and follow all the guidelines and regulations to stay safe and healthy.
How do you feel PUMA has weathered the crisis so far?
Bob: I feel like many of the key attributes and strengths of PUMA have been on full display to help us navigate this tough time, from Bjørn and the board as well as through all levels here in North America. We have had to stay nimble and flexible with how we work, how we operate our business and even our own mindset throughout the pandemic. I also think we've relied on our inherent hustle and grit to make it through the darkest days and find the opportunities that exist. I also believe that our teamwork and trust has been critical, and I'm proud of how PNA rallied through the tough times to help us survive and stay positive in this recovery phase. I'm especially thankful to the sourcing and development teams in Asia and our own logistics teams for 'keeping the machine running' which was not only critical to our current and future business, but gave all of our employees the inspiration and hope that we would survive and come out even stronger on the other side.
What are the learnings that you have taken from the crisis?
Bob: There's a great quote I read recently: "Adversity doesn't build character, it reveals it." And I think this is very true.  We've learned a lot about our business, our customers and our people. There have been many learnings, and I think most of what we've seen has been the 'acceleration of trends' that were already happening but the next 5-10 years have been pulled forward into these next 5-10 months. One example comes from eCommerce. Here we see the biggest learning and opportunity for PUMA on our own site as well as the digital platforms within our wholesale business. The pandemic has shown that there is more opportunity than most have thought.
What do you think we could have done better?
Bob: We can always be better. I feel there are more learnings to be had from China and markets in Asia that were 2-3 months ahead of us and to better anticipate some of the challenges. On the more tactical side, with all of our selling being remote we need to improve our own skills and tools to be the gold standard in our industry. And I'm also working on more ways to connect with our employees remotely, given that I haven't physically been able to be with many of our team members in 6 months.
What is the most important part in PUMA's work culture that helped us to get through the crisis?
I always use the example of the gas, brake and clutch of a car. At the height of the crisis we saw many cancellations. So, we had to brake heavily, delay orders and work closely with Anne-Laure Descours and her team in Asia, trying to keep our suppliers in business, keep our retailers happy and survive ourselves. We're really just trying to stay flexible and nimble, the brakes went to the clutch, as we reopened some stores and then the past months have been positive, so we hit the accelerator, stores are open and consumers are spending. They're buying activewear, comfortable products, loungewear, things they can wear at home. Who would have thought at the start of the pandemic, that we would be in this situation where we have had our two biggest months ever? We want to use this reshuffling of the deck to grab the opportunity and steal market share.
We had the #Reform initiative and have been talking about this topic before the George Floyd incident but at the same time, our employees felt that we were driven too much by our external actions and less about how we could improve internally. In the past couple of months, we've really focused our efforts on internal action.
Although we already have a very diverse employee base, what would you still like to see improving?
Bob: I feel PUMA overall is a diverse and inclusive company, but we can and always need to get better. We are working on a number of initiatives in four areas:
Transparency – how we can provide more visibility of our demographics, processes and programs
Talent – how we can improve the recruitment and retention of diverse employees
Education – how we can elevate and promote learning to all PUMA employees
Advocacy – how we can leverage our resources for the betterment of the Community
It is important, however, to go beyond diversity and be inclusive. While there are a lot of companies that check the box on diversity and make sure their company looks more diverse, inclusion is even more critical. Once you have a diverse organization, how do you work with the people you hire? Can they bring positive change to the organization? What voice do they have? We have stressed the importance of inclusion. I always felt that PUMA was a very inclusive place and that has helped us through this time. But we can always get better. Certainly, our new office location, which we will open next year, is going to help us with our recruitment.
We've made good progress but we have much work to do. I'm excited about our direction, passion and support for our Diversity & Inclusion initiatives.
Are there any plans how PUMA will help achieving that, like trainings or initiatives?
Bob: Yes! We have many actions that are already underway. We've been transparent here in North America with our stats and have laid out many areas for improvement. This includes our work with Diversity@Workplace, our recent launch of our very first employee resource group, our new Diversity & Inclusion e-learning site and our commitment to add resources within the organization dedicated to our Diversity & Inclusion initiatives. We will be updating our progress against these actions regularly with the entire organization.
Which developments in PUMA's company culture are you most proud of?
Bob: Communication. I'm proud with how we've engaged the organization around the racial injustice and discrimination that we are seeing in the USA. We've had uncomfortable conversations, addressing the situation head on with our employees, both at an individual level, in small groups and as one PUMA North American unit. We recently launched our Open Forum Series, a townhall if you will, with our employees, and this will continue moving forward. We've also had calls with our retail teams in the field to ensure they stay connected to what's happening and we hear their voice as well. I truly feel this is an inflection point for the company, and I'm excited about the opportunity that exists for everyone in North America to engage and help make PUMA an even more diverse and inclusive company for all future cats.