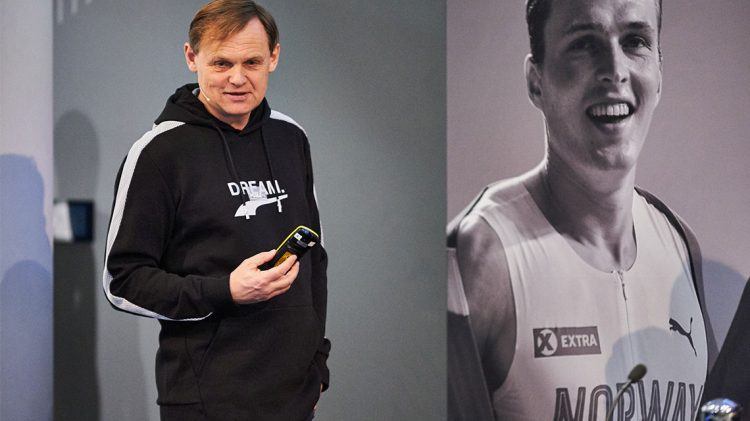 "Discrimination and Racism
are No-Go's. Period."
Interview with our CEO Bjørn Gulden
July 31, 2020
Interview with our CEO Bjørn Gulden
July 31, 2020
The last months have been
turbulent for PUMA

and for everyone working here. To say the least. We faced a global pandemic with health concerns, we saw all of our PUMA stores shut down globally and were unsure of how the company would get through

this crisis

. On top, the world was shocked by the senseless killing of George Floyd, painfully revealing that we still have a long way to go in

fighting racism and discrimination

.
CATch up spoke to
PUMA CEO Bjørn Gulden

about the COVID crisis and diversity and inclusion at PUMA.
CATch up: The COVID 19 crisis has eased off a bit. Does this make you less concerned? 
Bjørn: I think "easing off" is a very local point of view. It has eased off here in central Europe. We have more stores open than before and the business is improving. But to be honest with you: I don't think that the virus itself has peaked globally. We are seeing more and more cases in many parts of the world and even at PUMA, we have now more cases in our PUMA family than we have ever had before. So, I think easing off is a word that we need to be careful with.
CATch up: How do you feel PUMA has weathered the crisis so far?
Bjørn: When the crisis hit globally at the end of March, the whole company worked hard to find solutions. In the beginning, it was about getting an overview of the situation and making sure that we take care of the health and safety of our people. We then focused on securing financing and liquidity to ensure that PUMA stayed operational, even though sales and income almost stopped for a while. We slowed down costs and investments and took a risk on our investments going forward in terms of product development for 2021 and future marketing commitments. So overall, as a company we've done a decent job in getting through those three months – thanks to the people who have stepped up and done more than anybody could have expected from them. I think it's wrong to be happy about where we are in the crisis, but I'm proud and very satisfied with what our people have done.
CATch up: What are the learnings that you have taken from the crisis?
Bjørn: The problem with COVID is that you don't have any references. I've never been in a situation where the entire world shut down and there was literally no place to sell products – except for online. I think the lesson learned is that although you have a strategy, you need to be very flexible, have an open mind and don't panic.
CATch up: What do you think we could have done better?
Bjørn: You can always do better. I think when the virus hit the Wuhan province in China, we first focused on our supply chain as we had a lot of production in China for export. If we had earlier understood that this virus could spread globally, we would have planned for our businesses in Europe, America and the other regions. In terms of the health and safety of our people, we've had some cases worldwide, but no one of our people has been really sick and fortunately, no one has died. Our P&O people and the local Management teams have done a great job in making sure that people would be safe and healthy.
As a business, we also managed to switch very quickly from analog to digital. We proved that PUMA is an agile organization and that we were able to take actions quickly and find pragmatic solutions for whatever we had to deal with.
CATch up: How do you think did the employees manage the crisis? 
Bjørn: In general, I think that the PUMA family immediately stepped up and handled the situation very well. Our people demonstrated huge flexibility to find different ways of working, especially as some people simply could not work from home in their jobs, such as the sourcing people and our staff in the stores. I think a lot of people went way beyond what you can demand from them. I'm very happy with the way the PUMA family has stuck together and handled the situation.
CATch up: What is the most important part in PUMA's work culture that helped us to get through the crisis?
Bjørn: I think working for PUMA is not just a job. Working for PUMA in any function around the globe makes you belong to something where the "we" is more important than the "I". So, for a global company that is trading in more than 130 countries, that's a great attitude to have. Also, our strategy to have local management where possible – PUMA India is run by Indian people and Japanese people run PUMA Japan and so forth – ensures that our organizations are handled locally when it's needed – unlike in many other global companies.
In our Headquarters in Herzogenaurach, I think we have a very diverse workforce. We have people from more than 70 different countries. It is very important to have this knowledge of different cultures around the world, so that it is not just Germans or Norwegians sitting here who don't know how things are perceived in different markets and cultures.
Also, our way of communicating helped us a lot. We are still a very informal company when it comes to how we communicate. It was quick and easy to set up calls with all the General Managers in other countries or Business Units or even our retail partners and therefore we could communicate on a very short notice with all our stakeholders. A culture of having people who know how to communicate with each other fast and pragmatically was and is very, very valuable.
CATch up: Although we already have a very diverse employee base here at our Headquarters in Herzogenaurach, what would you still like to see improving? 
Bjørn: When you see the relevant issues in the world, such as racism and discrimination in general, diversity and inclusion, there's no finish line for those. We need to continue working on making sure that we have a zero-tolerance-attitude within PUMA when it comes to discrimination. We also need to become better in the way we communicate with each other – but also ensure tolerance at the same time. We need to have a house where everybody can be themselves and must not be afraid of being discriminated. But at the same time, we need to have a very open way of communication, so that we don't need to be afraid of how we deal with each other. Our value is that everybody must be treated with respect and fairness, and we need to learn what that means for the different cultures. That can only be done if we talk to each other, so that we find out what is offending someone.
CATch up: Are there any plans how PUMA will help achieving that, like trainings or initiatives?
Bjørn: As you know we had a survey here in the Headquarter and there are now surveys being done in 32 different PUMA subsidiaries that are trying to identify, if there are issues and if so, what these issues are. We will then of course have action plans to address the issues. But they have to be addressed locally, because the issues in India are different than the ones in China and those are different from the ones in Germany and those are again different from the ones in USA. The bottom line, however, is: racism and discrimination are no-go's.
The tools to deal with the survey findings could be e-learning or real physical trainings or working groups. The measures can be different from market to market and issue to issue, but the most important thing is that we find out what the issues are and improve what needs to be improved. That is mine and your's and everybody's job, because if everybody behaves in the right way, we have no discrimination and racism.
CATch up: Which developments in PUMA's company culture are you most proud of?
Bjørn: You know, I'm an old man, who has been in the industry for a long time. I have worked in international companies here in Germany and also in other parts of the world. When I started, the first thing was to get more different nationalities into a company that wanted to be a global player. Then gender equality was also brought more into focus. This industry has been dominated by men and it was clear that it was necessary to hire more women – from a non-discriminating point of view, but also from a business angle. This business should be 50/50, because it just makes sense. I think PUMA and the industry have made great strides in that respect. We should also be a company that disabled people like to work for and we should make sure that we care for them. I think we are doing a decent job in this space. When it comes to the LGBTQ community, regardless of what your sexual orientation is, you are welcome at PUMA. And in terms of religion, people can have whatever religion they want – they are welcome. The more diverse our company is, the better!
The history of the PUMA brand allows us to have a platform like REFORM. We just need to be better in using this REFORM platform for our own employees, but also for our partners such as athletes, federations, entertainers or musicians, so that we can help them take a stand on what they think is important. PUMA should not be a political company, but we know when things are wrong and will support fixing those. Discrimination and racism are not acceptable. Period.