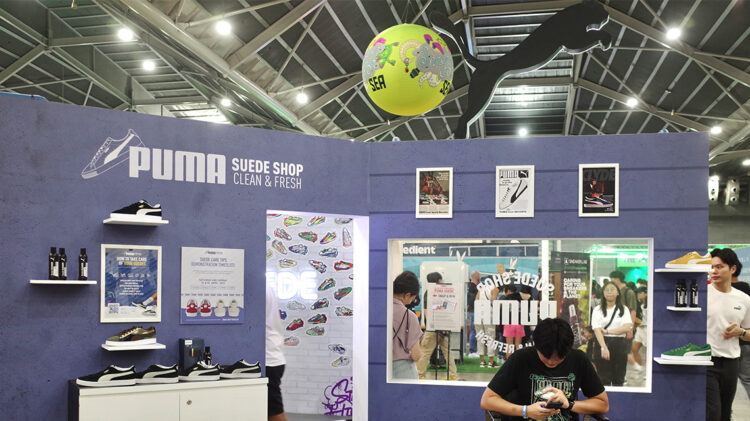 Forever.
Suede.
PUMA SINGAPORE Makes a Splash at the 2023 Sneaker Con SOUTHEAST ASIA
April 12, 2023
PUMA SINGAPORE Makes a Splash at the 2023 Sneaker Con SOUTHEAST ASIA
April 12, 2023
PUMA took the 2023 Sneaker Con SEA by storm this year with our stunning booth that showcased our celebrated Suede shoes. Packed with three experiential zones that left visitors awestruck, this booth was the place to be.
The Newsstand
ZONE 1
The first zone, The Newsstand, was a feast for the eyes. Visitors were transported through the 50-year evolution of the PUMA Suede, starting from its humble beginnings as PUMA CRACK to its current status as a globally recognized shoe. The booth was designed to be Instagramable and featured stunning displays that highlighted the shoe's rich history.
The Suede Shop
ZONE 2
The second zone, The Suede Shop, was a shoe lover's paradise. Visitors were treated to the ultimate shoe-cleaning experience, complete with live demonstrations by experts who shared their tips and tricks for keeping suede shoes in top-notch condition.
And the best part? Visitors who came in PUMA shoes received a complimentary midsole cleaning service.
The Graffiti Wall
But wait, there's more! To celebrate PUMA Suede Day, PUMA invited a Singapore graffiti artist, Adam Wang a.k.a Dempster, @papa.dem who is strongly established in Singapore's urban art scene to create an awe-inspiring mural at the graffiti wall.
Visitors were invited to participate in a mini design competition and stand a chance to win a pair of PUMA Suede shoes! It was an absolute joy to watch the crowd unleash their creativity in colouring their very own version of PUMA Suede and have it showcased on the wall and on social media. Participants also received an exclusive PUMA tote bag for their efforts!
Overall, this year's Sneaker Con convention – the premier gathering place for sneakerheads and streetwear enthusiasts – held in Singapore was its first-ever appearance in Southeast Asia. PUMA's booth was the talk of the town, and visitors left with a newfound appreciation for the brand's iconic Suede shoes.