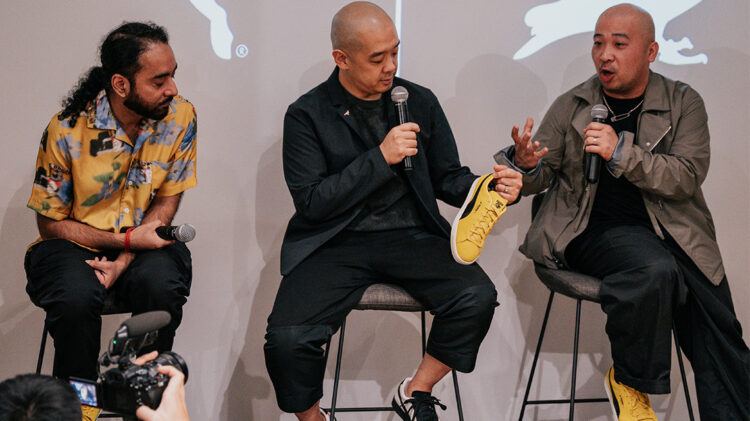 The spirit of
Gidra lives on
JEFF STAPLE IN SINGAPORE FOR PUMA X STAPLE LAUNCH
April 3, 2023
JEFF STAPLE IN SINGAPORE FOR PUMA X STAPLE LAUNCH
April 3, 2023
Our PUMA Suede got a yellow and black makeover by Jeff Staple. 😍 He unveiled the latest PUMA x STAPLE collection during his visit to Singapore at the end of March. The collection was showcased at an event organized by PUMA and Limited Edt. and was attended by more than 60 invited guests. Check out the images from the launch event!
THE STORY BEHIND GIDRA
During a panel discussion, Jeff Staple, the creative mastermind behind the latest PUMA x STAPLE collection, shared the inspiring story behind his work. Drawing inspiration from Gidra, an Asian-American student-run newspaper created in response to anti-Asian sentiment in 1969, Jeff revealed how this collection is more than just a fashion statement. He shared his own experiences growing up as an Asian in a predominantly white environment.
Media friends, sneaker communities and fans had a chance to get their PUMA x STAPLE collection signed and a photo opportunity with the man himself.
Jeff's passion for the project was palpable as he held up the signature Suede Classic and pointed out the dragon-scale-like Formstrip and the newspaper print on the sockliner, two of his favorite design details. The panellists also delved into the evolution of sneaker collaborations over the years, with Jeff sharing his recent collaboration with local Singapore designer, Mr Sabotage.
Everyone was excited to see what's next for Jeff. And, we can´t wait either!
View this post on Instagram