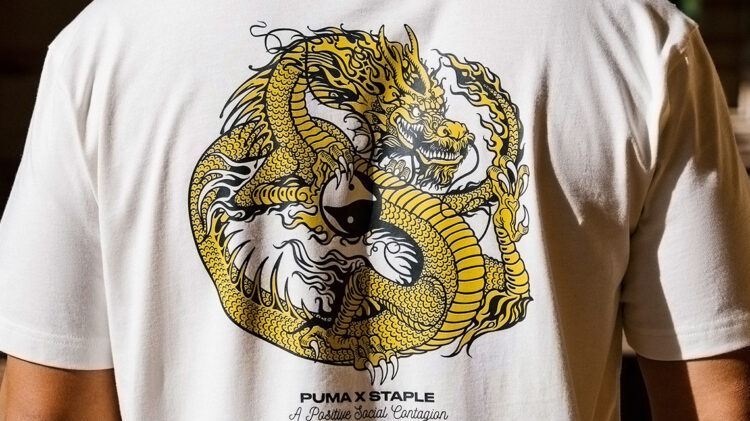 Get the Look
Legacy Look
Get the Look: PUMA X STAPLE
March 22, 2023
Get the Look: PUMA X STAPLE
March 22, 2023
This month PUMA has once again teamed up with longtime collaborator and streetwear brand STAPLE. The fruits of their labour are born in a collection of
footwear and apparel with crisp aesthetics and bold colours inspired by an Asian-American newspaper named Gidra which was created in response to anti-Asian discrimination.

Influenced by the colour palette and active / activist streetwear vibes

we've styled an edgy outfit that includes pieces from the line.
The Shoes
Jeff Staple is well-known on the streetwear scene for effortlessly fusing street culture and fashion design together; he lends this self-awareness to the collab. Shoes from this partnership with PUMA include two iterations of the classic Slipstreams: the Slipstream B's are done up with two-tone black and a matte finish on the Formstrip while the Slipstream T's are the ones we've styled today. This version comes in a radiant yellow color contrast with natural leather on the upper and a glossy finish on the Formstrip.
The whole Outfit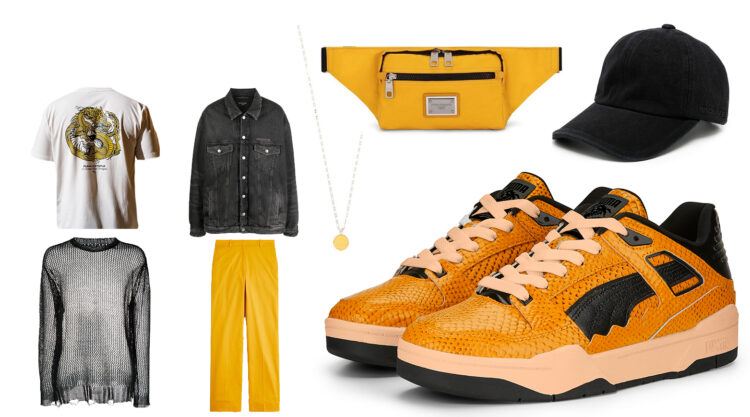 The Outfit
In February 1969, a group of students from UCLA created a new publication called Gidra: The Monthly of the Asian American Experience. With surging anti-Asian discrimination at the time, the newspaper emerged as a leading platform to voice the Asian American experience, providing a historical context alongside personal narratives.
The latest PUMA x STAPLE collection draws inspiration from the legacy of Gidra ─ items in the collection combine the clean and carefully curated aesthetic of STAPLE with dynamic colors and bold graphics that pay homage to Asian American history. Colour pairing in the collection (and today's outfit) is also a tribute to two notable anti-discrimination movements: Yellow Peril and the Black Panther Party.
Working with the Slipstream T as a base, a noteworthy pair of wide-leg pants in lightweight chino material and that same gorgeous yellow pair perfectly to support and draw attention. Above comes the T-shirt from the drop with a dragon emblem on the back inspired by King Ghidorah from the Godzilla movies (the namesake of the newspaper). To layer up while still letting the tee's design shine through, we opted for a distressed crochet jumper with a semi-sheer aesthetic that is oh-so in at the moment. Top it off ─ if you must ─ with a subtly oversized denim jacket with a distinct fade effect and relaxed silhouette.
The Accessories
Accompaniments are kept thoughtful, with a design eye in mind. A baseball cap weaves cultural clues and connects to the activewear feel established by the sneakers, capping things off from top to bottom. A silver pendant necklace with a winking yellow smiley face is a cheeky dash that uplifts the more edgy aspects while an eye-catching belt bag with silver hardware is your trendy and utilitarian finishing touch that ties everything together.
The latest collab between famous fashion brand STAPLE and sportstyle superstar PUMA is
gritty and bold, rooted in social commentary and anti-discrimination sentiments.

Jeff Staple (born Jeffrey Ng) updates PUMA classics with a keen eye for trending aesthetics and cultural contexts resulting in a

thoughtful and trendy exclusive collection.