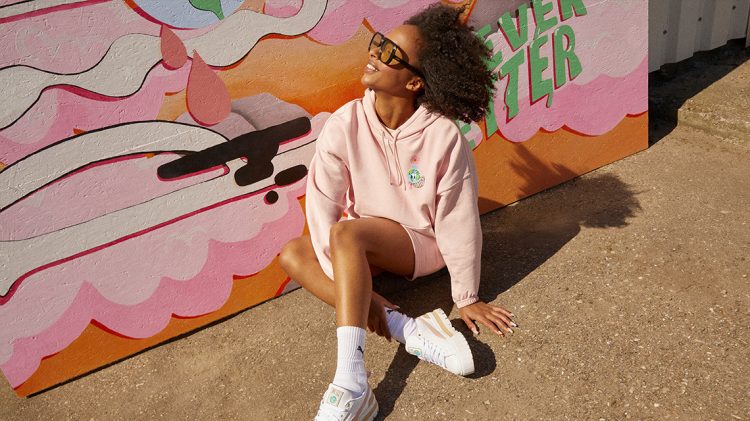 GET THE LOOK:
PUMA x Down to Earth
Look good, feel good, do good
August 20, 2021
Look good, feel good, do good
August 20, 2021
As part of an ongoing sustainable journey, PUMA's newest capsule Down to Earth was born to inspire eco-friendly practises in our changing world. Made from at least 30% recycled cotton, the line is minimalistic and laidback with pops of playful graphics. In celebration of the young activitists
paving the way in the fight for climate justice

, our OOTDs incorporate elements of slow fashion and current Gen Z trends.
The Shoes
Our first look stands tall in the platform sneakers from the capsule, displaying spry pink and white tones, while the other slides into style with the black and white suedes. All four of the footwear designs from the line feature at least 20% recycled materials on the upper and flash a worthwhile motto: Respect Mother Earth. 
The launch date for the new collection is on August 20th – the anniversary of Fridays for Future founding date. #FridaysForFuture is a movement that started in August 2018, when Greta Thunberg and other young activists sat in front of the Swedish parliament every schoolday for three weeks, protesting against the lack of action on the climate crisis. Thunberg's social media posts about her strike went viral and since then, kids are skipping school all over the world to hit the streets and speak out against global warming. Thunberg and others in her generation inspire us by stepping up and demanding the platform to talk about global issues and fight for change.
The whole Outfit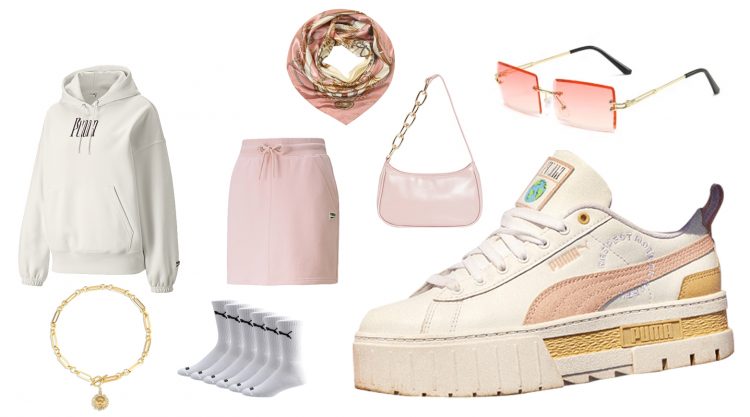 The whole Outfit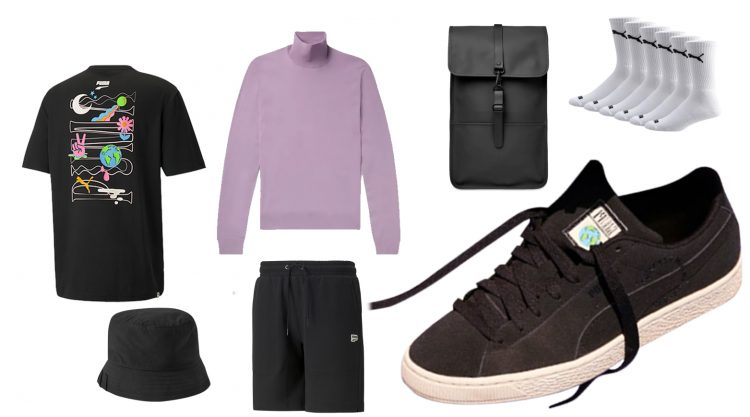 The Outfit(s)
We see one of two colour palettes this fashion season – some designers playing with joyful hues and others sticking to the classic monochrome cool. For today's outfits we bounced between these two extremes, mixing in iconic elements of Gen Z fashion to celebrate the generation inheriting this earth.
In the first look we start with the comfortable pastel skirt from the capsule. Lately we are seeing a return of the rising hemline, and this pretty pink number perfectly suits that trend. Overtop comes an oversize white sweatshirt, also snatched from the collection. With a simple PUMA logo on front and funky graphics on the back, it is on point with the moment's graphic sweatshirt trend. Plus we're not mad at the comfort above all sweats-on-sweats combo that has popped up everywhere post-pandemic.
Spanning any fashion category, turtlenecks are the ideal item for transitional weather, adding a layer of interest (and warmth) to any outfit. Worn in the second look underneath some more traditional athlesiure elements, this chic pastel piece makes an otherwise casual outfit feel slightly more elevated, and brightens up the monochrome layers. An example of effortless but impactful layering when paired with the comfy shorts and playful graphic tee from the Down to Earth line.
The Accessories 
Add interest to the ankle with an eye-catching crew sock. Both styles rock the classic PUMA gym socks, imbuing the outfits with a bit of good old vintage sportstyle. Then the lady's look shows off a skinny pair of retro sunglasses, which are super on trend with colourful pink lenses (bonus points if you can thrift a pair of recyled ones). Next, a take on the paperclip necklace, this gold pendant clasp chain can be a standalone item or chunky piece perfect for layering. A pink baguette bag with gold chain matches to the jewellery and this style, which was huge in the 90's, has come back around so once again so it should be quite easy to grab a similar one in a second-hand shop. Finally a gorgeous silk headscarf ties off this sustainably stylish package.
Our guy's look stays grounded in its extras: a waterproof black wrap backpack is functional and fashionable and a favourite for this fashion season. Finally, we top it all off with, what else, the hat of a generation: a black, recyled cotton bucket hat with knit detailing.
Let's show the planet some love with

PUMA's new Down to Earth collection

. Made from recycled materials, the playful and laidback new line hopes to
inspire more eco-friendly practises

for our ever-changing world.