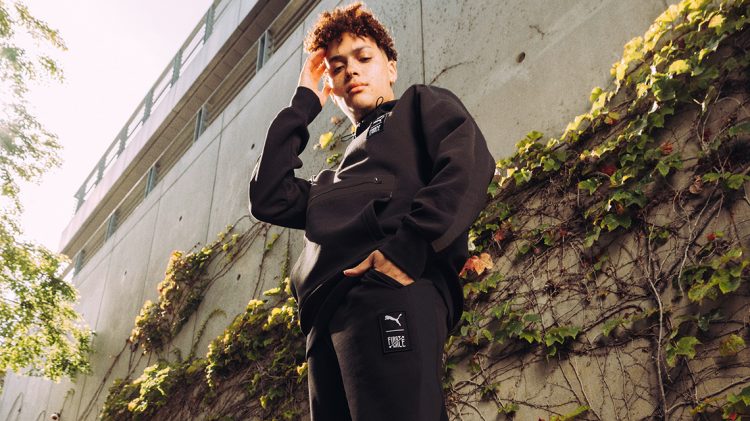 Get the Look
GET THE LOOK:
PUMA X FIRST MILE
Our Community, Our Planet.
August 12, 2021
Our Community, Our Planet.
August 12, 2021
Trash, but make it fashion. No, but really  –  the latest capsule by
PUMA x FIRST MILE is a garbage collection rooted in social impact and community connection.

 It was created in collaboration with First Mile, a people-focused social impact network. By collecting plastic bottles to create sustainable jobs and reduce environmental waste it empowers the microeconomics in Haiti, Honduras and Taiwan.
Each bottle is sorted, cleaned, shredded and made into yarn, which is then used to make products with purpose. Inspired by this sustainable and environmentally aware approach
we put together two outfits that help make you look good while being good for the earth.
The Shoes
Using plastic bottles as a raw material source, First Mile produced more than 300 tons of recycled yarn in 2018. All this from plastic that would otherwise have continued to pollute the streets and waterways of these global communities. The fourth season of PUMA x First Mile brings some exciting new shoes and apparel woven from this yarn.
We decided to go with the gorgeous RS-Curves for our first look because of their sleek feminine silhouette, comfort-focused cushioning and futuristic waves. A white-ivory outer contrasts with bold dashes of pink in the inner. And for the second style, the Future Riders in beautiful blue with yellow detailing catch the eye. Ultra light, high tech and with superior support. These new athleisure staples can help get you started for your first mile, and keep you going for the next and the next.
The whole Outfit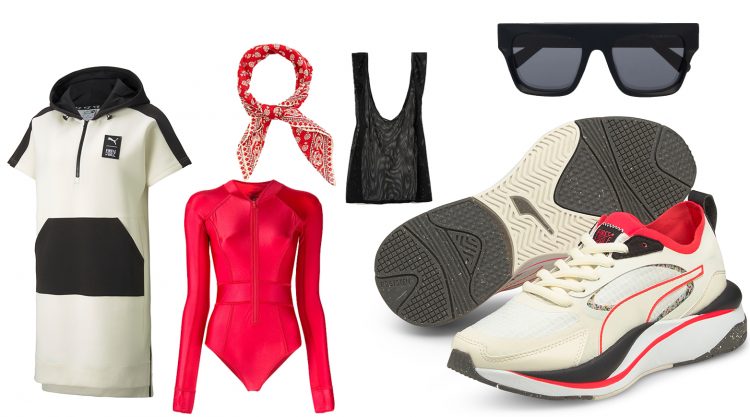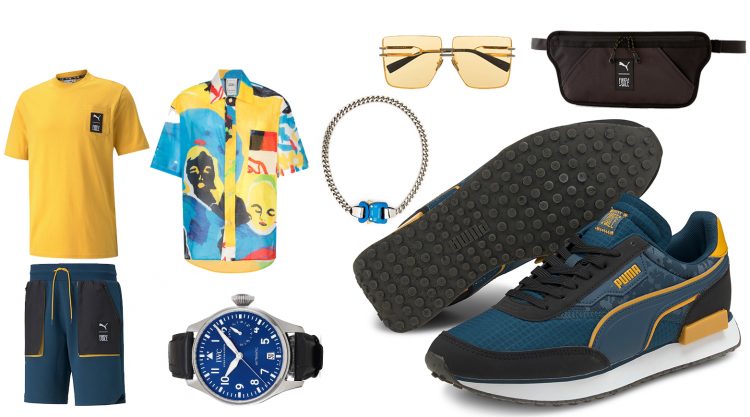 The Outfit(s)

The first outfit has embraced the throw-on-and-go black and white shirt dress from the capsule. With its hood and kangaroo pocket, it is one part hoodie, one part dress – and all parts sleek sportstyle. An ideal item to have on hand this season because of its versatility: it can be worn with just about any bottom, layered like a sweater or, as seen here, as a stylish swimsuit coverup. Pair it with a bright (really bright!) bodycon, front zip fastening, long sleeve swim piece. The flamboyant colour plays with the shades of the sneakers as the suit plays supporting character to the starring coverup.
On the flip side, our second summer outfit deliberately screams 'cool dad at the beach'. Build yourself a foolproof base by combining the collection's mid length shorts in a neat oceany blue alongside the cheerful yellow tee with a simple PUMA X First Mile logo on the chest pocket. From this classic foundation, you can layer on a statement piece such as this funky organic cotton short sleeve shirt. Patterned short sleeves are very in fashion right now, so get creative. Made sustainably, this one in particular matches the ethos and the tones seen in the collection while the colourful faces communicate a sense of art, culture and community.
The Accessories 
The first look delicately treads the border between past, present and future. A vintage style bandana gives off 70s feels and can be worn in numerous ways (headscarf, face mask…use your imagination). A reusable mesh tote made from recycled plastic bottles looks very 'here and now' and can be carried comfortably strewn over one shoulder, making a chic and conscious statement. Finally, a pair of ethically-made oversized futuristic sunglasses, on trend for summer 2021, perfectly completes the outfit.
As the statement shirt reigns supreme, we kept it simple for the accessories in our second style. Oversized aviators with yellow tinted lenses give the world a retro sepia-tone that matches the throwback dad vibes. And speaking of: a crossbody bum bag is the perfect fashionable take on a parental staple. Next, an elegant but lowkey watch with a blue face matches the shorts and shoes from the collection, and an industrial silver and blue clasp-fastening chain is the final element that finishes things off.
Keep it simple, sustainable and stylish this summer with the new PUMA x First Mile collection.
"Empowered people, a cleaner planet – from the first mile."