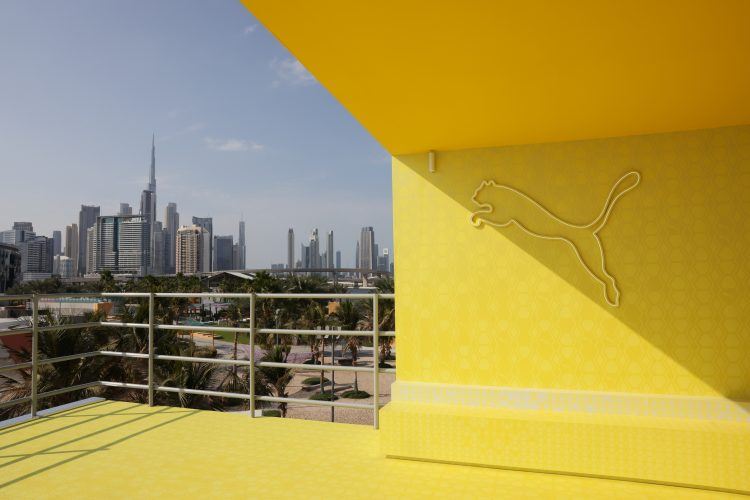 Find us at Sole DXB
PUMA Returns to the Three Day Sole DXB Festival with Exclusive Product Drops and Musical Performances
December 19, 2022
PUMA Returns to the Three Day Sole DXB Festival with Exclusive Product Drops and Musical Performances
December 19, 2022
Celebrating fashion, music, visual arts and sports!

This December, PUMA returned to the annual youth and contemporary cultural festival

Sole DXB.

In a three-storey structure offering an immersive brand journey, PUMA launched iconic and exclusive limited-edition products and welcomed global music artists

Marwan Pablo

and

Ari Lennox

to the stage.

To connect and celebrate with the community though sport and culture, PUMA gave festivalgoers an unforgettable brand experience. The location offered immersive digital photo experiences and future tech, as well as the PUMA rooftop hangout which posed as the perfect spot to watch headline acts. It was know as the place to be!
PUMA also gave visitors the opportunity to design their own shoes! Visitors could work with our global designers to create their own colourway of the RS-X shoe. The best design was developed into a limited-edition capsule collection exclusively retailed at The Dubai Mall! We also held a t-shirt customisation activation with local artist Deyaa Rambo – who also created an exclusive selection of artwork for PUMA at Sole DXB.
Exclusive Product Drops
At the festival we had exclusive limited-edition product drops from our PUMA X Ami, Archive Remastered and RS-X collections to focus on the classics as well as new. The PUMA x Ami collection draws inspiration from a new era of achievement that does not conform to specific gender, individual or appearance and the happiness that comes from the people you surround yourself with. The Archive Remastered collection celebrates PUMA's 75 years of sport heritage by giving others the chance to build their own archive. The RS-X collection focusses on the concept of revolution and mixes bold colours and patterns, directly related to PUMA's heritage running models. Featuring RS technology, the shoes function and style is for those who are not afraid to express their individuality.
"PUMA's unique space at Sole DXB will give people the chance to fully immerse themselves in our brand history and the forever faster mindset we live by. PUMA is pushing forward, moving and growing and entering into an exciting new chapter and this has been reflected throughout our interactive and futuristic space at this year's Sole DXB."
PUMA's exhibition is one of the most talked about spaces each year at Sole DXB! Fusing history and culture with performance and design, PUMA brought their Forever Faster mantra to Dubai.
#ForeverFaster