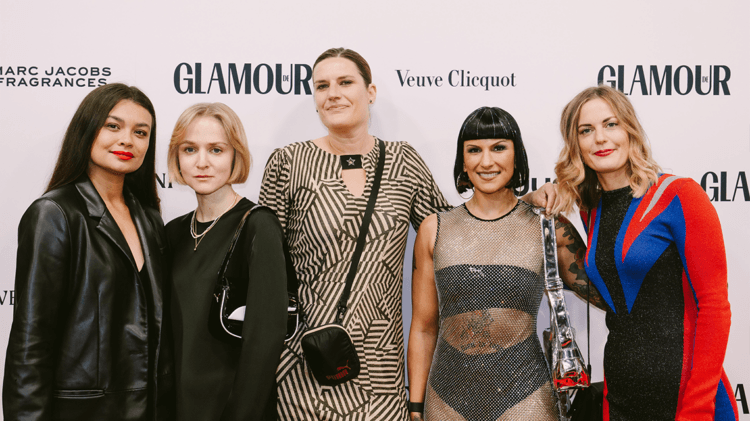 FOREVER.FEMALE.
PUMA PARTNERS WITH GLAMOUR WOMEN OF THE YEAR AWARD 2023
November 8, 2023
PUMA PARTNERS WITH GLAMOUR WOMEN OF THE YEAR AWARD 2023
November 8, 2023
Women are a priority for PUMA

– so, it's only fitting that

we joined forces with GLAMOUR

Germany and became one of the

official partners

of this years'

GLAMOUR Women of the Year Award

. Read the article for a

glimpse behind the scenes

of the gala event and see how

we celebrate female empowerment!
On November 2, 2023, all the spotlights in Berlin were on Women as GLAMOUR hosted its first-ever Women of the Year Award in Germany. Around 200 guests from the fields of fashion, beauty, lifestyle, film, television, culture, and sports gathered to celebrate the 10 Women Of The Year Award winners of the evening.
The outstanding group of honorees included activists and authors, politicians, models and entrepreneurs; bringing female empowerment to life, raising their voices and standing up for their goals, and courageously leading the way serving as an inspiration to all of us. They are all pioneers in their respective fields, challenging the status quo and actively advocating for change.
PUMA x GLAMOUR WOTY
As an official partner of the event, of course we couldn't miss the party! To celebrate the strong women of our PUMAFam, we invited German Singer & Songwriter, and PUMA ambassador, Nessi to join us at the award ceremony. She is not only an inspiring artist but also known as an avid gym fan and weight lifter with no need to hide behind the big boys.
View this post on Instagram
Before we headed to the event, Glamour Germany invited Nessi to shoot a TIKTOK video where she showed the audience how to get ready in PUMA style for such a glamorous event.
🎬 Check out the Video below!
Women supporting Women
As a part of our partnership with Glamour, we also supported the event with our leak-proof underwear in collaboration with Modibodi. We placed classic briefs, boy shorts, and leggings in 6 sizes at the bathroom areas at the event location, as a little give away for all the invitees.
All the glitz aside, the evening was more than just a sparkly affair; it served as a testament to female empowerment, shared values, unity and the celebration of incredibly strong women who stand up for equality.
💪 The GLAMOUR Women Of The Year Award marked a historical stride toward a future that is FOREVER.FEMALE.