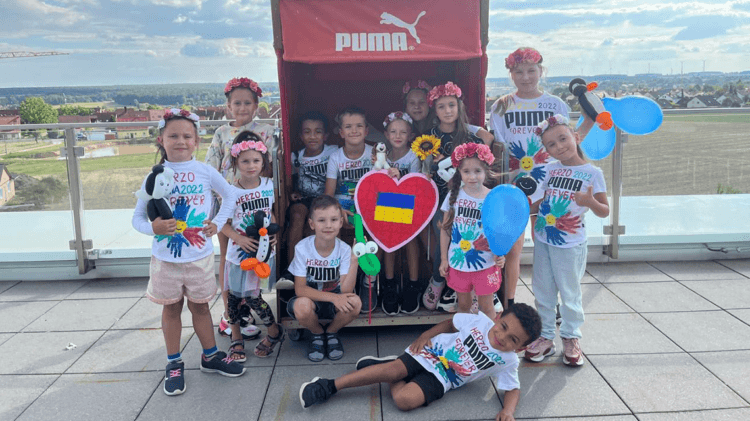 The Ukrainian kids
at our HQ
PUMA HQ Sets up a kids camp for the Children of its Ukrainian Employees
March 2, 2023
PUMA HQ Sets up a kids camp for the Children of its Ukrainian Employees
March 2, 2023
In March 2022, a group of our PUMA Ukraine employees fled the war together with their families and arrived at our German HQ. PUMA provided support with accommodation and documentation to help them settle in. As nearly a year has passed, many of our PUMA Ukraine family are now working in PUMA stores as well as in our HQ, and we are providing care for their children while they work.
Yuliya Horbenko, a PUMA Ukraine employee for 10 years who is now Manager People projects at our HQ, helped coordinate this process – with one of the projects the Ukrainian kids camp. Lesia Rozvaga and Hanna Hryshyna run the kids camp every day from 12pm to look after Ukrainian employees' children while the parents work. Hear from Yuliya, Lesia and Hanna below about this special project. 
How did the idea to set up the camp come about? 
Yuliya: After we arrived in March 2022, and once temporary residence and working permits were issued, PUMA Ukraine employees were able to start working here in Germany as most of them already have 1-5-10-years experience at PUMA Ukraine in both retail and corporate. The first challenge we faced was the language barrier and the second – taking care of children. Germany's education system is planned strongly in advance and it is almost impossible to get any place at school in kindergarten in March/April because all they are fully booked by that time. We are lucky enough that PUMA's management team together with the P&O team took this issue into consideration and supported the idea of a Kinder Camp for Ukrainian children. As you may know, PUMA HQ already has an amazing Kinder Camp that operates for employees' children during the school holidays, but using such an approach was questioned because of the language barrier of the Ukrainian children – almost none of them spoke German upon arrival.
To make a long story short, a set of interviews was arranged among our Ukraine families because we had people with proper experience inside our group who could help run a camp. For us that was an amazing match – no language barrier between teachers and children, and children are properly taken care of. Lesia and Hanna successfully went through the interview process and got short-term employment with PUMA HQ.
It is worth emphasizing how critically important it was for children at that time to substitute their war experience with friendly and caring atmosphere, sensitive understanding of their emotions, positive experience with learning & entertaining. All this together could impact their proper integration into new environment, new country, new language and new culture. And honestly Lesia and Hanna did an amazing job, mothers are thankful for such a great experience to PUMA and to Kinder Camp teachers, and children are so excited to live their childhood with smiles on the face.
Lesia and Hanna: We would like to express our deepest gratitude and sincere respect to everyone who was involved into the process of organization and functioning of our camp. From the very beginning we were provided with a wide range of board games, toys, LEGO sets, sports equipment, bikes and excellent food as well. It was vitally important to experience safety and peace after leaving Ukraine. We are certain the Kinder Camp helped reduce some of the trauma the children faced and was a kind of therapy and reliable shelter for Ukrainian mothers and their children. The friendly atmosphere, warmth and understanding, assistance from like-minded and sympathetic people, silence and absence of air raid alerts have become simple and at the same time productive methods for the children's recovery and their adaptation in the PUMA community.
What activities do you run in the camp? 
Lesia and Hanna: After extensive discussion we established and tested a special studying programme which successfully combines learning, different sports and entertainment. Last summer, we had short classes in handwriting, mathematics, English and German at elementary levels because our kids missed their lessons in Ukrainian schools and kindergartens and definitely needed to fill their knowledge gaps. A great variety of sport competitions, indoor and outdoor activities on PUMA playgrounds, local history quests in Herzo were kindly offered by Puma volunteers who greatly supported us.
We also want to develop the cultural, sociolinguistic, informative and life competences of our campers. The PUMA team made a big contribution to the organisation of our museum trips to the Deutsche Bahn Museum, the Toys Museum and Nuremberg Zoo – and the children were so excited and impressed! We are really excited to visit these wonderful places.  We also try to involve our children in different creative activities to develop our children's imagination, motor skills, artistic skills. In fact, we tried to do our best to overcome their stress and anxiety by means of art. We decided to mix different types of lessons with storytelling, drawing and painting, dancing and singing, plasticine modelling and making crafts, dolls and toys, postcards, wooden crafts and more. They have great talent!
We can't miss the opportunity to share our drama and performance achievements!  We also had costumed Halloween jokes and sketches, and our dramatization of the traditional Christmas fairy tale, The Elves and the Shoemaker. I think that it was really a kind of therapy for our children and for their parents. I think that we have to continue to use these positive experiences in order to move forward.
In Summer we also had a common camp with our German colleagues from Kinder-House. At the end of the camp, there was a graduation concert, where we prepared dances and songs. The cooperation and close interaction with our German colleagues gave us a good chance to share our knowledge and expertise, break language barriers and compare pedagogical approaches in this multicultural society. It was also important to socialize and to integrate our children into a life in this society because they could communicate by using German, a bit English, Ukrainian, Russian – it was a mix of languages and they understood each other. There weren't any problems. And I was really surprised. It was also an interesting experience for me because the children could understand better than teachers did.
What does a typical day in the Kids Camp look like? 
Lesia and Hanna: In the period of school semesters, it looks like an after-school-activity club because kids come together after school lessons or kindergarten. Having lunch, doing their homework under our assistance, crafts, playing role games, watching cartoons or educational documentaries, going for a walk, birthday celebrations and parties make up our usual schedule. But is also depends on the children's individual needs, present mood, mental state at this moment and our learning strategies this week as well.
What are some of the next trips you have planned with the kids?
Lesia and Hanna: We have a few trips planned: visiting the most attractive Bavarian castles, children's amusement parks like PlayMobile, animal farms, German National Museum with its series of fascinating specialised excursions for the Ukrainians. We would like to discover and show Ukrainian children the beauty of German natural wonders, magnificent architecture, local customs and traditions, national cuisine, touch the pages of German history, arts and mode of life. Every week we are regularly asked by our kids about future plans, routes, camp trips and we want to support their curiosity about the surrounding world.
How long will the camp be running for? 
Lesia and Hanna: The children have been in German schools since the beginning of the school year 2022. In principle, some of them were already in school in May, but not all of them. Not all schools have enough places to take children, so some of them were sitting in camp, some of them going to school.
At the moment, the camp is planned to go until summer, the end of the school year, but there are different factors that influence this decision. We hope that one year of intensive collaboration and our common efforts are enough to be widely integrated here in Germany, to its school life, work and socially.   
Are there any stories from the camp you want to share? 
Lesia and Hanna: All the stories and adventures are closely connected with people we meet and keep contact with each day. Our first excursion around PUMA HQ, music in the Dassler Hall, the Clown's Show, a magic Christmas Ball, an autograph and photo session with Yaroslava Mahuchikh, our glorious Ukrainian champion, frequent meetings with other friendly guides, hospitable chefs in a cosy canteen and coffee corners allows us to be in such a welcoming environment and distract our kids from sad thoughts and traumatic experience. We also decided to collect these moments of our PUMA life in special photo albums to record them like small mosaics elements that form an integral canvas of our time here.
What does the camp mean to you both? 
Lesia: Both of us are really proud of this work and our responsibilities which we have been entrusted with. We greatly appreciate this unique opportunity to try working in one of the most advanced sport corporations in the world. Everybody in our team takes pleasure and has so much fun supervising and bringing up our pupils. My colleague Hanna has an extensive experience of treatment and taking care of special needs children in a rehabilitation centre in Kharkiv. As for me, I have been working as a teacher for 28 years. Actually, all of these factors motivate us to run the camp, and we are always learning more ways to problem solve, critical thinking, time management and effective communication in all levels.
We think the Kinder Camp project aligns with PUMA Wellbeing principles with its positive psychological environment, total tolerance and care, profound understanding and humanism. These valuable things encourage us to move forward faster and make our kids happier and healthier day by day.