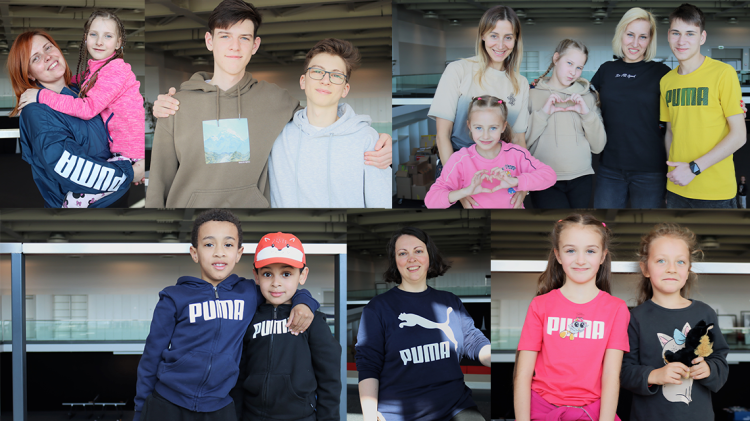 A BIT
OF PEACE
PUMA employees and family members from Ukraine arrive at our HQ in Germany
March 23, 2022
PUMA employees and family members from Ukraine arrive at our HQ in Germany
March 23, 2022
We want to be there for our PUMA Family in Ukraine and help wherever possible! As part of this, we have set up of a free accommodation in Erlangen, Germany for our employees and their families who have fled Ukraine.
The accommodation is close to PUMA's headquarters. In order to make the stay as pleasant as possible for the children, the accommodation is equipped with a swimming pool and ping pong tables. This week, they visited us at our HQ in Herzogenaurach and the Rudolf Dassler Hall was transformed into a play area for the children. Afterwards, all mothers and kids had a meal together in the PUMA canteen.
CATch Up accompanied them on their visit.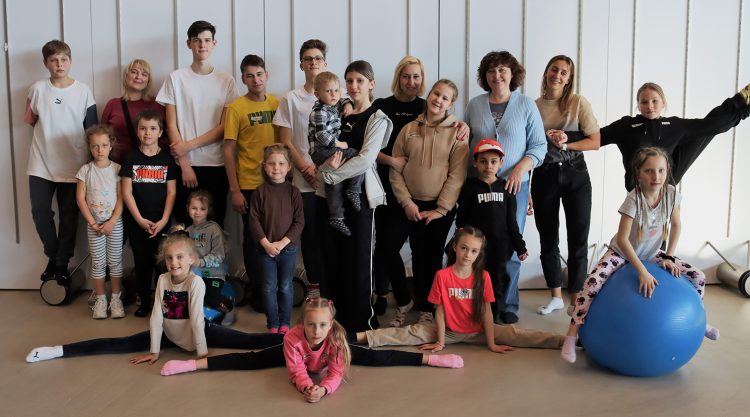 For PUMA employee Mariya Novikova from Kharkiv, one of the cities that has seen the most fighting, getting to Herzogenaurach was a dangerous journey. First she stopped at accommodation rented by PUMA in the West of Ukraine.
"We didn't know if we could ever come back home and if our home would still be there by that time. The most important thing was to survive and help people who were still staying in Kharkiv," Mariya said.
She took a four-day trip to get from Kharkiv to Western Ukraine. "We stayed in bomb shelters, constantly heard sirens when we were on the road, there was always a problem to find a gas and huge traffic jams. Upon arrival at the safe house it took us several days to calm down," she added.
Mariya then made the difficult decision to leave Ukraine and her husband behind and come to Germany.
"My husband decided that we should use a unique opportunity that PUMA gave us and move to Germany. The most difficult decision was to leave my husband and relatives who live not far from Kharkiv. At this moment my heart broke into pieces. It is hard to explain with words how grateful I am to my colleagues from Germany. They have done so much for us! The way they help, the way they treat us – it's total support and care. It's like a family!" she said.
For the children of our PUMA colleagues, the conflict in their homeland has also been extremely tough.
"On February 24 at 4 o'clock in the morning I woke up because the windows were shaking, I did not pay attention to it, I thought it was the wind," says teenager Vlad, remembering the moments the first air raids struck near his hometown Kyiv.
"I got up and quickly put the things I needed in a backpack. Then I went to the living room where my parents were watching the news."
The following weeks were very frightening for the teenage boy, as fighting around his hometown continued. The family took the extremely difficult situation to split, with Vlad and his mother moving out of the Ukrainian capital.
"We spent two weeks in the basement. Then my mother decided to leave for western Ukraine to live with relatives, my father and brother stayed in Kyiv," he said.
But things were not safe at his relatives' house either, he recalls:"We spent about a week in western Ukraine where we sometimes went down to the basement due to air raids"  
Vlad and his mother then also made the decision to come to Germany.
"We were offered to come to Germany and we agreed, we packed up and left for Ternopil in Western Ukraine, where we were picked up by PUMA colleagues.  I'm very glad to be here where I feel safe," he concludes.
"The goal is not just to create a safe space for our Ukrainian colleagues but also to help them integrate and settle in their new homes. That is why we are offering language classes and provide them with any assistance they need with registration. I'm really happy that we already managed to find a job and the necessary work permits for two of our Ukrainian colleagues. Hopefully there will be more to come."
– Dietmar Knoess, Global Director People & Organization