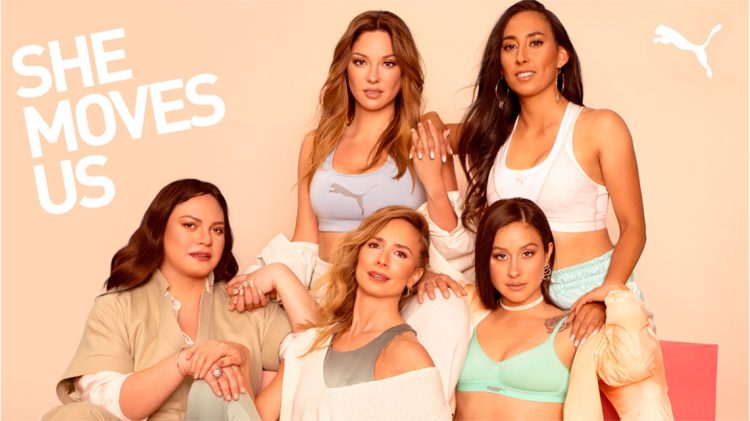 SHE MOVES US
POWERFUL SQUAD
PUMA CHILE LAUNCHES ´SHE MOVES US´ PLATFORM
December 9, 2021
PUMA CHILE LAUNCHES ´SHE MOVES US´ PLATFORM
December 9, 2021
Fasten your seat belts for five powerful women from Chile. PUMA Chile just launched their local
SHE MOVES US

platform with great talents in the lead. This is

Daniela Vega

(The actress is best known for her critically acclaimed performance in the Academy Award-winning film A Fantastic Woman),

Maria Jose Prieto

(She is a popular actress and yoga instructor),

Cindy Nahuelcoy

(She is a referee in Chilean male football),

Denise Rosenthal

(A famous singer that is known for her commitment towards gender equality) and

Kel Calderón

(Known as influencer, actress, singer and lawyer). Get inspired by the ladies from Chile … and don't miss out on listening to the song from the SHE MOVES US clip.
WATCH THE SHE MOVES US CLIP
Music by Denise Rosenthal.
THE CAMPAIGN
The campaign has a 360º media angle and includes TV spots, online & print advertisements and several retail activities.
In the next months, the squad will use different channels to talk about their motivation, how they achieve personal goals, what inspires them and their loved ones along the way. The purpose is clear: inspire women of all ages and invite them to join the movement and the conversation. Let's go!
Cindy Nahuelcoy

Assistant FIFA Referee
View this post on Instagram
Actress and mezzo-soprano singer
Daniela Vega
View this post on Instagram
Actress and yoga instructor
Maria Jose Prieto
View this post on Instagram
Denise Rosenthal

singer-songwriter
View this post on Instagram