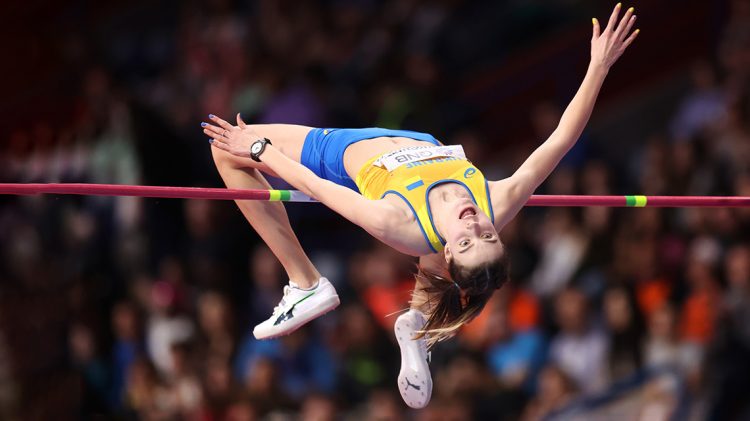 PUMAs
win gold
in Belgrade
PUMA athletes win gold medals at World Indoor Championships, Mondo sets new record
March 19, 2022
PUMA athletes win gold medals at World Indoor Championships, Mondo sets new record
March 19, 2022
The World Indoor Championships in Belgrade were very successful for our PUMA athletes. Yaroslava Mahuchikh, Mondo Duplantis and Lazaro Martinez won gold medals, as did the Belgian 4x400m men's relay team, which includes PUMA runners Kevin Borlée and Jonathan Sacoor. Mondo Duplantis also once again set a new pole vault World Record of 6.20 meters!
For high jumper Yaroslava, who cleared a height of 2.02 meters to take the top spot, participation in Saturday's event was anything but certain. Because of the ongoing conflict in Ukraine, she had to drive to Belgrade in a car for three days.
"Coming here was difficult — three days by car — and to jump here was so difficult psychologically because my heart remains in my country," the 20-year-old Ukrainian told reporters after winning the gold medal.
"I think I've done very well for my country because I protect my country on the track. I think that was very important for my country," she added.
Yara will now stay close to the PUMA HQ in Germany to recover and focus on the next events on her agenda.
Swedish pole vaulter Armand "Mondo" Duplantis has been in a league of his own for a while now, jumping higher than 6 meters in the last eight events. The world record holder added another gold medal to his tally on Sunday with a leap of 6.05 meters.
However, he then asked for the bar to be set to 6.20 meters, to once again improve on his World Record. He cleared this awe inspiring height on his third attempt, proving once again that at only 22-years-old, he is already the greatest pole vaulter ever!
View this post on Instagram
In the men's triple jump, it was Cuban PUMA Athlete Lazaro Martinez who won the gold with a leap of 17.64 meters. It was a sensational win for Lazaro, who was not considered one of the pre-tournament favourites because he had never competed at an indoor event until this year.
"I'm very happy – 17.64m is a great jump, and it's also my first major indoor medal," Martinez told reporters. The silver medal was for Portuguese PUMA Athlete Pedro Pichardo.
View this post on Instagram