ONLY SEE GREAT
"I sometimes imagine
that I am a bird."
ONLY SEE GREAT Interview with PUMA Athlete Yaroslava Mahuchikh
July 20, 2021
ONLY SEE GREAT Interview with PUMA Athlete Yaroslava Mahuchikh
July 20, 2021
Ukrainian high jumper Yaroslava Mahuchikh is only 19 years old, but impresses the world already. The PUMA athlete jumped 2.06 metres indoor this year and achieved the best performance of 2021. Her jump was only three centimetres short of the world record of 2.09m. So who knows what else is in the books for her this year. Yaroslava dropped by at our PUMA headquarters the other week. We took the opportunity and asked her how she keeps focus and about her big goal.
You started with high jump at the age of 13. How did that come about? What was your motivation? 
Yaroslava: I started athletics when I was seven years old. Back then I did it all – long jump, high jump, sprint, etc. As a teenager I fell in love with high jump and focused on this discipline only. I like to fly and with high jump, I sometimes imagine that I am a bird.
Within 2 years you managed to become one of the very best jumpers (not only in your age class) – what is your secret? Who supported you? 
Yaroslava: One of the greatest supporters is my coach. She has always supported me and gave me advice, no matter what. She is like my friend. My coach brings out the best in me, motivates me to work harder and to jump higher. I owe her a lot.
What has been the greatest moment in your career so far? 
Yaroslava: A big moment for me were my first U18 European Championships. This was when I fell in love with high jump a hundred percent.
But I think the greatest moment so far were the Indoor Championships in Kiev this year, because it was my first international adults' competition. It was also the first time I jumped for my home country, Ukraine. I remember the moment when I looked to the TV screen, I ranked 5th place and I thought "No I must jump, I need to jump higher, I need to improve this result". Then I jumped 2.02m with my first attempt and won the silver medal.
Injuries can be major setbacks for athletes. How do you overcome these challenges?
Yaroslava: Luckily, I had no serious injuries yet. I think it was in 2018 when I injured my foot, and I couldn't jump anymore. I was very upset, and my coach said "Don't worry, you are young. Now you should relax, have some Yoga classes and focus on stretching ". I didn't run, I didn't jump and after two months, I came back strong.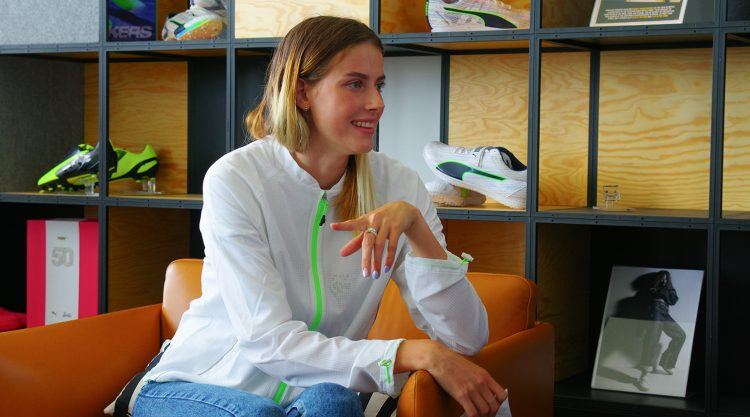 How did you deal with the delay of major sports events due to the pandemic?  
Yaroslava: I think I personally benefited from it. I had one additional year to improve my skills and to improve my technique. Last winter I jumped 2.06m. I feel like I am in excellent shape.
What would you like to achieve in your career going forward? 
Yaroslava: I want to jump 2.10m, because I really want to break the world record in high jump. The current women's world record is 2.09m. It is in place now for over 30 years. So, it is about time to set a new one.
Have you already come close to the world record in training?
Yaroslava: No, not at all. In training I don't jump that high, it's all about technique. The most I do in training is 1.95m. Everything else is for the competition. It's completely different in training.