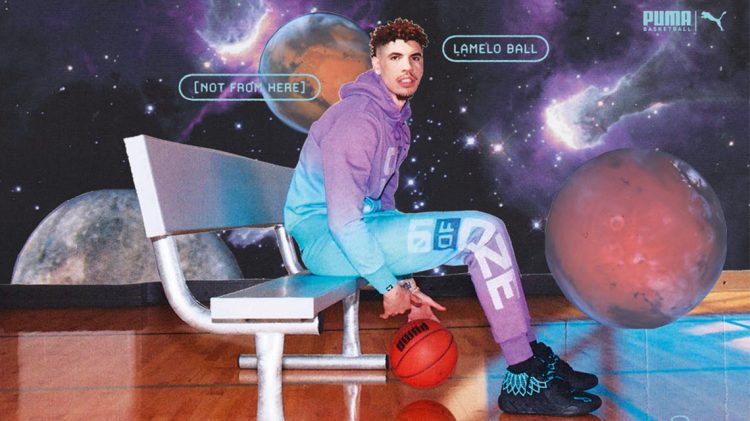 All-Star!
LaMelo Ball joins the NBA All-Star Game
February 8, 2022
LaMelo Ball joins the NBA All-Star Game
February 8, 2022
PUMA Athlete
LaMelo Ball

stuns basketball fans worldwide. He becomes the

fourth-youngest All-Star in NBA History

. After Isaiah Thomas in 1990, LaMelo is now the

second PUMA basketball player

that is honoured with this announcement. The PUMA Fam couldn't be prouder!

The NBA announced that LaMelo Ball has been selected by NBA Commissioner Adam Silver as an All-Star reserve player for the 2022 NBA All-Star Game. The game will take place at 8 p.m. ET on Sunday, Feb. 20, at Rocket Mortgage FieldHouse in Cleveland. LaMelo, the NBA Rookie of the year last season, is the fourth-youngest player in NBA history to be named an All-Star.

This season, LaMelo is averaging 19.6 points, 7.1 rebounds, 7.5 assists and 1.5 steals per game in 47 games. He ranks 26th in points, 10th in assists and 17th in steals per game in the NBA and is also 13th in free throw percentage (.875). He has posted four triple-doubles, already tying the Hornets single-season franchise record and is just one of nine players with four or more triple-doubles on the year.

Well deserved, LaMelo! ???
View this post on Instagram
After winning the Rookie of the Year trophy in the 2020-2021 season, Ball continues his success story with his first All-Star appearance playing with his own signature shoe the M.01. The shoe was a mayor success after PUMA launched the shoe on three different dates in December, January and February everything was sold out after hours.
Ball will be among the pool of players voted as starters and reserves in each conference that will be drafted by LeBron James and Kevin Durant who will serve as captains after leading their respective conference in fan voting.