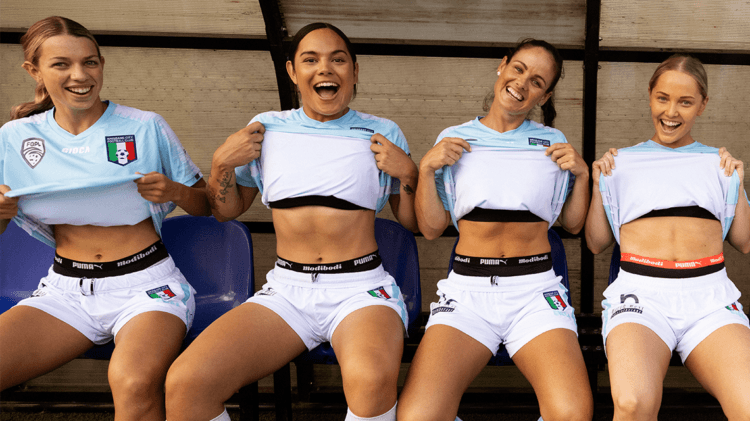 Fresh, Dry
and 100% Comfort
PUMA and Modibodi® Drop Their Third Active Period Underwear Range
May 15, 2023
PUMA and Modibodi® Drop Their Third Active Period Underwear Range
May 15, 2023
You take on the game – we'll take care of the leaks.
We are proud to announce the
third drop of PUMA x Modibodi®'s best-selling active underwear range!

PUMA's world-class expertise and Modibodi's unique, patented technology join forces again to help athletes feel their best when playing sport. Gone are the days of feeling uncomfortable on your period when playing sports: PUMA x Modibodi offers

comfort and security

while on your period.

Athletes are often told to keep playing on their period, when what they wear makes it extremely uncomfortable and anxiety-inducing to do so. It is time to no longer feel exposed in sportswear that leaves the wings and strings of disposables on display: it is time for PUMA x Modibodi active period underwear!
"As someone who menstruates and plays soccer in a white uniform, I can attest to the discomfort and anxiety that combination can create, particularly when you are young. You spend your time shamed by the fear of leaks, and it can take all your mental strength to refocus on the game at hand. That's why I'm such an advocate of the new PUMA x Modibodi active period undies. The designs not only bring some much-needed innovation to the sportswear market, but they also help support your menstruating body so you can play without fear of leaking and kick some goals. Who knew playing on your period could be this comfy It's liberating!"
– Jamilla Riley, Modibodi Ambassador and Brisbane City FC Captain
PUMA and Modibodi have changed the landscape for playing sports on your period. The new PUMA x Modibodi active period underwear is made for maximum protection and performance on and off the court, field or gym floor. The soft, breathable fabric of the collection stretches that moves with your body, alongside Modibodi's concealed absorbent lining, allows for a leak, sweat and discharge-free workout. Modibodi's Modifier Technology™ absorbs moisture and sweat, locking away fluid and odour to keep you feeling fresh and dry. You no longer have to worry about disposable pads, liners and tampons – the PUMA x Modibodi collection has it all in one!
Did you know the slim, absorbent black lining features 3 layers of built-in technology that can hold up to 15ml (or 2-3 tampons) without staining your activewear or sports uniform? Each design is also crafted from 82% recycled material! 
"We wanted to destigmatise the challenges of menstruating whilst competing and show athletes a new world in which they can feel confident and supported to play while they bleed. We worked with PUMA to design a range of active period underwear that utilises Modibodi's world-first patented technology which includes a leak-proof barrier layer for secure protection; meaning athletes can focus on their game, not their period."
– Charissa Lanham, Modibodi Design and Innovation Director
You can rock the new collection in two colours: black/platinum grey and black/green. There is also the option to wear the range for light-moderate to moderate-heavy absorbances so all your needs are catered for.
Stay fresh and dry with the new PUMA x Modibodi collection!