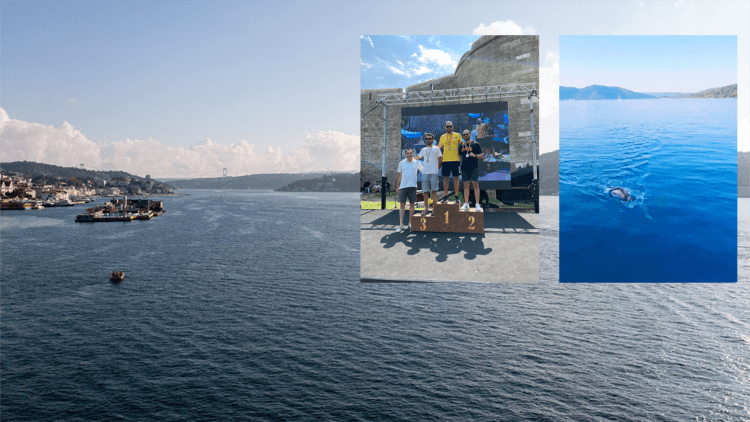 "The water made
me headstrong!"
Interview with PUMA employee and ex-water polo professional Derya Ozkok about his passion for water and his work-life balance
February 16, 2023
Interview with PUMA employee and ex-water polo professional Derya Ozkok about his passion for water and his work-life balance
February 16, 2023
Meet Derya Ozkok! Our colleague from Turkey works as Junior Manager VM & Strategic Accounts in Istanbul. He used to be a professional water polo athlete and competed for instance in the European Championships. After a shoulder injury he stepped down, plays today in the second league in Turkey and also found fulfilment in open sea swimming.
CATch Up talked to him about his work-life balance, his motivation and about his learnings from being a professional athlete.
Derya, why did you decide to join PUMA as an (former) professional athlete?
DERYA: I am very passionate about sports in general and had a great connection to the brand even before I joined PUMA. I started with swimming before I played water polo. Here, I even played European Championships. Unfortunately, I injured my shoulder and wasn´t able to play on this high level anymore. Today, I play water polo in the second league in Turkey and start to race in the open water swimming. It is a great balance to my job at PUMA. I am part of the PUMA family for seven years.
When did you start with water polo and how did it come about?
DERYA: I started with water polo when I was about five years old. My former coach told me that water polo is more fun compared to indoor swimming (at that age). I followed his advice and never regrated it. I even played European Championships with the national team of Turkey for five years.
I there something you learned from your sport career that you can implement at your work at PUMA?
DERYA: Yes, absolutely. The team spirit for instance is something I gained from my time as a water polo athlete. Teams support each other to win the big picture, not just the one game. That is an attitude, a spirit, I want to spread within my PUMA team. From swimming, which is a very self-focused sport, a one man show – I learned to really focus on things and also to be mentally strong. I am also very eager on outdoor swimming these days. Swimming in the open water has something medical to it. Each time it is different, and you can´t predict it. It is the beauty of nature. Sometime there is a powerful wind, or the water goes up, one or even two meters and there are waves. On the water I just have to deal with these different conditions. This skill to deal with new challenges I can benefit from in my daily life and job. The water made me headstrong. 
How do you manage to balance your job and sports (open water and water polo)?
DERYA: Training in the pool comes before open water training. Depending on my training schedule, I train in the morning before work and in the evening after work. This gives me the opportunity to do what feels best for me. I separate the individual tasks from each other. That's my motto, which I also follow in my family, at work and in sports. That's how I have focus.
Do you have any favorite PUMA athlete or someone who inspires you?
DERYA: PUMA has many great athletes and ambassadors. Especially in football and athletics I follow some of them. I don´t have role models though. I always try to focus on myself. In my head I collect certain attributes and things I like and learned from professional athletes or ambassadors. Then I collect everything and find one thing for myself.
Thank you very much for the chat, Derya!