Dream.
Believe.
Achieve.
Interview with 400 meter PUMA athlete & PUMA employee Patrick Schneider
July 15, 2022
Interview with 400 meter PUMA athlete & PUMA employee Patrick Schneider
July 15, 2022
With his personal best of 45.44 seconds in 400 m, Patrick Schneider managed to get his ticket for the World Athletics Championships and the European Championships this year. Patrick is a professional track & field athlete and a PUMA employee. Just before his first competition in Eugene, we talked to him about his goals, our new evoSpeed NITRO spikes and how to get fit again as quickly as possible after a serious injury.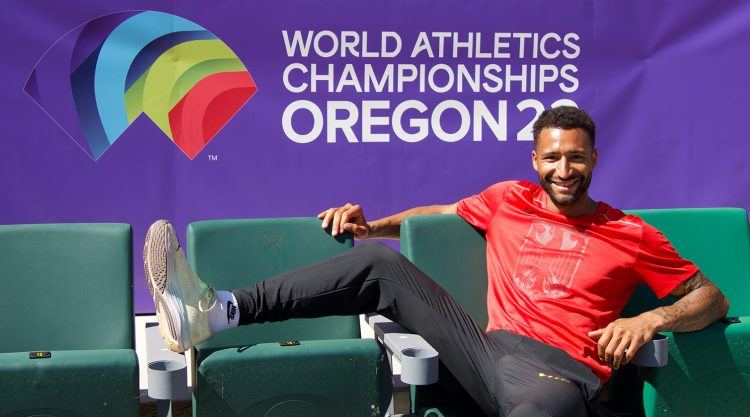 How is the atmosphere in Eugene?
Patrick: The atmosphere here in Eugene is very good. Before, we were at a pre-camp in Santa Barbara for about a week. All athletes are motivated and tomorrow we start with the competitions. I feel very comfortable. My accommodation is at the University of Oregon. At the student housing. The German athletes have the newest house. I think we are the only ones who have en suite rooms. We are lucky!
When is your first competition?
Patrick: I attend in the 400m mixed relay on day one. It's the first time for me to run a mixed relay. There is also an innovation. Before you could choose the order yourself, now you have to run man-woman-man-woman. It is even preliminary and final on one day. In the morning we run the preliminary race and then in the evening we run the final. On July 23, I'll be running the 4x400m, which I'm also really looking forward to. If I make it to the final, I will be back on the track on July 24.
The World Indoor Championships in Belgrade was your first highlight of the season. Now, with the World Championships in Oregon and the European Championships in Munich, two more highlights are just around the corner. What are your goals?
Patrick: My goal is definitely the final. And then I think that a top 5 finish can be realistic. Even if we have to run a German record for it. The mixed relay has not been around that long, only since 2019. It would be a dream come true to hold a German record.
You recently described yourself as someone "who prefers the fast ones in front so you can suck up to them". What goes through your head during a 400m race?
Patrick: I visualize before the race. In a 400m sprint, you have time to set accents. The first 50 meters out of the starting block, for example, are super important to accelerate really well. These first meters determine more or less the complete course of the race, because later you can't accelerate anymore. It is then a matter of delaying the drop in speed as long as possible. By visualizing the race in advance, I know exactly when I have to do things. If I have people in front of me who tend to start fast, then that is an orientation and I try to run with them and ideally pull away after 200m at the finish point. That's why I like it so much.
You tore your Achilles tendon in March '21 – instead of training for the Olympics, you had to sit in a wheelchair. Many athletes can't reach their performance level after this injury. What is your secret? How were you able to get back to top form so quickly?
Patrick: That's a good question. It really took a while to recover. The injury was preceded by two muscle fiber tears. I tried to kind of fight my way back last year.
And when I was on a good path, it got worse again from one day to the next. Then, unfortunately, I could forget about participating in the Tokyo Olympics. That was very painful. On the way back, there were some self-doubts, but I knew that there was more in me. I have had a lot of patience and had many doctor's appointments. I started to take Pilates classes for example. I created a 100% perfect environment for myself during the injury phase. My environment believes in me and most importantly I believe in myself and enjoy sports again. I have also realized that there is more than sports. I identify myself not only as an athlete.
How do your colleagues at PUMA perceive your role as a professional athlete? How do you generally feel about being part of the PUMA family?
Patrick: At the moment I work part-time, 20 hours/ week. I have great support from my colleagues and never perceived that others might think that I get preferences or special treatment. Unfortunately, I am not often in the office as I train in Frankfurt. So you do lose the bond a bit when you work completely remote. But whenever I'm in the office, everything is cool.
You changed coaches last year. You now train in Frankfurt in a middle distance group & want to become an 800m runner in perspective. Will we see Patrick Schneider in the 800m race at the 2024 Olympics in Paris? What is your plan until then?
Patrick: Yes. I'm training in Frankfurt, with the 800-meter national coach. This is a perspective program. I'm doing the 400 this year and next year I'll try to do the 800m. Of course I love the 400m, but I think there are few people who can run 400m fast and then dare to go to 800m. The 800m are more tactical. On the other hand, I need to work on endurance and get better. But if all this comes together, I think it can go in a world class direction for me. In the 400m, that's not the case, because the world class runs 43 seconds. My goal is definitely to run in the 2024 Olympic final. That would be a lifetime dream.
Last but not least question – Patrick,  how do you like our new evoSPEED NITRO spikes?
Patrick: I've been doing athletics since 2014 and to see the evolution of spikes is really impressive. The new PUMA ones just feel top notch. They are reactive, you think that the shoes lift you out again and give more stride length. That's because of the NITRO Foam. They are really, really good. I love them.
Thanks for the interview Patrick! The whole PUMA family keeps its fingers crossed for your competitions! Have fun!