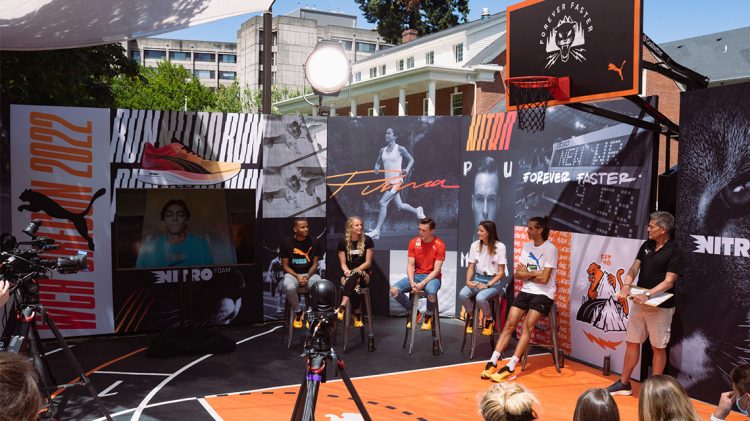 Forever Faster
in Eugene
Strong PUMA athletes and products at the 2022 World Athletics Championships
July 14, 2022
Strong PUMA athletes and products at the 2022 World Athletics Championships
July 14, 2022
Are you ready for the World Athletics Championships 2022? More than 1900 athletes from 192 teams will compete July 15-24 at Hayward Field in Eugene, Oregon, USA. Of course, CATch Up will keep you up to date on the most important events! Ahead of the event, we invited some of our PUMA heroes to a press conference at our PUMA House to talk to them about their expectations and (of course) our new evoSPEED NITRO spikes. 🏃🏾💨 Watch the video recording, take a look inside our PUMA House and get ready for the big competition!
Ever since our foundation in 1948, it has been our philosophy to provide the fastest athletes with the fastest products. And here they are, together in one picture – some of our most talented athletes with the latest and greatest PUMA footwear (improved versions of our successful evoSPEED NITRO spikes).
Did you know?
These current world records were set in PUMA shoes:
Triple jump (Jonathan Edwards, 1995)
1,000m (Noah Ngeny, 1999)
3,000m Steeplechase (Saif Saaeed Shaheen, 2004)
100m and 200m (Usain Bolt, 2009)
400m hurdles (Karsten Warholm, 2021), and
Pole vault (Mondo Duplantis, 2022)
Here you can watch the recording of our press conference
"Track and field is sports and athleticism in its purest form and embedded in the very core of PUMA. We are proud that many world records were set in our shoes and we are looking to our athletes writing the next chapter in sports history in Eugene."
PUMA CEO Bjørn Gulden about the World Athletics Championships 2022
View this post on Instagram
Strong performance with strong PUMA footwear
We will equip our athletes on site with our latest Nitro technology, making their shoes and spikes even lighter and more competitive. For Norwegian hurdler and world record holder Karsten Warholm, we have developed the ultimate hurdle shoe, the evoSPEED Naio NITRO.
There are also improved versions of the gold-medal-winning PUMA evoSPEED Nitro Elite and several new products for long-distance runners. The evoSPEED Distance Nitro Elite+ 2 spike uses PUMA's proprietary NITRO foam and a PWRPLATE for exceptional energy return and is aimed at events ranging from 800m to 10,000m.
PUMA's road racing athletes can choose from the DEVIATE NITRO ELITE 2, which is even lighter than its predecessors and also features a new last, or the futuristic and aggressively designed FAST-R NITRO Elite, which uses NITRO Elite technology and a PWRPLATE to support an efficient run.
#ForeverFaster