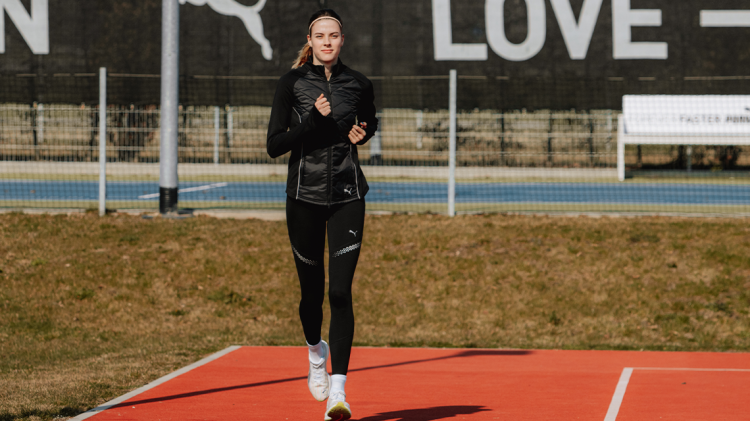 SHE MOVES US
"I protect my country on the track"
SHE MOVES US - Interview with the World Indoor Champion in high jump, Yaroslava Mahuchikh
March 31, 2022
SHE MOVES US - Interview with the World Indoor Champion in high jump, Yaroslava Mahuchikh
March 31, 2022
Before winning her gold medal at the World Indoor Championships, high-jumper Yaroslava Mahuchikh had to take a 60-hour car trip to get away from the bombs and rockets that fell on her home country Ukraine. With a resilience and confidence that makes everyone forget that she is only 20 years old, Yaroslava says that she won to protect her country on the athletics track. As part of our "She Moves Us" series, CATch up sat down with Yaroslava to talk about her beginnings in the sport, her emotional victory in Belgrade and her ambitions.
Born in Dnipro, Ukraine's fourth largest city, Yaroslava dreamed of a creative profession when she was in school: "I wanted to become an artist, because I painted a lot. I also thought of becoming a singer." Things changed when she started with track and field, first as a hurdler and later as a high jumper.
"I was about 11 when I started. I trained for five years. Then I realized that I wanted to train for the Ukrainian Championship and after that I started competing internationally," she added.
Her teachers weren't too sure about her career choices and pointed out that she shouldn't neglect her studies because of her sports. "Those teachers said that athletics was just a hobby and I shouldn't take it too seriously. But I told them: 'No, I want to be an athlete. And once I'm done with my career as an athlete, I want to be a coach.' I told them: 'I will do this!'," Yaroslava recalls.
Her determination paid off. At 15-years-old, she won the gold at the U18 World Championships in Nairobi, followed by another gold at the U18 European Championships. With her jump of 1.92 meters in Nairobi, she put up the best performance ever by a 15-year-old.
"Those teachers changed their minds," Yaroslava says smiling.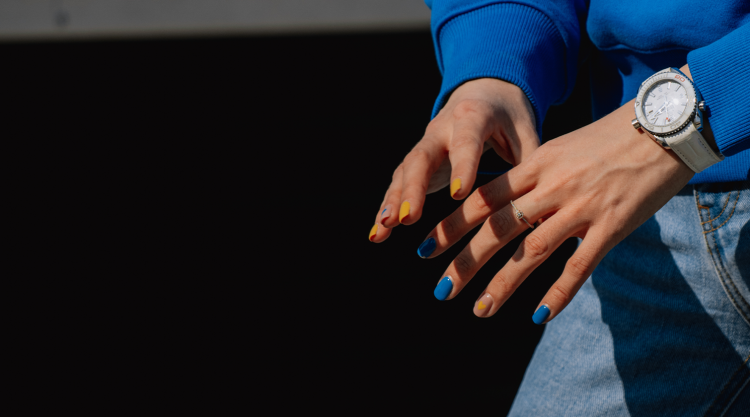 Today, Yaroslava is at the absolute top of the world in her discipline. But, the past few weeks have been very difficult and a great burden. Yaroslava couldn't even think about training in the days after the conflict in Ukraine began. Like many others in her country, she also had to hide from rockets and bombs in a basement. Still, she took the decision to make the 2,000 kilometer (1230 miles) journey to Serbia by car.
"We had a three-day car trip to Belgrade, but it made me stronger and I won a gold medal for my country," she remembers. And what a victory it has been. After winning bronze at the Olympics last summer, Yaroslava overcame three failed jumps before clearing 2.02 meters. The audience in the arena gave her a standing ovation.
"2.02m is my season best. It was the World Indoor Championship gold medal and a season best. I'm so proud to represent Ukraine internationally, because I protect my country on the track," she says resolutely. For Yaroslava, the competition was an emotional win, as her thoughts kept returning to her home country. 
"I painted my nails blue with a yellow love heart on them just to communicate a small gesture that my heart goes out to them," she adds.
After the World Championships, Yaroslava travelled to Herzogenaurach to stay near PUMA's headquarters. There she was able to relax from the event and the difficult journey, before preparing for her next competitions. PUMA has provided housing in Germany and elsewhere for its Ukrainian employees, athletes, ambassadors and their families, who had to flee the conflict.
"After Belgrade, I immediately came to Germany to stay with my second family, my PUMA Family. They have helped me in the past and are also helping me now with accommodation and the possibility to train. It is amazing to have such people and such a company that helps me. I'm very grateful to them," she says.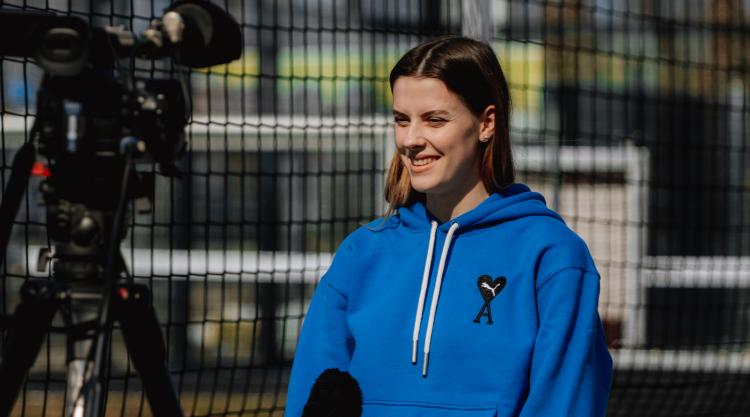 One of Yaroslava's greatest inspirations is her coach Tatyana Stepanova, who has been her great support and much more than a manager. "I don't have role models. But my coach is my second mother. She has been with me this whole time. We have a very similar character, maybe I got it from her," she says.
That does not just mean a steadfast focus on training and results, she explains.
"We also both love cooking and baking cakes. I love to cook and my boyfriend then eats the cakes I make", she says and smiles.

Yaroslava has a very friendly and positive personality. When asked about her wishes for the future, she has a very clear answer: "I wish for peace. On a sporting level, I want to break the world record."
The world record in the high jump stands at 2.09m and has been in place for more than 30 years. "I want to jump 2.10m", she says emphatically.
Yaroslava, we know you can do it! All the best for the future from your PUMA Family!