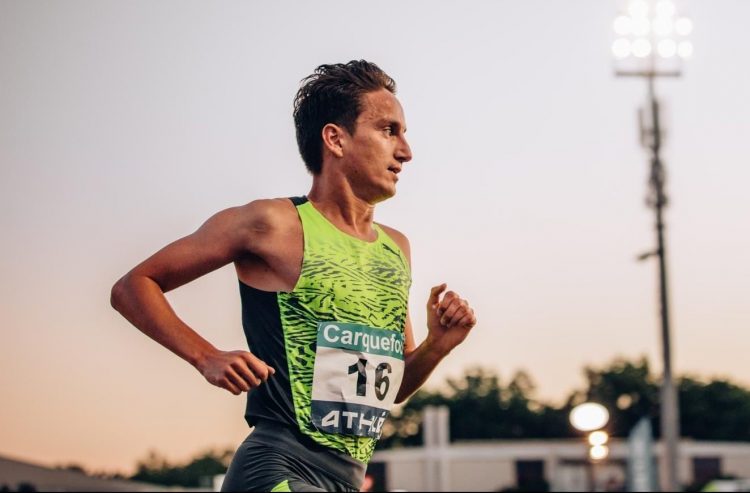 PUMA Athlete-
Employee Balance
Interview with PUMA Athlete and Employee Fabien Palcau on His Time With PUMA
December 12, 2022
Interview with PUMA Athlete and Employee Fabien Palcau on His Time With PUMA
December 12, 2022
Meet

Fabien Palcau

: the
PUMA athlete, PUMA employee and star on the running track

! Fabien Palcau is a French long-distance runner who joined the PUMA fam two years ago as an athlete, and three months ago as an intern in our Europe marketing team. We sat down with Fabien to discuss his accomplishments as an athlete, his relationship with PUMA and his PUMA employee and athlete balance. Check out the interview below!
Why did you decide to join PUMA as an athlete?
Fabien: There were two reasons. One, it's natural, it's PUMA. They offered me a good contract – it's logic. But for me, the most important thing is PUMA want to attack the category of running, and I see this as an opportunity to be one of the few PUMA running athletes in France. It was a very great opportunity to be different from other athletes with the same brand. It will be interesting to work with PUMA, how we can elevate running in France on a new brand and this new market. I believe in and trust PUMA. I trusted PUMA at the beginning and now I see that it was a good choice. I am really happy to have this privileged relation with PUMA, as an employee too. I think it is very different as a brand, compared to other competitors and this is really important for me. That is why I decided to join PUMA, and I made the right choice.
Is that the same reason you decided to become an employee at PUMA?
Fabien: Yes, but I have other reason as well. When I joined PUMA as an athlete, I transformed from an amateur level to a semi professional athlete. I have this dimension of being able to promote a product, to have a good image, communication, photoshoots from both sides – and for me it is very important to have these two visions of PUMA as an athlete and as an employee. How PUMA works with athletes and how athletes work with PUMA, and the goals to elevate PUMA – for me it is very important to have a big vision of all of this. When I asked PUMA to come here, my goal was to have a big vision of the company and to be able to add maximum value to PUMA. I now see how PUMA work on marketing, and the end result as an athlete.
Why did you decide to do an internship in marketing?
Fabien: Because it's a continuity as an athlete. It is all about social media, communication, events and how all of this is for sale – product and marketing, it's the same. I want to learn and elevate my skills in marketing. I really like to make a reflection about how we can sell products, with which terms, how we have allocated budgets, what is the most efficient use of this budget, what is the return on investment and all of this. I really like the whole story behind the products, to see both sides.
How long is your internship?
Fabien: Three months. Normally it's six, but I am in a program at my school for top athletes or artists who have these two projects at the same time. We have the possibility to do only three months and for athletes it's good. Six months is too much to be on top of your performance in the summer season.
I want to take the plunge and work longer, but I remind myself, my time for the professional life is after my sporting career and maybe after that I will come back to Herzo.
Where and how often do you train here?
Fabien: I try to stay at training around ten times a week. It is a little more when I am in France, before my internship for example. At the beginning of my internship, I tried to maintain this, but after a while it was so complicated, so tiring, so I run maybe 8 to 10 times. I prefer to be more qualitative than quantitative. I run in the morning, early before and after work. Now I try at lunch and in the evening because I need to sleep a little more in the morning.
Do you go running here at the headquarters?
Fabien: I go in the gym on the treadmill because I have the problem of the light: at four it is dark already. I also run around Herzo, on the track in Herzo, the track in Fürth and around Erlangen in the forest.
How is your training going?
Fabien: My past three years was entirely setup for training and not a lot of school, only a few hours a week, so my time was dedicated to training. To go from this to totally full time work and full time training, wow, it's a shock! I think the body and mind need some months to adapt.
When I make a mistake, I learn, and I think it's really interesting to push the mind and body in different stress, to be better after and to learn what is the best for me and how I can work with this, with my strengths and weaknesses.
Do you normally try and run once a day at least or do you give yourself days off?
Fabien: My coach likes to give me one day off per week but here, I adapt myself everyday according to my fatigue and my work. Sometimes I keep the day off or run once, because three days before I only ran one time a day, for example.
Sometimes I think I take too many days off. But Monday I came back from training and recovering in France for a week, and I said okay take two days, one day off – you need it. It's a little bit frustrating, you might not like it, but you need it and I manage like this. But yesterday I was it was a big day of training so today maybe yes, I take a rest.
How do you maintain a balance between being an athlete and an employee?
Fabien: It's complicated. I try to do my best, but I think it's like our director in marketing Benoit Menard says, "test and learn" and after we adjust this balance. But yes, I need to sleep a lot, but I can't really do this. So, I eat a lot to have some energy, and I drink a lot of water for sure. I adjust every day: when I am a little tired, I don't train twice a day, only once, and when I am in good shape, I train twice a day and I adjust like this. When I have the weekend, I have some time to rest, to sleep and to train. It's a big challenge. I think it's one of the biggest challenges because I don't have habits.
Let's talk about your running career so far. What competitions have you taken part in, internationally and nationally?
Fabien: At an international level, I competed six times at the European Cross-Country championships in the youth category. I competed in the World Championship in the under 20 youth category. In the European Cup, I ran 10K on the track, and others. I mostly did competitions in the youth category and now I am training for the older categories. And nationally, I competed in all of the most important championships in France.
What are your objectives for the upcoming year in sports and professionally?
Fabien: I want to elevate my level to the world level. My first objective will be at the French cross-country championship in March. After that, it's summer season and I want to be the best I have ever been. First, to beat my PB and second, to win medals in French championships and to go in the World Championship. This is my main goal, to elevate my level to the world level. It is a big step, but I try my best and train for this so we will see where things head.
Professionally, I want to have my master's degree. It's currently my last year. I want to be a totally professional athlete because now I am more semi-professional. I would love to be totally professional and to be doing that for a couple of years. I have a lot of goals after, for my professional life and ambitions but that comes later.
Do you have any favorite PUMA athlete or someone who inspires you?
Fabien: I think it's classic: Bolt. Because he is an athlete and had his vision to elevate track and field. And I think it's very important now to not just be an athlete, but to also add something to our discipline, to our brand. I think it's very important, and Bolt does this.
Have you run in our NITRO shoes?
Fabien: Every day, since two years! I know NITRO technology and I really like it. It is a pretty new product, it is new technology and for me it is a big question of how PUMA will create another high performance product. For the product, PUMA have a lot of innovation and in two years of running it's crazy what PUMA achieved. I think they have really great technology, and I think PUMA can do even better innovation and I see this in some meetings with innovation. There are really, really interesting new products and I really like this the image of PUMA to be content with their products and show every day a new and better product, new and better technology. I think PUMA now has one of the best products in the industry. I really like the technology. I am really excited to see the next two years.
PUMA took on my desire to work here as an intern and I think it's really important because the PUMA family is true and it means a lot. PUMA should continue like this.