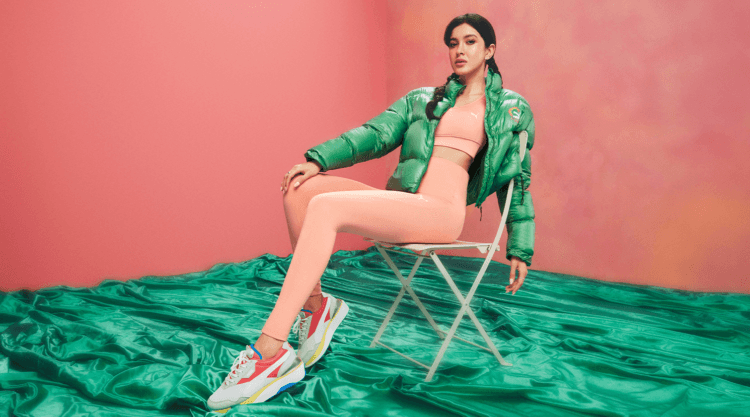 Welcome, SHANAYA KAPOOR!
Indian actress Shanaya Kapoor joins PUMAFam with a sporty outing and snapchat account launch
August 24, 2023
Indian actress Shanaya Kapoor joins PUMAFam with a sporty outing and snapchat account launch
August 24, 2023
We are proud to welcome our newest ambassador, Shanaya Kapoor, to the PUMAFAM! Shanaya is known as a fashion and fitness enthusiast who resonates especially with a Gen Z audience. The budding actor was announced this month and gave her Snapchat debut after stunning Indian social media paparazzi on the streets of Mumbai City.
Earlier this month, we onboarded the Indian actor  Shanaya Kapoor as our new brand ambassador. Shanaya will be the face of our athleisure and performance wear.
"I love PUMA's sport style vibe. As an active person, I find it extremely important to feel comfortable yet fashion-forward. I have so many ideas for projects and campaigns that I'll be taking part in and will bring them to life with my PUMA family this year."
The up-and-coming-actress
Shanaya is set to star in two massive Indian film productions. She will make her debut with a Telegu-Malayalam film with renowned actor Mohanlal. She will also make her OTT debut in Karan Johar's Student of the Year 3 franchise on Disney+.
On a new channel
Shanaya also announced her debut on the popular multimedia messaging app Snapchat as part of our partnership. Through her public account, Shanaya will engage with her Snapchat audience and give exclusive and unfiltered glimpses "behind the scenes" of her life as actress and PUMA ambassador.
Next to Snapchat, Shanaya also shares her fashion tips, fitness and dance routines with her 1.8 million followers on Instagram.
Sporty in the streets
Just before the launch of our partnership, Shanaya was spotted wearing PUMA in different locations in the streets of Mumbai city in India, doing fun activities such as cycling, playing basketball with a group of street players and drinking Coconut water at a street vendor; leaving Indian paparazzi curious about why Shanaya was extra active throughout the day.
View this post on Instagram
View this post on Instagram
The reveal came just one day later through our official channels!
View this post on Instagram
I have always been a daredevil. I regularly play basketball and now dabbling in tennis and badminton. I am excited to show this side of me through my association with PUMA. I feel so happy that PUMA appreciated me for who I am."
Shanaya joins the PUMAFam including Indian brand ambassadors Kareena Kapoor Khan, Anushka Sharma, Harmanpreet Kaur, MC Mary Kom and Avani Lekhara.
"Shanaya Kapoor is a sports lover and a fitness enthusiast. Her distinct style perfectly resonates with our brand's fashion-forward ethos. She is quirky, fun and self-aware. We are excited to showcase this undiscovered side of Shanaya to her followers."
Welcome to the PUMAFAM, Shanaya 💛!