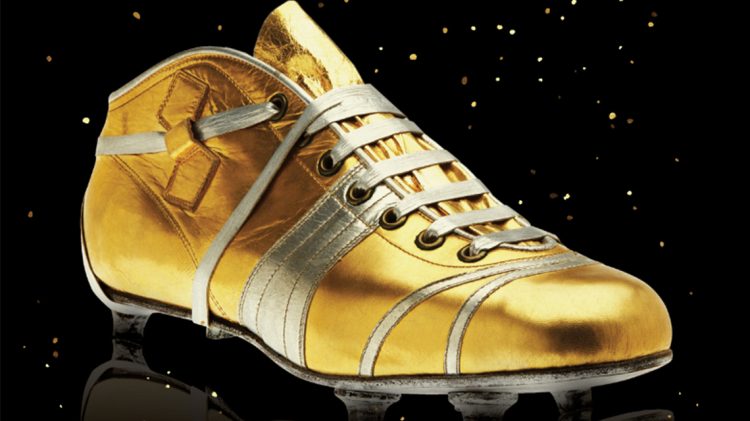 PUMA Archive
GOLDEN
HOLIDAYS
PUMA Archive: The Story behind the Golden Super Atom
December 16, 2021
PUMA Archive: The Story behind the Golden Super Atom
December 16, 2021
It is
that time of the year again

. A time for giving. The staff of

PUMA´s founder Rudolf Dassler

must have thought the same exactly 70 years ago. As a sign of gratitude they made their boss a

very special gift

. The workers gave him a

golden special edition of the SUPER ATOM

as a Christmas present. As a reminder: The

SUPER ATOM was the first screw-in stud football boot

in the world in batch production.

Find out more about this golden story!
REVOLUTIONARY
The Super Atoms were revolutionary back in the days and were the first boot produced that featured screw-in studs.
The golden SUPER ATOM is a purpose-built shoe for Rudolf Dassler. His staff gave him this unique copy in December 1951 as a Christmas present, right before series production of the shoe started in 1952. I think the workers were proud to be part of this huge innovation.
INNOVATING FOOTBALL
The official launch of the SUPER ATOM boot in 1952 created a stir. As designed by our founder Rudolf Dassler, the SUPER ATOM was developed in collaboration with an array of experts including Sepp Herberger, who was West Germany's national coach at the time. This marks a milestone in football history and was the beginning of our football heritage.
It is hard to believe this bulky piece of footwear was once a footwear sensation. It's fair to say that football boots have changed a bit. 🙂 Today, this special pair of football boots is showcased on our PUMA Bridge in Herzogenauarch, Germany. Don´t miss to stop by when you are around!