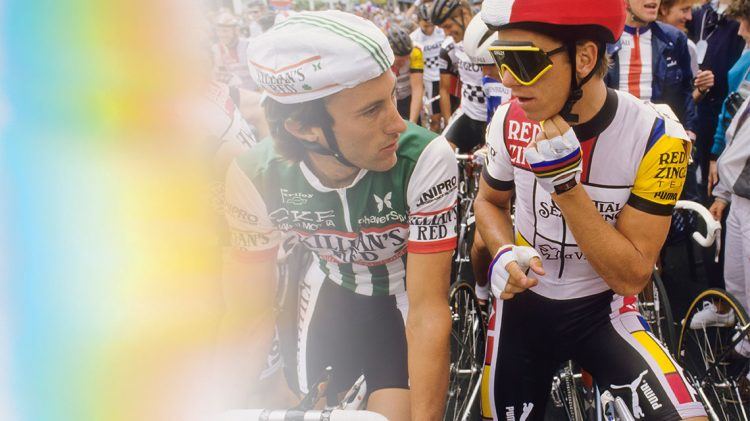 PUMA Archive
"Forever Faster"
on a bike
PUMA's rich sports history in road cycling
July 19, 2021
PUMA's rich sports history in road cycling
July 19, 2021
The 2021 Tour de France finished on the Champs Elysees in Paris last Sunday. Did you know about PUMA's rich history in cycling? Back in the 70s and 80s, PUMA sold cycling shoes and apparel. Let's have a real retro moment and look back with the help of the PUMA Archive to highlight some of the greatest achievements of road cycling heroes such as: Greg LeMond, Freddy Maertens, Klaus-Peter Thaler, Dietrich Thurau, Reimund Dietzen and Gregor Braun.
With Rudolf Dassler, cycling shoes were an integral part of every collection since 1950. As an all-round athlete, he attached great importance to this.
Greg LeMond
The three-time winner of the Tour de France (1986, 1989, and 1990), Greg LeMond is considered by many to be one of the greatest cyclist of all time. In 1986 PUMA presented the first PUMA cycling shoe with a quick-release pedal which Greg benefited from.
Freddy Maertens
Freddy Maertens won more than 150 races in his career. His Tour de France record stands at a remarkable three green jerseys and 15 stage wins in just three appearances.
Klaus-Peter Thaler
Klaus-Peter Thaler was a professional cyclist between 1976 and 1988, successful in road-racing and cyclo-cross. He was world cyclo-cross champion twice as amateur and twice as professional and German champion eight times. In the 1978 Tour de France, Klaus-Peter Thaler led the race for two days, after his team won the team time trial.
Reimund Dietzen
Reimund Dietzen was a professional rider from 1982 to 1990. He was a successful amateur winning the German cyclo-cross championship in 1980 and 1981 as well as winning in road races.
Gregor Braun
Gregor Braun was a professional rider from 1977 to 1989. He is a multiple Olympic Gold medalist and track world champion.