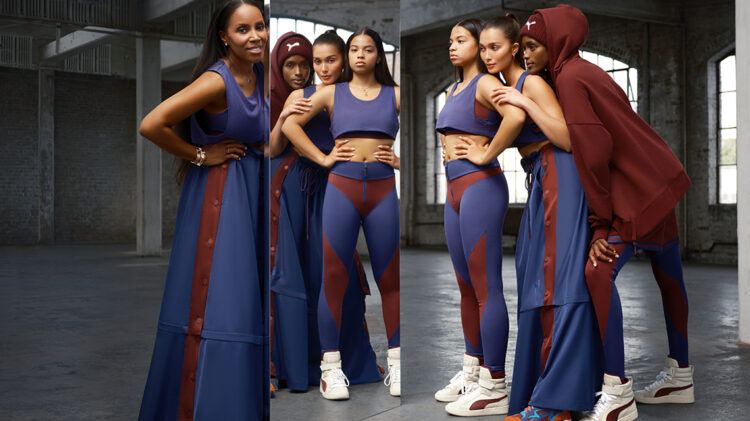 Get the Look
Keeping score
Get the Look: PUMA x JUNE AMBROSE
February 2, 2023
Get the Look: PUMA x JUNE AMBROSE
February 2, 2023
We're keeping score of women's wins with the brand-new co-branded collaboration by PUMA and creative director and celebrity stylist June Ambrose.
Celebrating cultural shifts and female power, the collection represents a culmination of Ambrose's career and pays homage to her legacy in hip-hop and fashion.

Reflecting on this, we've styled a look with items from the line to

embody the essence of this empowering launch.
The Shoes
Footwear offerings include the design-forward Prevail sneaker and the iconic Ralph Sampson sneaker. We ran with the Ralphs for the look today ─ the mid-boot silhouette with worn suede overlays and cracked leather quarters feels timeless and evergreen, seeming to epitomize Ambroses' ethos that 'Life is Sport'.
The whole Outfit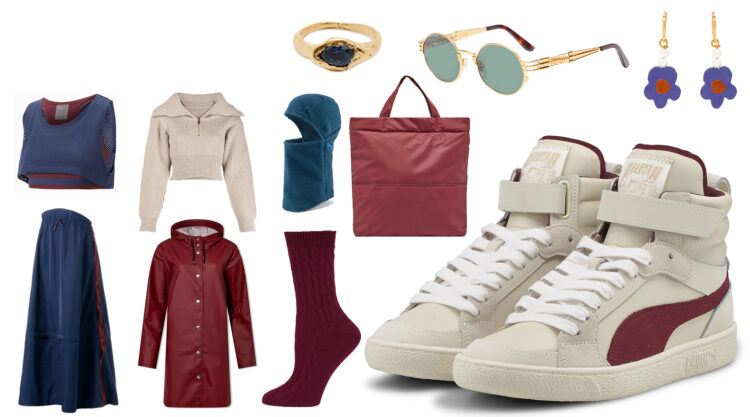 The Outfit
Bridging the gap between streetwear and fashion while elevating diverse looks and stories, Ambrose is a force in the world of fashion. This dynamic co-branded offering includes 20 pieces of women's clothing, footwear, and accessories. It has been split into two drops; the first has an attractive burgundy and navy color palette adorning classic sports apparel like oversized hoodies and tees, reversible shorts, and color-blocked leggings.
For the lower half of today's outfit, a breakaway maxi to mid basketball skirt is captivating. The piece's versatility and ability to transform lends itself well to styling (and living) highlighting the evolution of the game and emphasizing its feminine aspects. We're also seeing maxi skirts making maximum impact on winter/spring trends, so the item is mega timely. Then moving up, we're making a matching set by incorporating the removable mesh jersey sports bra from the collection. Matching sets are basically a sportstyle staple, but the contrasting shapes and textures between the skirt and bra keep things interesting and fresh.
Overtop (because sadly it's still winter) comes a cosy ribbed knit jumper, with a cropped shape, drop shoulder and half-zip. It's not a statement piece, but it adds a subtle softness that supports the look. Finish with an A-line silhouette raincoat in that rich burgundy shade. A minimalist and stylish yet practical piece, it's the perfect concluding note.
The Accessories
Glam hoods, understated jewelry and functional bags ─ let's go. The accessories were chosen to effortlessly accompany the established colour tones and strong feminine spirit. A puffer tote bag matches the raincoat and is sturdy and luxe at the same time. Cashmere socks in the same shade keep your feet happy and warm, and are the companions the Ralph Sampsons deserve. Gold tone jewelry warms up the cooler shades: quirky gold earrings with an innovative flower design (in matching blue and burgundy) visually celebrate individuality and girl power. A sapphire gold ring subtly shines from the hand, while an iconic pair of round-rimmed gold sunglasses give the look that 'cool girl' feel. Finally, the balaclava from the line is a stand-out piece. With cozy fleece fabric and zip closure, it is flexible and fashionable (and one of this winter's biggest trends).
With a name like 'Keeping Score,' you know
this collection has something to say.

An infusion of performance and style, the collab between June Ambrose and PUMA celebrates the influx of hip-hop into high fashion and

urges women to take note of their own victories.