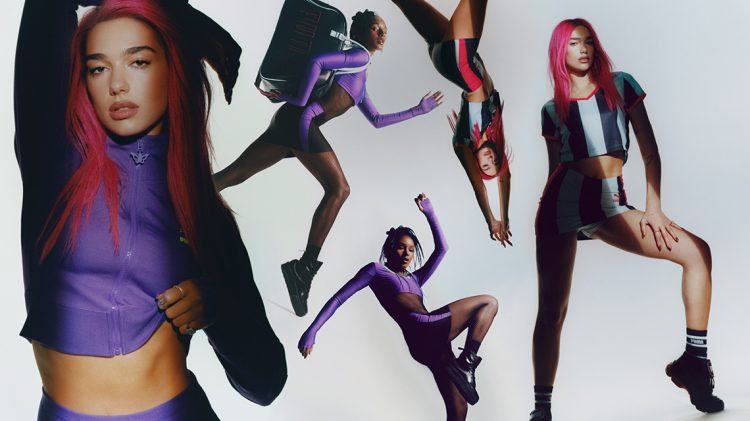 Get the Look
Get the Look
PUMA x DUA LIPA Flutur
Creative Metamorphosis
July 21, 2022
Creative Metamorphosis
July 21, 2022
PUMA and international pop star Dua Lipa team up once again for another uber cool installation of their ongoing Flutur collaboration.
This second season remixes streetwear and sport to give a collection brimming with vivid colours and '90s retro silhouettes.

Inspired by this old school rave-ready aesthetic we styled an

outfit perfect for dancing into your next life stage.
The Shoes
The Flutur Drop2 features more than 30 items with bold branding and retro contemporary outlines. The full footwear offerings include favs like the CELL Dome King and three variations on the Mayze silhouette: the Mayze, Mayze Metallic, and (seen styled here) the Mayze Boot. Rugged, raw and influenced by subculture staples, they are the perfect base to any look.
The whole Outfit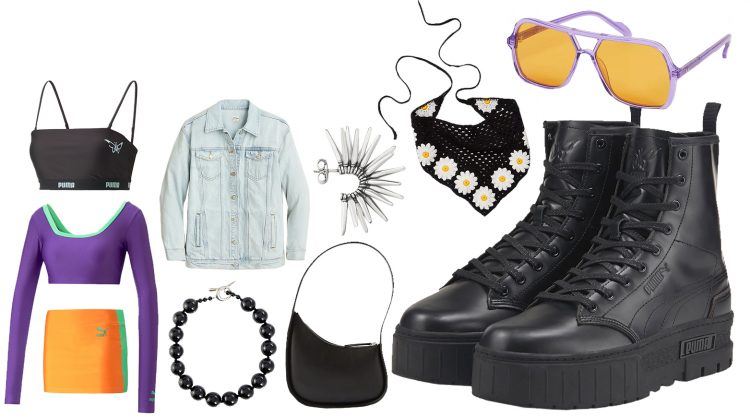 The Outfit
Throwback sportstyle meets old-school rave culture in this fresh new collection. Active apparel items showcase a bright colour palette of pink, purple and orange hues with holographic details and a distinctive retro feel. Iconography includes PUMA's fast cat insignia sharing space with Dua Lipa's butterfly lettermark. Symbolizing transition, creative metamorphosis and new beginnings, the winged image stands for a central theme in the young musician's life. From nostalgic tracksuits, to rave-ready crop tops and skirts the collection is an unabashed expression of personal empowerment and growth.
For today's outfit we went with the black bralette as a base; with its playful boatneck neckline and cute butterfly graphic embroidered on the front, it certainly sets the stage. Over top comes the long sleeved cropped tee with built-in thumbholes, plus silicone on the inside of the bottom hem to keep it securely in place. In a brilliant purple shade that is right on point for the Y2K trends this summer, it also is cut for a sexy and empowering outline that conveys casual confidence. Finish up with the vivid orange mini skirt from the line, packing a powerful punch in a small package. The runways are showcasing ever rising hemlines at the moment and this mini is super in (fashionistas of the '90s would be so proud). All the items in this look are comfortable and wearable, meaning you're free to move (or dance, or rave) without fear of showing more than you care to. Plus the sporty separates pair well and effortlessly blur the boundaries between activewear and streetwear. Throw a casual oversize jean jacket on top to complete that vintage vibe and you're ready to roll!
The Accessories
Complete the look with some crisp accessories. Summer style trends are showcasing statement pieces which speak for themselves like this bold, black onyx choker which is hard-to-miss. Pair with a daring pair of spiky silver earrings that leans into that raver edge. At the heart of a good look lies contrast, and this whimsical bandana provides just that. A sweet addition to any hairstyle, this retro-inspired hair scarf features a knit design and floral detailing that complement the pop icon's butterfly logo seen flitting through the collection. A black leather half moon shoulder bag draws on '90s minimalism for a little bit of elegance, while a creative and edgy pair of aviators in perfectly matching purple and orange wrap everything up.
Effortlessly cool, vividly bold and consistently inclusive

the newest season of PUMA x DUA LIPA's Flutur Drop 2 collection shows progression and the results of creative manifestation. Harking back to old school rave aesthetic, the unisex collection offers a range of street-ready apparel items, footwear and accessories that are

sure to support your ever-emerging creative transformation.