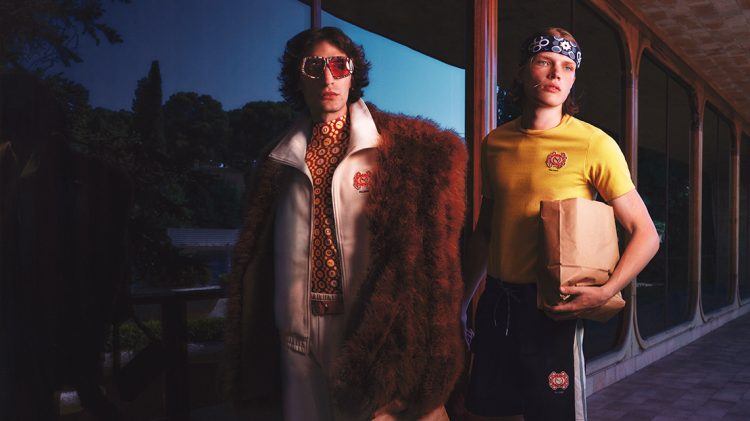 PUMA x PALOMO SPAIN
Iconic Sport & Style
September 8, 2022
Iconic Sport & Style
September 8, 2022
PUMA and Palomo Spain team up for a brilliantly edgy new collection that celebrates self-expression and the fluid nature of gender

. Inspired by the glamorous off-field lives of football stars in the 1970s, the resulting creation is a flamboyant and extravagant

infusion of Palomo's couture with PUMA's classic sportstyle

. Indulging in this lavish aesthetic we styled two gender-neutral outfits to play with.
The Shoes
Subtly referencing '70s football icon Johan Cruyff, the collection is an elegant crossover between craftsmanship and technology. Supporting the flexibility of today's sports fans, there are several options when it comes to footwear. There's the nostalgic Weekend Sneaker with subtle patterning all over, but for today's outfits, we were charmed by the unique Nitefox Loafers with their traditional loafer upper – complete with tassels and buckle – and trail-inspired sole that gives them a slightly more rebellious nature. This marriage of preppy and clunky is totally on trend for the upcoming season of shoes. Our other favourite is the laced-up Nitefox Boot ─ techy and ready to kick back on the streets or hit the trail, either way sure to defy stereotypes.
The whole Outfit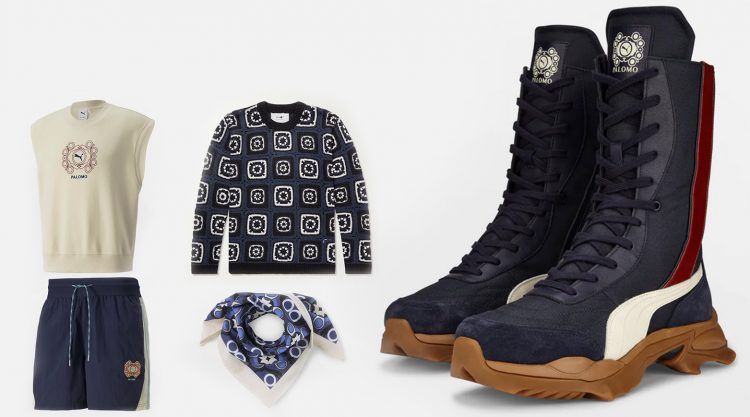 The Outfits(s)
The Spanish fashion brand is known for embracing eclectic styles, recovering and experimenting with classic designs. The partnership between Palomo and PUMA makes perfect sense and has spawned 15 gender-neutral pieces that play with the timeless hues of white, blue, beige, burgundy and splashes of vivid yellow while displaying intricate embroidery and graphic detailing. Some noteworthy mentions include a sweeping nylon peacoat, funky multi-coloured polos and a trendy tracksuit.
For the first look, we built up from the ground through the funky bell bottom T7 tracksuit with reverse panels and embroidered co-branding running down each leg. Up top comes the romantic and couture Chili Oil Activewear Top with a form-fitting cut, graphics that match the bottoms and an overall deliciously sleek feel. Less is more, and you don't really want to cover this top, so finish up with a simply stylish waistcoat blouse, worn here as a vest that adds shape while rebelling against traditionally masculine clothing items.
The second look stays comfortably chic; on the base go for the T7 track shorts with classic PUMA shapes and dramatic Palomo detailing. Then lean into the less-is-more tank top trend seen all over the runways this fall season with the iconic tank in French terry jersey construction and embroidery on the chest, snatched from the collection. If (and only if) you find yourself getting chilly, layer on a rich and bulky crocheted sweater such as this patterned beauty in navy that matches the shorts and boots.
The Accessories
For your final touches feel very free to experiment with accessories and explore those eccentric retro vibes. Here we kept things rather simple; the first outfit includes a pair of classic gold hoops to lean into that luxe and lavish effect. Headbands were also favoured in the '70s, so this look adds in a subtly powerful leather and suede band. Finally, store all your precious belongings in the collection's neutral Grip Bag with bold motif.
The second outfit incorporates the collection's genderless satin bandana with high-fashion inspired pattern that nods to pattern in the cozy sweater. Experiment with how you wear it to best express yourself: around the head, jaunty at the neck like a scarf or tied around your bag for an extra pop of style.
Inspired by '70s footballers and their extravagant lives on and off the field, PUMA and Palomo Spain have teamed up to create a retro, gender-neutral capsule. The collection draws from PUMAS classic silhouettes and Palamo Spain's couture eye to deliver an
iconic and stereotype-defying launch

.

🛍 Shop PUMA x PALOMO SPAIN on puma.com