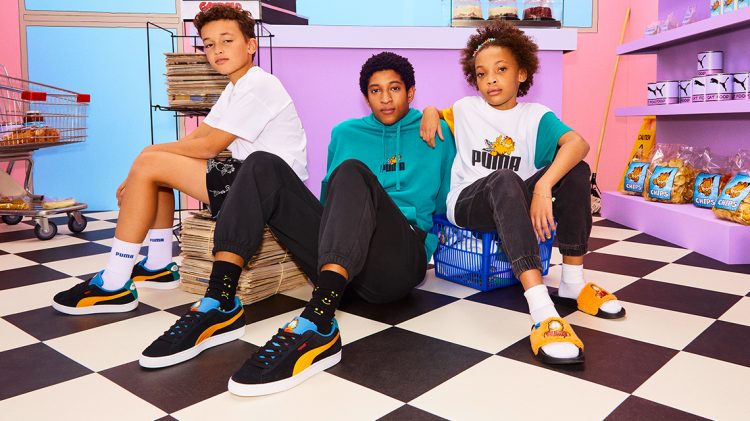 Get the Look
Get the Look: PUMA x Garfield
Upbeat, Offbeat & Quirky
April 28, 2022
Upbeat, Offbeat & Quirky
April 28, 2022
Two cats connect in the new

PUMA x GARFIELD collection

. Paying homage to pop culture's favourite cartoon fat cat, the series features playful streetwear designs for both adults and kids. With an array of audacious colors and quirky graphics the overall effect is upbeat and offbeat. We put together a laidback look that combines elements of classic sportstyle with the artistic satire of the Garfield comics. 👀
The Shoes
The collection offers several playful shoe styles to choose from including a revamped Wild Rider in vibrant blue and orange, and an always cool Suede with an animated shoe tag hanging casually off. However, for our outfit of the day, the Leadcat 2.0 slides were a no-brainer. With an ultra-comfy molded footbed and cozy sherpa upper with Garfield's goofy face sprawled across, they're the perfect slip-on-and-go footwear. Plus the slide is an aesthetic and fashionable choice still trending this season.
The whole Outfit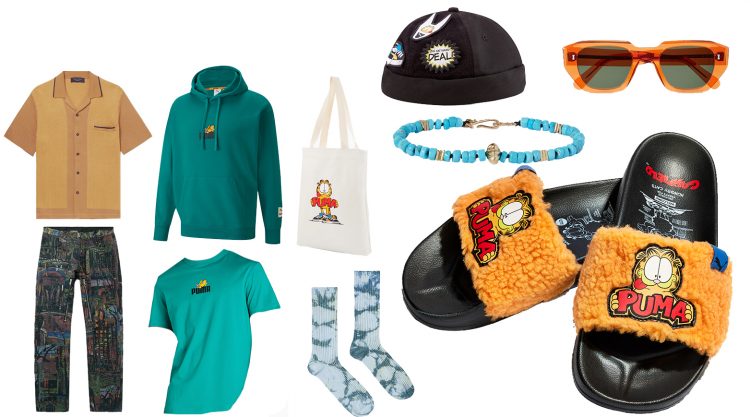 The Outfit 
The series offers an array of hoodies, t-shirts, shorts, and sweats in bright shades with playful sketches. Inspired by this laidback and ironic look we mixed and matched some pieces from the line with unique statement items for an eccentrically chilled look.
On the upper half, go for layers to appease the fickle spring weather gods. The base includes the graphic tee from the line in a brilliant shade of turquoise with pops of orange in the form of the iconic cartoon cat. Overtop comes a slightly more subdued voile overshirt, with an unusual camp collar to bring a little bit of structure and to emphasize the splashes of orange in the graphics. Lastly, a cozy hoodie matches the bright t-shirt base; best worn slouchy to max out comfort.
On the bottom half comes a pair of richly-hued denim jeans which bring automatic interest to the look. With their dynamic embellishments and abstract paintings, they complement the cartoon elements in the outfit while making a slightly ironic statement about looking great without needing much effort.
The Accessories
Running with the whole 'not taking yourself too seriously' vibe, we chose a pair of soft and stylish tye-dye socks ─ because who doesn't love to rock a nice sandals-and-socks-moment. A turquoise bracelet adds a vibrant charm, plus turquoise stones support feelings of tranquility and peace. A classic tote bag with Garfield's cheeky face smiling outwards is perfect for the streets (or the shops where you can stock up on snacks). Thick acetate sunglasses with a bold orange frame pair with the audacious tones already established, while an effortlessly edgy black docker hat with detachable graphic badges tops off the whimsical look.
Sometimes fashion can be a bit overwhelming, with all the effort and ever-changing trends. But it doesn't have to be complicated ─
fashion is about individual expression and feeling confident in your own skin… something Garfield himself perfectly embodies.

Celebrate with us the upbeat, offbeat, and downright quirky with the new

PUMA x Garfield collection

.