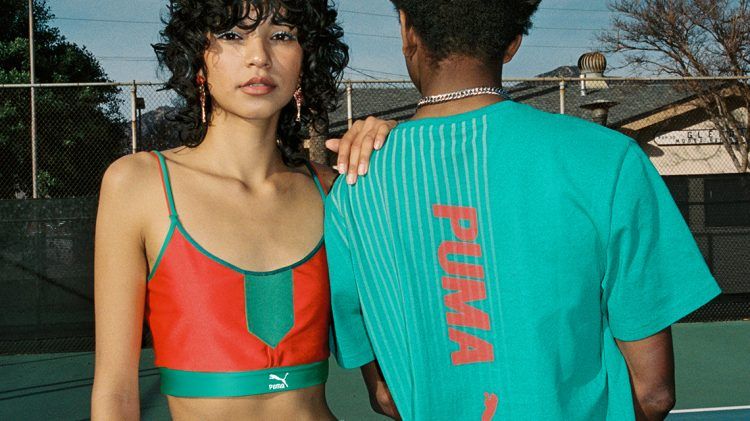 Get the Look
GAME, SET, MATCH:
PUMA x PUMA
Athletic aesthetic with the new PUMA by PUMA collection
May 6, 2021
Athletic aesthetic with the new PUMA by PUMA collection
May 6, 2021
PUMA x PUMA take another swing at it for their second season launch.
With designs inspired by a history of iconic sportstyle moments, this collection serves up authentic and culturally relevant new looks.

Merging present and past in a series that celebrates its heritage while gazing toward the future – materialized in the form of retro tennis silhouettes with a modern spin.

Sporty and stylish, we're leaning into that fresh aesthetic for some springtime outfit inspo.
The Shoes
The shoes in the collection are not traditionally tennis; rather they interpret the sportstyle theme all for themselves. Mirage Mox, RS-Charge, Ralph Sampson and Oslo Femme are the footwear styles being featured today, done up with modern designs and classy neutral colours. From the collection we decide to go for the gorgeous Oslo Femmes as the base of the outfit.
The whole Outfit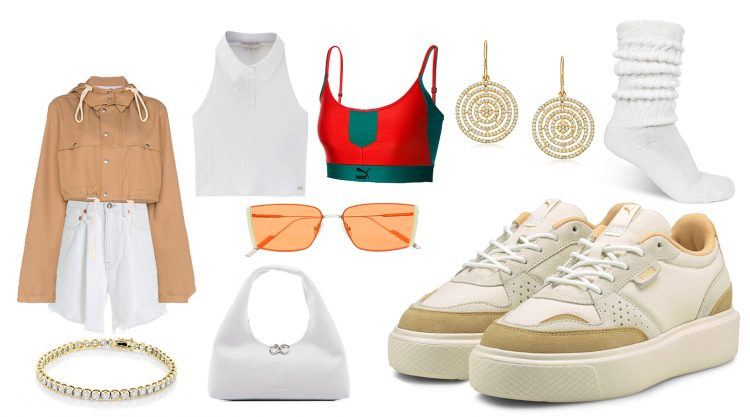 The Outfit
Colour blocking and retro graphics give the array of tennis shorts, polos and pleated skirts in this series a great vintage quality that is interpreted through a contemporary lens. Teeny tops are making a strong comeback in 2021 as the warm weather tempts us to show off some skin and reclaim our freedom. This PUMA sports bra top in a striking green and red is just the thing, plucked from the new collection to bring you comfortable coverage and support. It can be worn as a bra underneath other items, or as a star player all on its own – a minimalist top with maximal style. Whatever you choose, it's going to look good. If you end up layering over it, opt for something simple like this pretty little polo which speaks deeply to the tennis theme. Crisp, cropped and totally trendy, the polo is getting revisited this season with a chic makeover approach that is anything but boring.  
Below this, one could easily pair the pleated white skirt from the collection, doubling down on the tennis theme, but you can also feel free to explore other textures and designs to get the sporty vibe across. These white denim cutoffs introduce a bit of edge to the look, playing with the more preppy pieces. Finally a cute cropped and hooded shirt jacket is the ideal layer for those in-between months when the weather can't quite make up its mind. Classic functional sportstyle, this dark beige cotton blend pairs well with the shading and lowkey vibes of the Oslo Femmes, helping you emanate a casual cool.
The Accessories 
No tennis fit is complete without high ankle socks, the iconic accessory worn by all players, and  these cozy cloud socks have a funky texture and chunky folding that make them a bit unique. A compact and sleek mini bag is all about that 90's nostalgia; this style of purse has been christened the 'baguette' and is widely popular at the moment. Finish with orange tinted square-frame sunglasses that give off a mod vintage statement, a dainty little tennis bracelet (a historical sport-jewelry staple) and radiant gold and diamond earrings to take your athleisure to the next level.
Bring your 'A' game with the PUMAxPUMA collection.
Serving up a second season of contemporary sportstyle looks, these tennis inspired silhouettes are in vogue for this spring's fashion trends.

Get motivated by the crisp and clean sporty aesthetic and then style it your way. Game, set, match!